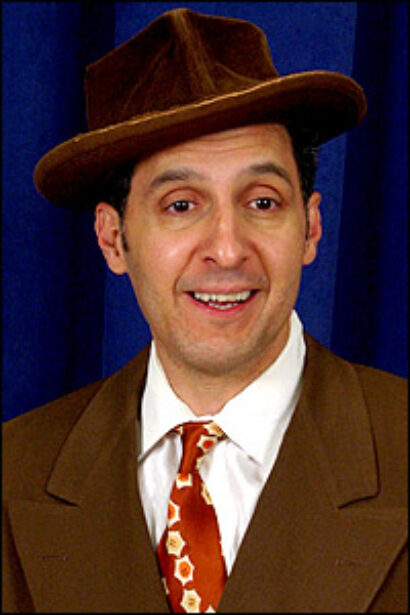 Roman Paska directs the American premiere of a new TFANA-commissioned translation of the work by Village Voice critic Michael Feingold. The show will officially open April 14 at The Duke on 42nd Street for a run currently slated through May 8.
The new translation of Eduardo De Filippo's Questi Fantasmi! "is what would have resulted if Chekhov and Pirandello had sat down together to write the screenplay for a Bob Hope haunted house movie," said translator Feingold in a release. The work set in 1946's Naples, the story follows a down-on-his-luck married man who becomes caretaker of an old palace the is supposedly haunted.
Turturro starred opposite Helen Hunt in the Broadway staging of Yasmina Reza's Life x 3. He is known for his film work in "Oh, Brother, Where Art Thou?," "Barton Fink" and "Quiz Show." As a director, he is in post-production on his movie musical "Romance & Cigarettes" starring James Gandolfini, Susan Sarandon, Kate Winslet, Steve Buscemi, Christopher Walken, Mandy Moore, Aida Turturro, Mary-Louise Parker, Eddie Izzard, Elaine Stritch, Cady Huffman, Tonya Pinkins, Bobby Cannavale and Amy Sedaris among others.
Casella (The Lion King, The Music Man) is known for his television turn on "Doogie Howser, M.D." as well as roles in the films "Ed Wood," "Newsies" and "Analyze This." Conn is perhaps best known for her turn as Frenchy in the film version of "Grease." Her stage credits include Lost in Yonkers, The Green Bird, The Vagina Monologues and as the recorded voice of Gracie Allen in Say Goodnight, Gracie. Turturro, cousin to the lead actor John, has gained notoriety for her role as the sister to Tony on "The Sopranos." The actress also appeared opposite her co-star James Gandolfini in the 1992 Broadway revival of A Streetcar Named Desire.
The company also includes Felix Blaska (The Garden of Earthly Delights), Bill Bowers (The Scarlet Pimpernel, The Lion King), Juan Carlos Hernandez (Wait Until Dark, The Most Fabulous Story Ever Told), Rocco Sisto (Amadeus, The Harlequin Studies) and Francesca Vannucci (the forthcoming Martha Clarke Pirandello Project). The design team for Souls of Naples features Donna Zakowska (set and costume), Stephen Strawbridge (lighting), John T. La Barbera (sound and music) and puppets by Roman Paska.
Playwright De Filippo penned more than 50 plays and is known to American audiences for Filumena, Saturday Sunday Monday, and his film "Marriage Italian-Style," adapted from his play, Matrimonio all'italiana. He originally performed in the role Turturro will take on.
Theatre for a New Audience is currently presenting Karin Coonrod's staging of William Shakespeare's Coriolanus at The Gerald W. Lynch Theater at John Jay College through March 5. The troupe began their season with Colin Teevan's Svejk — an adaptation of Jaroslav Hasek's The Good Soldier Svejk and His Fortunes in the Great War — starring Angels in America Tony Award winner Stephen Spinella as the title character.
Tickets for Souls of Naples at The Duke on 42nd Street, 229 West 42nd Street, can be purchased by calling (212) 239-6200 or 800-545-2559 . For more information, visit www.tfana.org.