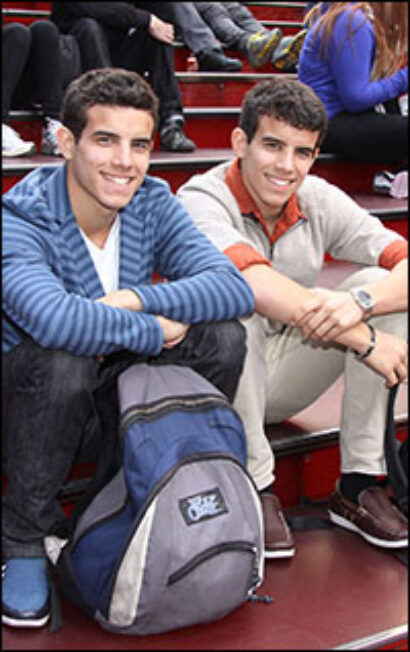 "The way they tell us apart is [by the] freckle on my nose," said Jacob as he pointed to the tiny spot in the center of his face — the only (semi) noticeable difference between the teenage twins — to explain how more than a dozen newsboys attempt to keep identities clear at the Nederlander Theatre. "But they usually know [who I am] because I'm sitting in my chair that says 'Jacob.'"
Before Broadway, however, "Jacob" and "David" chairs weren't necessary where they danced. "It was our second family," explained David about their dance studio, The Gold School, located in their hometown of Brockton, MA. "I think the hardest part [of moving to New York] was leaving my dance studio," added Jacob, "because that's where I, like, lived."
At the age of two, the Guzman brothers took up a hobby that would pave the path to Broadway. "My sisters danced," said David. "One day [our mother] brought us [to the studio], and one of the classroom doors was open… [Jacob and I] just stopped and couldn't take our eyes off of it. The teacher said, 'Why don't you come sit down?' We were just mesmerized."
Years later, and training in ballet, tap, jazz, modern ("pretty much every style," said Jacob), the brothers would go on to win various awards and dance titles. It wasn't very often, though, that the duo went head-to-head. "We didn't get solos for a really long time because my dance teacher is actually a twin," said David, referring to Rennie Gold, their teacher, motivator and mentor. "[He and his brother] got solos at a young [age] and became really competitive. He didn't want that to happen to us."
The Guzmans claim to be far from competitive — even though Jacob bested David for the title of America's Teen Male Dancer of the Year at the age of 14, and, if we're nitpicking, the brothers agree that David is the stronger ballet dancer. As it turned out, only one of the twins was initially cast in Newsies.
Photo by Joseph Marzullo/WENN
When the creative team of the Tony-nominated Best Musical was on the search for a few new boys to join the ranks, Jacob and David were called in to audition. They were recommended to the musical's associate choreographer, Lou Castro, but did not realize that, at the time, there was only one spot to be filled.
"We were only going because [we thought] there were two open spots," stated Jacob. "Honestly, we probably wouldn't have gone if they said that there was only one spot." Although they knew that their days of inseparability would eventually come to an end, they promised they would see each other through until high school graduation. (They are in their senior year.) Their motto: "After that, we go from there."
So the boys turned down the opportunity to dance Christopher Gattelli's Tony Award-winning choreography; they didn't expect to hear back from Disney. "We said, 'Sorry… If [a second spot] opens up, we'd be glad to take it. They called us up when that spot did open up and said, 'We now have two spots open. Would you like to join our cast?' And, we automatically said yes!" David explained with laugh.
Joining a Broadway ensemble of triple threats could be quite nerve-wracking, considering Newsies was not only their first Broadway credit, but also their first musical. Although they both watched the 1992 Disney film and sang a medley of songs from the movie in their school district's chorus, they were now faced with picking up blocking, handling props and learning the athletic, energetic and high-flying choreography from Newsies dance captain Ryan Steele and assistant dance captain Michael Fatica.
With the twins a part of Newsies, a small change was added during the second-act opening number, "King of New York." David said, "They changed [the choreography] so that Mush — I — do a tap solo, and I pass it off to Sniper, my brother."
photo by Joseph Marzullo/WENN
But with the fun of performing on Broadway comes responsibility. At first, Jacob admitted, "Everything was really confusing — I had to come here, and I had to find an apartment, and then I had to work out school, and I had to work out how I was going to get to the city every day [from the new apartment in Queens]. It was just a lot to handle because I'm coming from [being] a junior in high school, who has never lived, essentially, on his own. I mean, my mom's here, too, but it's a big culture change. It was a big step."
The Guzmans are taking classes online — calculus, physics and English. ("I'm actually very good at math, so I don't mind it," said Jacob. "Both our parents are math teachers," added David). They will graduate on time, walk with their class at commencement and even be able to squeeze in prom. The twins are also beginning to think about their future — agents, auditions and college. "There's just a lot of options," said Jacob.
For now, they are taking in their senior year of high school as "Kings of New York." Because Thursday is their "off" day, their mother, Karen, has deemed it to be "field trip day." So far, the brothers have seen Bring It On: The Musical and Cyrano de Bergerac and took a trip to the Museum of Natural History.
They also enjoy hanging out with fellow Newsies cast members and hitting some of their favorite nearby spots. "I like Schnipper's," said Jacob. "And, dessert… I like Schmackary's — Schnips and Schmacks!" (His brother agreed.)
(Playbill.com staff writer Michael Gioia's work appears in the news, feature and video sections of Playbill.com. Follow him on Twitter at @PlaybillMichael.)
Watch the earlier Playbill Video about how the cast of Newsies warms up before performances.