"I'm an accidental writer of movies and television," says Aaron Sorkin, the screenwriter behind films like A Few Good Men and The Social Network and television juggernauts like The West Wing. "But all I ever wanted to be was a playwright."
With so much screen success, it's easy to forget that's exactly how Sorkin started out. A graduate of Syracuse University's musical theatre program, Sorkin grew up a theatre devotee ("when the house lights started going down, I just got this feeling…it was like I was in a cathedral") and made his Broadway debut with 1989's A Few Good Men—a play years before Tom Cruise couldn't handle the truth.
The truth is Sorkin was always intoxicated by theatricality and language. "I loved the sound of dialogue," he says. "It sounded like music to me, and I grew up wanting to imitate that sound."
After an 11-year hiatus, Sorkin brings that signature sound to the Broadway stage with his adaptation of Harper Lee's To Kill A Mockingbird.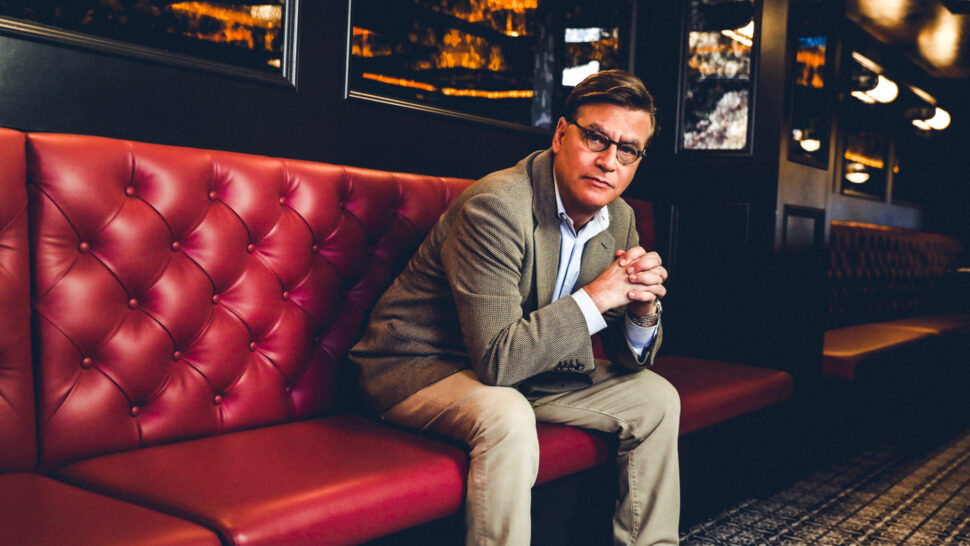 When he wrote his first draft, it was like moving "an expensive antique priceless vase from this table to that table without breaking it or getting fingerprints on it at all," he says. Unsurprisingly, it fell flat, what Sorkin has repeatedly called "harmless." But Sorkin isn't looking to make harmless theatre.
"I'm going for exciting, thrilling, theatrical," he says. That's when Sorkin let go of his preservationist fears. "I'm not going to swaddle this in bubble wrap and lovingly transfer it to the theatre. I'm not going to pretend that I'm writing it in 1960, and I'm not going to try to do a Harper Lee impersonation."
Mockingbird's script features the density and rhythm signature to his style. "I loved the sound of dialogue," he says. "It sounded like music to me, and I grew up wanting to imitate that sound." His stars—among them Jeff Daniels as Atticus and Celia Keenan-Bolger as Scout—have had to master the language. "I script every sound that the actors make," Sorkin says. "Um's, ah's. That's not [because I'm] going for reality though—it's percussion."
READ: To Kill A Mockingbird's Jeff Daniels Reveals What Makes the Broadway Play Work
His version, directed by Bartlett Sher, is a memory play, with kids Scout, Jem, and Dill (portrayed by adult actors Keenan-Bolger, Will Pullen, and Gideon Glick, respectively) reflecting on the summer when their father (and father-figure) Atticus Finch defended a black man falsely accused of raping a white woman in their small Alabama hometown.
The convention of a memory play allowed Sorkin to question previously agreed-upon truths in the story. "The memory aspect became more interesting to me when I realized Atticus' morally sound footing is never questioned in the book in spite of the fact that the story ends with him [doing something morally ambiguous]," Sorkin says.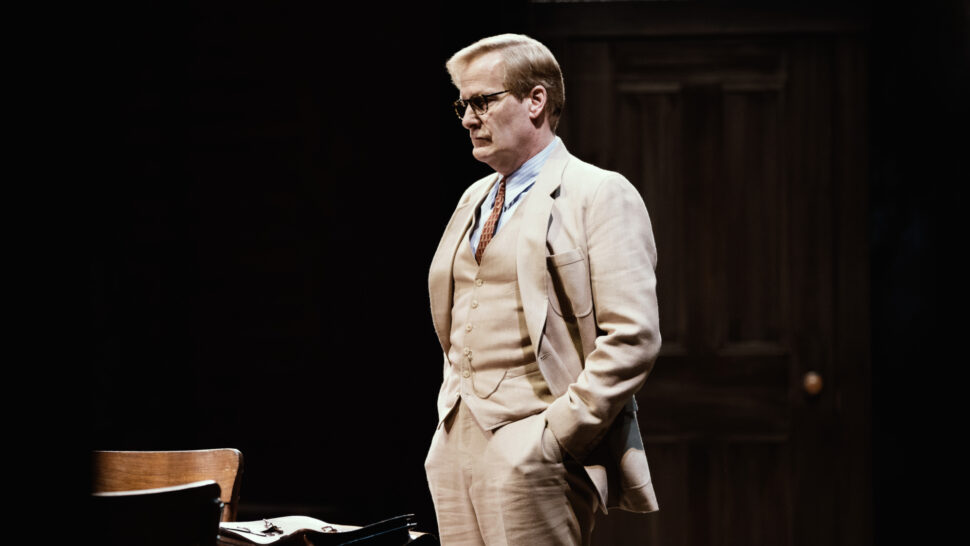 The scribe delves into Atticus as the protagonist, reframing the story to examine the flaws—and hopefully the growth—in the literary paragon. "In the book, he's kind of a marble statue; this is the man with all the answers," Sorkin says. "In the play, he wrestles with the questions."
Many of those questions are ones Sorkin hopes audiences will ask themselves: "Like tolerating intolerance—what's that about? Atticus, when he makes his kids apologize to people they were rude to because those people used the N-word—is he disrespecting [their black housekeeper] Calpurnia who is a member of this family? Is there fundamental goodness in everyone?" As in all his writing, Sorkin's questions shake us awake.
But with this 21st-century perspective, Sorkin intends his Mockingbird as a companion to the original novel. "I don't want anyone to think that in writing this play, I set out to correct Harper Lee's mistakes. She made no mistakes," Sorkin stresses. "What I hope, because so many of us read the book in school and have a discussion about it, is that we can add to that discussion."
As audiences rise to the occasion, Sorkin is reminded why he first dreamed of writing plays—why he jumped at the chance to do Mockingbird. "Those rare times when you get what's in your head through your arms onto the page, hand the pages to someone else, have it happen on a stage and have it be even better than what you'd imagined because of the collaboration," says Sorkin, "that's why you keep coming back."
Watch the full discussion with Sorkin in the video interview, shot at Valerie in New York City, above.