*
Imagine a painter on a stage, dabbing at a canvas. Then imagine another character entering, and the two of them talk about painting for a while.
Bored yet?
Plays about artists and the process of making art should be, in theory, about as exciting as, well, watching paint dry. After all, what's more static, and less dramatic, than a picture hanging on the wall? And yet, art-and-artist-centric plays continue to grace stages, and frequently are hailed as among the best dramas of their respective seasons, from Stephen Sondheim and James Lapine's Pulitzer Prize-winning Sunday in the Park With George to Yasmina Reza's Tony Award-winning Art, from John Logan's Red of last season, which won the 2010 Best Play Tony, to this season's praised London import The Pitmen Painters by Lee Hall. How are these writers pulling off this bit of alchemy — transforming painstaking craft and dense theory into crackling drama?
Logan, for one, knew what he was getting into when he decided to write a play about Mark Rothko's 1950s commission to paint a group of murals for the Four Seasons restaurant in midtown Manhattan. He saw his challenges as two-fold. "First, how to represent authentically, and yet artistically, another art form on stage without overrelying on metaphor," he said. "And, number two, how do you have people talk about art seriously in a way that is not pompous, but is dramatically relevant."



photo by Aubrey Reuben
Lapine also saw the danger of his characters possibly sounding pretentious. (It's hard to talk art theory and not sound pretentious.) But he didn't see the difficulty as much different from any other topic he might tackle as a playwright. "That's just any kind of playwriting," he explained. "You could be talking about science. If you don't do it in the right way it could be boring and pretentious, too. I don't think it has to do with it being about art. It's about taking any complex and subtle subject and making it dramatic on the stage."
Logan eventually found a way to have Rothko — whom he said was "a man given to pontification and amazing arias on the theory of art" — naturally discuss art by introducing a second character, an assistant named Ken. "I decided to write a two-hander about a kind of father and son. There's a perfect opportunity for him to pedagogical."
Hall, conversely, actually found the dramatic heart of his play in the very talk of art itself. "I guess that I realized that it was going to be very hard," he said of creating a lively stagework in The Pitmen Painters, which is based on a true movement that transformed miners from the north of England into artists in the 1930s and 1940s. "And then I realized the form they learned in — the form of a lecture with slides — was actually very dramatic in itself. It is static, people looking at something...[but] where the drama is, is in the drama of ideas, and people arguing between each other. The act of analyzing individual paintings was actually a very interesting and dramatic form. It wasn't melodrama, and it wasn't knockabout. Actually, it was about what drama is fundamentally about, which is about people struggling to articulate something."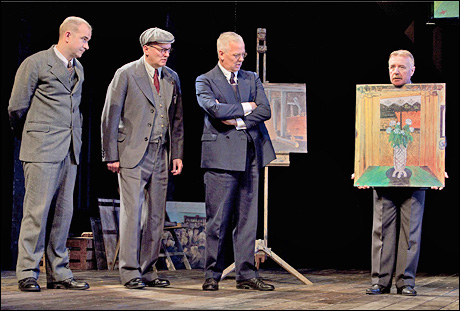 photo by Joan Marcus



photo by Joseph Marzullo/WENN
In trying to create the correct mise-en-scène for Red, Logan immersed himself in histories on Rothko and the art world of his time. He also visited the studios of artist friends. "I spent a year just researching and hanging around with artists, getting into the studio and just seeing the minutia of what it takes to make a painting. I always knew I wanted it to be a work play. I didn't want talking heads. I wanted people actually doing the job of an artist." Watching the artists mix paints and stretch canvases, he spotted an advantage for the play he would eventually write. "I wasn't having someone thinking up music, or saying 'Here's a great line of poetry I just thought up.' There were actually things they could do that were hands-on and theatrical."
Lapine, who was trained as a graphic artist at California Institute of the Arts, and even painted "in my day," knew a fair amount about how art was made. But he did take Sondheim to an artist's studio to give the composer a taste of the working artist's life, "to let him see up front how an artist paints, in terms of mixing paints and the 400 brushes. We certainly didn't talk about the art of painting, we talked about the craft of painting."



photo by Joan Marcus
While Hall relied on the concrete setting of an art class for his play, it was actually art theory, rather than craft, that most interested him. "I've been long looking for a play that could talk about abstract ideas as well emotional situations," he said. "It seemed this was a really interesting forum, because the miners just didn't simply want to become painters. That was a by-product about their wanting to understand art. It seemed an open forum to discuss this with an audience, and to ask some philisophical questions in hopefully a very humorous and down-to-earth way. I was trying to put in the characters heads and voices a lot of the opposing theories about what art means and how art works, and relate them in human terms for an audience."
That audience frequently contains an artist or two. When a play about art hits the boards, word quickly spreads in the art community, and painters, curators and gallery owners come around to see if the dramatist got it right.
Logan knew he had done well when artists came to Red and didn't howl their protest at the story depicted on stage. "We were always delighted when artists would come and they would not be totally horrified," he said. "We had powerhouse artists who felt it just captured that world. Theatre critics I can take. It's the people who could catch the little incosistencies that kill you. 'Oh, OK, I see why you wouldn't do that with a paint brush after you've painted.' " A glimpse at the canvas-priming scene in the Donmar Warehouse's production of Red: