*
There must be a place on Broadway for serious-minded, religious-themed musicals. In recent years, it has been a struggle for musicals of this genre to find an audience, and, despite some exciting possibilities in creations such as Scandalous: The Life and Trials of Aimee Semple McPherson and Leap of Faith, interest has been slow to ignite. In fact, when it comes to religion, many recent Broadway musicals (new and revived), have poked fun at these themes. From the audacious, tongue-in-cheek satire of The Book of Mormon, through the slightly irreverent nuns of Sister Act, to the maniacal zealotry of Letitia Primrose in On the Twentieth Century, religion is often the impetus for situations of humor within a story, and not the basis for serious storytelling.
Leaving religion out of the equation for just a moment, approximately 75% of all of the musicals that open on Broadway fail to make back their investment. The average Broadway musical costs between $8-16 million to produce. In recent years, however, musicals with plots based around religious themes have had a particularly hard time finding an audience, let alone running long enough to pay back investors. Leap of Faith struggled in its out-of-town tryout in 2010 at the Ahmanson Theatre and was revamped for a 2012 reincarnation on Broadway. Despite receiving a Tony Award nomination for Best Musical, the production lost its entire $14 million investment. Scandalous, written by TV personality and occasional Broadway performer Kathie Lee Gifford, lost its entire $9 million investment. Two million dollars of the production's cost came from an investment by The Foursquare Church, founded by the evangelist McPherson 90 years earlier. Scandalous shuttered after a mere 31 previews and 29 performances. Is there room for musicals with religious themes on Broadway, and if so, what do they require to succeed?
At one point, musicals with religious themes were all of the rage on Broadway and Off-Broadway. Indeed, serious themes of Christianity pervade many of the Rodgers and Hammerstein hits of yesteryear. In Carousel, the better part of the second act serves as a platform for contrition as recently deceased, abusive husband Billy Bigelow cannot enter the Pearly Gates until he finds a way to make amends with his wife and daughter for his transgressions back on Earth. The King and I walks the tightrope between religion and science, with its titular characters finding time to debate and reconcile discrepancies between the two. Of course, The Sound of Music is full of nuns, thematically exploring hope and strength through prayer and faith. In the late 1960s and early 1970s, musicals inspired by religion were popping up all over the place: Fiddler on the Roof (1964), Purlie (1970), Godspell and Jesus Christ Superstar (1971), Philemon (1975) and Joseph and the Amazing Technicolor Dreamcoat (1981) are just a handful of examples of the serious-minded religious pieces populating the musical stage over the years.
If we look back on the religious-themed musicals that have worked best, it has been the marriage of faith with humor where, theatrically, they have been the most successful. Guys and Dolls saw the conversion of a dozen or so cartoonish but unsavory gamblers, ironically won over to Christianity after losing a sinful dice game. Fiddler on the Roof used traditions of Judaism to humorously demonstrate the struggles of faith that arise when our instincts and hearts are in conflict with the word of God. Damn Yankees requires some sort of last-minute, comedic deus ex machina when a couch potato makes a deal with the Devil to become a great baseball player, and then finds a moral compass. Perhaps religion is such a complex and divisive subject to explore that it is only through humor that we can all find common ground and perspective? Have religious musicals become passé? Are today's audiences drawn to or frightened away by the prospect of a musical that might use religion as the means of telling a serious story? Are the people who revel in the unconventional and sometimes irreverent themes of The Book of Mormon, Avenue Q and Chicago likely to embrace a show like the forthcoming Amazing Grace, the story of the man behind the creation of one of the world's best-known, inspirational songs of faith? As Broadway moves to cater to the young and the hip with musicals like Fun Home, Hamilton and Something Rotten, how does a musical like Amazing Grace find it wings and take flight when it is flying against the wind of theatre's current trends?
Carolyn Rossi Copeland, one of the producers of Amazing Grace, weighed in on both the challenges raised and the opportunities presented in trying to connect this piece with an audience and financial backers. "The title is my greatest challenge but it is also my strongest asset. 'Amazing Grace' is a song that is loved by everyone and owned by no one." Despite the religious implications of the title and song's themes, Copeland is quick to point out that "I wouldn't exactly qualify the piece as a religious musical. This is a story about a fascinating historic figure whose story has never been told before onstage. People are hungry for meaningful entertainment and this is a story that most of them do not know, but need to. John Newton was a slave trader who led a horrific life and who is then transformed into the person capable of writing this beloved hymn. This is a piece about social justice, a story about how people can change. The audience leaves the theatre feeling uplifted. This is what I tell people when I am promoting Amazing Grace."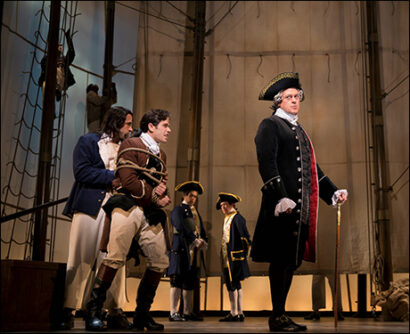 Copeland draws connections between how Amazing Grace doesn't shy away from themes of racism and prejudice, similar to how Rodgers and Hammerstein musicals broached topics of religious and cultural conflicts in the 40s and 50s. "The show conquers some of these issues in the same way that musicals like South Pacific did, through sweeping, compelling storytelling. These classics weren't considered 'religious" musicals.'"
Truthfully, these Rodgers and Hammerstein classics are stories about interesting, conflicted human beings who are affected by hope and faith. Their conscience and internal struggles may be shaped and molded by faith, but the story is not. Religion is not the thrust behind them, but simply a component of the story telling and character development. Amazing Grace is poised to tell a compelling, true story. That story just happens to have some religious implications to the narrative. This hasn't shied theatregoers away from Carousel or The King and I. When posed with questions about how Amazing Grace faces similar challenges as (and comparisons to) musicals like Scandalous, Copeland carefully refocuses our impressions. "Scandalous had an unfortunate title that didn't convey the story being told. Amazing Grace is about a man who wrote an iconic song. That song title is also the show's title." In the end, she believes that producers have certain obligations to their audiences. "With the cost of a Broadway ticket, the piece needs to be excellent, and worth people's time and money." With those standards at the forefront and a recognizable title in hand, she believes that Amazing Grace will be a success. "We saw it in Chicago. People of all backgrounds came to the theatre and left entertained and uplifted."
Marketing a musical with religious themes is a daunting challenge. People go to the theatre to be entertained, and, for some, the idea of a religious musical conjures memories of sitting through long church services on uncomfortable pews while a verbose preacher drones on. This association does not exactly inspire ticket buyers to spend the $100 for something they think they can get any Sunday for free. There is a negative connotation that looms over new musicals with religious themes, because they are not a church service. The holier the marketing campaign or the more religious the title, the harder it is to get an audience in the door. There is, however, a faction of society that gravitates toward wholesome, family entertainment with an uplifting message. Does Broadway find a way to cater to these people as well? If so, how do they get the wider demographic in the door that will sustain a production such as this to the point of being profitable? Subtlety seems to work best.
Les Miserables is a musical overflowing with religious themes, yet no one really identifies it as a "religious musical." It has attracted audiences with a wide range of religions and philosophies from all over the world. It tells the story of a series of people who are tested and tried by the cruelty of life. How they embrace or deny, explore and interpret faith guides the direction that each of their destinies take. Their religion is a matter of character development, a piece of the puzzle of who they are. There is no "one size fits all" experience of faith. Each person is afforded an individual, unique journey. Les Miserables would not have endured all of these years, nor would it have appealed to such a diverse population of people (it has seen production in over 42 languages), if it had merely been a musical about religion. Generalized, didactic themes seldom work in theatre, and Les Miserables is instead shaped by rich, carefully shaped characters with both virtues and flaws. They are real human beings. Victor Hugo's tale is about overcoming adversity through hope and faith. The musical adaptation wisely doesn't make that a clean journey unfettered by human flaws.
Serious-minded, religious-themed musicals have been a part of the Broadway theatregoing experience for decades. They have succeeded because they are not about religion, but people who are shaped by faith. There is an audience for them if they are well-written, and worth people's time and money. The assumption should not be made that, just because a musical is religious, certain audiences will come and keep it running. This puts too many eggs in one reasonably small basket. We are also making sweeping generalizations to assume that all musicals with religious themes would not be entertaining, when history has taught us quite the opposite. As Amazing Grace makes its way toward a July 16 opening at the Nederlander Theatre, with a price tag of approximately $16 million to develop and mount, theatregoers can keep in mind that it has an unheard story about a man who changed the world through music after life's challenges transformed him. That sounds compelling.