All My Sons may only be Francesca Carpanini's second Broadway show, but she's proven with both that she can hold her own next to the titans of theatre. Her Broadway debut came in The Little Foxes, as the daughter to Regina and niece of Birdie, played on alternating nights by four-time Tony Award nominee Laura Linney and two-time Tony winner Cynthia Nixon.
Now she takes the stage alongside four-time Oscar nominee Annette Bening and Tony winner Tracy Letts as Kate and Joe Keller—and opposite Tony nominee Benjamin Walker as Chris Keller—in the Arthur Miller masterwork. Carpanini plays Ann Deever, who grew up next door to the Keller family, the childhood sweetheart of their son, Larry. But Larry went missing during the war, and a lot has changed.
Directed by Jack O'Brien, the Tony-nominated revival continues its run through June 30 at the American Airlines Theatre.
Here, the actor reveals her "theatre firsts" and lots of details about working alongside theatre's greatest talents:
What was the first piece of theatre you ever saw?
Francesca Carpanini: When I was three, my parents took me to see Beauty and the Beast in the West End. I got overwhelmed by all the people in the lobby and started crying too hard to go into the theatre. My mother managed to calm me down enough to get seated late—just in time for the terrifying scene with the wolves. However, I powered through, fell in love with Belle and went on to see the show three more times.
Who was your first theatre-celebrity talent crush?
I will never forget the feeling of watching Raúl Esparza sing "Being Alive" in John Doyle's production of Company. I was about 13, so I'm not sure what I connected to so deeply in a musical about the inner complexities of marriage, but what I do know is that for the length of that number, I completely forgot to breathe. Raúl's ability to mine the most vital and raw parts of himself is something that I am forever in awe of.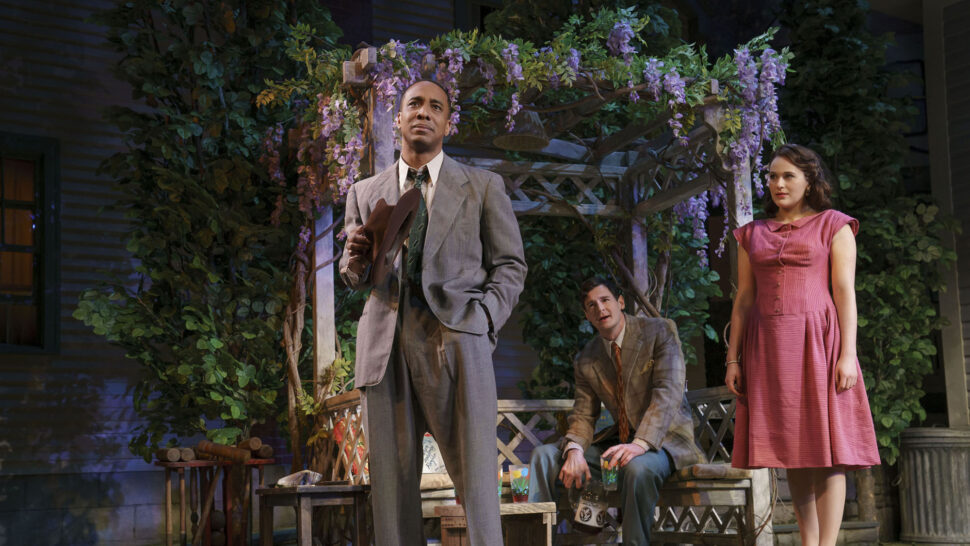 What was your first audition ever?
Funnily enough, both Beanie Feldstein (of Hello, Dolly!) and I grew up doing shows together at the Morgan-Wixson in Santa Monica, a community theatre run by an incredible woman named Anne Gesling, who taught us both so much about work ethic and how to nail a six-part harmony. She is also the queen of tough love, and when I auditioned for her the first time (for a production of Junie B. Jones and a Little Monkey Business), I did a strange cut of the first verse of a song with absolutely no climax. I remember she told me the song was weird, got up from behind the table, went over to the piano and had me sing it again in a new arrangement that she made up on the spot.
What was your first paid acting gig?
After my third year at Juilliard, I played Miranda in The Tempest at Shakespeare in the Park. I can't imagine a dreamier way to start my life as a professional actor than spending the summer running around the Delacorte with the wind in my hair. It was true magic.
When did you first encounterAll My Sons and what was your first impression?
I definitely read the play at some point in high school, but my first real memory of it was working on a chunk in Scene Study during my first year of drama school. I actually went back to my old notebooks before my audition for this production and was reminded of some of the insights my genius teacher, Richard Feldman, gave me about the character of Ann. Without those kernels of wisdom, I never would have gotten the part.
How did you first learn you got the role of Ann?
I was at the gym with one of my best friends and I got a text from a former classmate of mine congratulating me. Somehow, she had heard through the grapevine that I was the choice for the role, but I had no idea what she was referring to as I hadn't heard anything yet. I ran over to my friend Eli and we spent a crazed half hour trying to decipher the text and whether it could be some kind of a mistake. When I finally got the call from my agents, we danced around my apartment to Lady Gaga.
What was the first scene you rehearsed for All My Sons?
We worked chronologically, so it was my first scene in the play. I don't usually get too nervous, but to act for the first time with Annette Bening, Tracy Letts, and Benjamin Walker is no small thing and so the butterflies in my stomach were alive and well!
When was the first time you felt like Ann?
I was lucky enough to work with our legendary costume designer, Jane Greenwood, when I made my Broadway debut in The Little Foxes and so I always knew that once I put on the dresses she had designed, so much of Ann would click into place. Jane not only makes gorgeous clothes, she understands how to aid and enhance storytelling through her designs, making every actor's job so much easier.
When (and with whom) was your first onstage kiss?
When I was in middle school, I played Emily Webb in Our Town and had my first onstage (and real life!) kiss was with a boy named Evan Rasch, who was playing George Gibbs. Full disclosure—I totally had a crush on him. If he didn't know then, I guess he does now!
In one word, what was your first performance in All My Sons like?
Exhilarating.
What was it like to see your name in a Playbill for the first time ever?
It was a real "pinch me" moment that brought me back to the little theatre geek inside who used to spend hours in her childhood bedroom laminating her Playbills.
What is your first thought when you make your entrance each night?
I always grab a peanut butter cup from the wardrobe room and eat it on my way to the stage so I usually double check that I don't have chocolate all over my face.
What is the first thought you have when you take your bow?
It's less of a thought and more of a physical-mental-emotional sigh of relief to have somehow gotten through this beast of a play once again.
See Carpanini and the full cast greet Playbill on opening night red carpet of All My Sons: