*
Playbill.com polled our readers via Facebook and Twitter, asking what productions they would like to see in a return engagement and why?
Here are some reader responses followed by our own commentary:
@mzizzle820: Spring Awakening!!!
@andymientus: Spring Awakening. It closed early in the recession before we knew what effect it would have on Bway and pre New World Stgs model.
The groundbreaking rock musical Spring Awakening, about teenage angst and coming of age in an era of taboos and limitations, earned eight 2007 Tony Awards, including Best Musical, and opened Dec. 10, 2006, for a run through Jan. 18, 2009. The production starred Lea Michele, Jonathan Groff and John Gallagher, Jr., who went on to successful television projects such as "Glee" and "The Newsroom." Audiences are always eager to see rock musicals with a group of young, fresh talent. Wouldn't it be great to bring back the production with a new group of up-and-comers who could thrive in the next generation of music theatre? "Smash" actor Andy Mientus, who starred in the musical's touring production, thinks so!
Photo by Joan Marcus
@bwayJ: it may be too soon, but A revival of Rent would be AMAZING!!!!!!!
Speaking of groundbreaking rock musicals, our readers are yearning for the Broadway return of Rent. The Pulitzer Prize and Tony Award-winning work by Jonathan Larson was revived (and re-envisioned) Off-Broadway to mixed reviews. Fans hope Mimi will take her electric blue pants out of the closet and take us "Out Tonight," in its original staging, once more!
Photo by Joan Marcus
@h2mc: Next to Normal. How could it not still be running? There'd definitely be a market for it, everyone should get to see it.
Another Pulitzer Prize-winning musical theatre fans hope will get a second shot on Broadway is the Tom Kitt-Brian Yorkey drama Next to Normal. It would be exciting to hear the exhilarating score and see the star-studded cast once more on Broadway. And, now that original star Aaron Tveit has skyrocketed to stardom, we're sure there would be tons of fans lining up for tickets.
Photo by Joan Marcus
@ccsmith89: Bloody Bloody Andrew Jackson. It closed on bway before it got its legs. It would do better today than it did 3 years ago
Readers are also anxious to see the return of Bloody Bloody Andrew Jackson, which starred Benjamin Walker in the title role and 2013 Tony Award nominee Kristine Nielsen (Vanya and Sonia and Masha and Spike) as The Storyteller. Andrew Jackson creatives Michael Friedman and Alex Timbers, who are also collaborating on the upcoming world premiere of Love's Labour's Lost, which will debut at Shakespeare in the Park this summer, may be open to the possibility after their new musical finishes performances at the Delacorte this July.
Photo by Bill Streicher
Paula Montgomery Rothaus: Bring back Mario Cantone and Laugh Whore!
Laugh Whore, which was nominated in 2005 for the Tony Award for Special Theatrical Event, starred the popular comic actor Mario Cantone, who sings, tells stories of his childhood and sends up divas such as Liza Minnelli and Barbara Walters. We can't resist Cantone's comic chops and would love to see the actor come back to the Great White Way!
Photo by Gerry Goodstein
Waylon William Werner: Children of Eden (though I suppose it never made it TO Broadway)
Since Stephen Schwartz's popular musical Children of Eden never made it to Broadway, maybe now is the time. The musical, inspired by the Old Testament, premiered in London in 1991 and was seen in a 1997 staging at New Jersey's Paper Mill Playhouse, which was considered the definitive production of the show. With a stellar cast, including Stephanie Mills, Hunter Foster, Darius de Haas and more, we'd love to see the production make its Broadway bow. Plus, with Schwartz's revival of Pippin taking home the 2013 Tony and his Wicked continually soaring in box-office sales, what are producers waiting for?
Photo by Joan Marcus
@iAMjustindammit: In the Heights... but maybe I'm just biased.
Justin Gregory Lopez, who was part of the cast of the Off-Broadway revival of Bare, is ready to see In the Heights return to Broadway. Judging by the turnout at the recent reunion concert in Washington Heights, so are many people! The Tony Award-winning musical has been a popular title among regional playhouses and community theatres since it concluded its Broadway run. We don't think anyone would complain, however, if the rap-infused musical about life in upper Manhattan, featuring a score by Lin-Manuel Miranda, made its way back to Broadway.
Photo by Martha Swope
@Sam_Killian: Merrily We Roll Along - original 1981. Original opening perfect, orchestrations sublime. Sinfully short run. Forgotten masterwork.
Stephen Sondheim and George Furth's popular musical Merrily We Roll Along, which only played 16 regular performances (and 52 previews), enjoyed a run last year as part of the City Center Encores! series. Members from the original Broadway cast reunited to attend a performance of that Encores! staging. Wouldn't it be great to see them back on stage this time?
Mason Early: Please bring back the glory that is Cats
The Andrew Lloyd Webber musical Cats enjoyed a long run on Broadway its first time around, playing for 7,485 performances. It's been almost 13 years since the long-running Broadway staple played its final performance. Our readers think it's time for a Cats return.
Michael McGauley: Side Show!!
Several of our readers asked for the return of Bill Russell and Henry Krieger's Side Show. They may not have to look too far, as there has been much buzz about a Broadway return in the near future!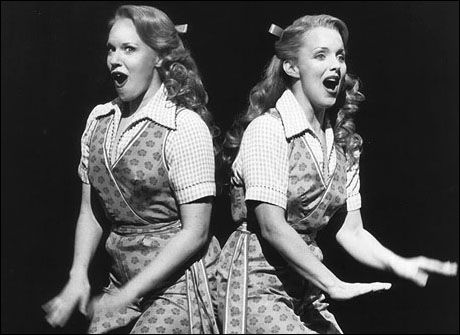 photo by Joan Marcus
Other titles readers would like to see back on Broadway in a return engagement include Big River, Dirty Rotten Scoundrels, A Chorus Line, Catch Me If You Can, Miss Saigon, Dreamgirls, [title of show] and Torch Song Trilogy, among many others.