Think of Merrily We Roll Along as the show no one wants to let go. In revivals, regional productions, and concert form, the George Furth-Stephen Sondheim musical has been tinkered with, revised, and revitalized—propelled both by its score ("Not a Day Goes By," "Our Time," "Old Friends") and a beloved original cast album. Now, a few years after offering a radical new take on Sondheim's Into the Woods, Fiasco Theatre Company brings its interpretation of Merrily We Roll Along to Roundabout Theatre Company's Laura Pels Theatre Off-Broadway, where it officially opened February 19.
Newly streamlined to one act and a cast of six—including Jessie Austrian and Ben Steinfeld, co-artistic directors with the show's director Noah Brody—this may be the work's most radical reinvention yet. And the process began four years ago with a meeting between Fiasco's directors and Sondheim.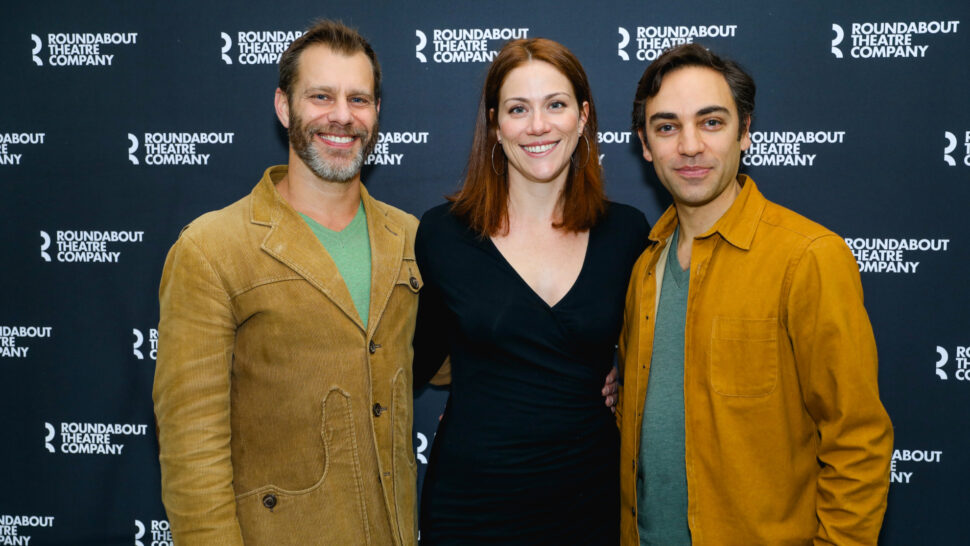 "He generously gave us access to all the archived versions of the script drafts from the original 1981 production, including cut scenes and songs," says Austrian. "So there are some scenes and songs in our production that have never been seen onstage, or haven't been seen onstage in 37 years. He also spoke about the original Kaufman and Hart play [of the same name] and what drew them to want to adapt it, so with his and the Kaufman and Hart estate's blessing we also interpolated some of the text from the play."
Additionally, much of the story is now told physically during transitions—which often encompass a number of years narratively—thanks to choreographer Lorin Latarro (Waitress). And, unusually for a revival, the production was workshopped for over three years, a process that Steinfeld calls essential. "We reinvestigate every show we work on, whether it's by Sondheim or Shakespeare," he says. "We treat each piece almost as if it were a new play." That thoroughness is what has quickly distinguished Fiasco as a company.
"Merrily is an excellent example of how an individual project evolves, and how its needs push us to grow as creative artists," says Brody.
Merriliy We Roll Along plays at Off-Broadway's Laura Pels Theatre (111 W 46th Street between Sixth and Seventh Avenues) in a limited engagement run, with previews from January 12, an opening night February 19, and closing scheduled for April 7, 2019.