*
The recently coined cliché "dysfunctional family" doesn't begin to make a dent in the disturbing domestic portraits Edward Albee has dished out for a half-century.
Let's review a few of the eccentrics he has crammed into his theatrical family closet over the years: the psychologically shaky couple whose home is invaded by their two best friends, in flight from some unnamed terror (A Delicate Balance); the suburban housewife who takes up happy-hookering as casually as badminton (Everything in the Garden); the wedded breadwinner erotically smitten with his nanny (The Goat, or Who is Sylvia?); and the "blond-eyed, blue-haired" offspring that nobody seems to have seen (Who's Afraid of Virginia Woolf?).
Me, Myself & I, despite its title's promise of a three-ring circus, is actually a double-vision version of the dysfunction above. There are twins on the loose here, running irrationally and erratically amok, bringing new meaning to double meaning.
The 40th season of Playwrights Horizons begins with this play, which simultaneously celebrates Albee's 50th year as a New York playwright. He debuted Jan. 14, 1960, at the Provincetown Playhouse with The Zoo Story, sharing the bill with Samuel Beckett's Krapp's Last Tape. A bit of Beckett still lingers.
In fact, Tony winner Elizabeth Ashley and Brian Murray make their entrances in Me, Myself & I like Beckett fugitives — she rising out of the covers of a big double bed like the madhatted Winnie sinking into a mound of earth in Happy Days, he clumped beside her under the sheets, eventually emerging fully clothed in a three- piece suit, wearing shoes and holding a bowler hat à la Estragon in Waiting for Godot.



photo by Joan Marcus
She's the matriarch of this menagerie, abandoned by her husband of nine months right after she gave birth to twins 28 years ago. He is "Dr.," who delivered them and who, like a swift changing-of-the- guards, assumed the husband's place in her bed.
The kids are not all right. As befits identical twins, Mother has given them identical names that are spelled the same backwards and forwards (this, the doctor allows, has "symmetry, yes, but not logic"). The critical difference is in the capping and uncapping of the sons: OTTO the elder is the evil twin (Zachary Booth); otto the marginally younger is the good one (Preston Sadleir). Occasionally, OTTO passes for good and takes frightful liberties with otto's fiancée, Maureen (Natalia Payne).
Further diminishing otto, OTTO declares himself an only child and announces that he's becoming Chinese: "The future is in the East, and I want to be in on it." All of this is much too much for Mama. "Which one are you?" she asks in a ditheringly earnest Marion Lorne manner. "I never know who you are. Are you the one who loves me?"
Albee stirs all the above with absurdist abandon — and a personal fervor.
"I've been obsessed by the concept of twins for a long time," Albee admits. "I think I decided I was probably an identical twin myself. Being an orphan, you need all the identity you can get. I never knew whether I had any brothers or sisters so I invent them in plays." The twins motif got a heavy workout in The American Dream and less of one in The Lady From Dubuque. "I think there are twins showing up somewhere else, but I can't remember. I've done so damn many plays" — 31, to be precise, and a couple are percolating. "I've got two going now, one of which I'm writing down. I won't tell you anything about it because I might be wrong. I never tell anybody what my plays are about. Also, if you can tell somebody in a couple of sentences how long a play should be or what a play is about, then that's as long as the play should be. You just haven't written a complex enough play."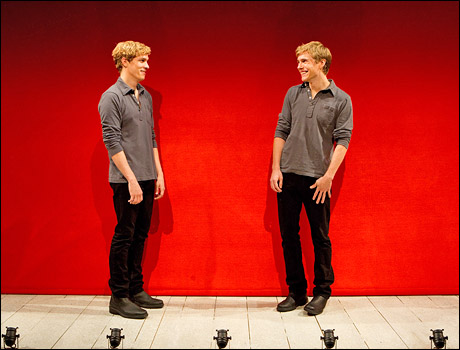 photo by Joan Marcus
Born Edward Harvey on March 12, 1928, he entered the world of theatre 18 days later as the adopted son of Mr. and Mrs. Reed Albee, a conservative Larchmont couple whose wealth came from a national chain of theatres that had operated since the 19th century. It was, otherwise, not a happy home, and Edward Franklin Albee III left it at 18 because his parents had a problem with his homosexuality. Their bitter estrangement fueled — and authenticated — the dramatic dysfunctions ahead of him.
"I didn't get along very well with my adopted parents," Albee readily concedes. "They didn't like children. They gave me a great education — private schools, the best education you could possibly get — and I'm very grateful for that, but I disliked their values from a very early age. They were bigots and farther to the right wing than the Republican Party is now back then, which was really very difficult to do."
Dissatisfied as he was with his adopted parents, he didn't try to find his real parents.
"Back then, it was impossible. There were laws that said natural parents were never to learn who took their children," Albee remembers. "It was troubling to me only for health reasons. My doctors would ask me, 'Does this run in your family?' I had to say, 'What family?'"
Not knowing his roots was a nagging frustration for him — "until I figured out who I was." And when was that, exactly? "I think probably when I wrote The Zoo Story. That let me know I was a playwright and I would do reasonably well."