Mauricio Martínez, who made his Broadway debut in On Your Feet! and subsequently starred in that musical's national tour, will bring his new cabaret show, 5'11, Based in NYC, to 54 Below October 5–6. The show was inspired by all the self-tapes that Martínez has recorded for various roles that he didn't get.
Written by Martínez and Robbie Rozelle, with direction by Rozelle and musical direction and arrangements by Brian J. Nash, the evenings will be recorded for a forthcoming live album. Special guests will include Drag Race's Alexis Michelle and Bad Cinderella's Linedy Genao.

A household name in Mexico and Latin America, Martínez starred in the Mexican productions of Beauty and the Beast, Saturday Night Fever, Jesus Christ Superstar, The Drowsy Chaperone, Sweet Charity, and The Last 5 Years. The performer, who has recorded two Latin pop albums, can also be seen in the TV series El Vato on Netflix (which won a 2018 International Emmy Award for Best Non-English US Program). He recently starred in the Asolo Repertory production of Man of La Mancha and was also part of the company of the Paper Mill Playhouse premiere of the Andrew Lloyd Webber revue Unmasked.
In the interview below for the Playbill series How Did I Get Here—spotlighting not only actors, but directors, designers, musicians, and others who work on and off the stage to create the magic that is live theatre—Martínez details how he gets over disappointment, the challenges of leaving behind a career in Mexico to start over again in the United States, and that time he was pushed onto the NYC subway tracks.

What can people expect from your upcoming cabaret show?
This show is very personal. It shows what we actors have to go through at home while preparing self tapes, which seem to not be going anywhere anytime soon, even post-pandemic. But also, it's the perfect excuse to sing some of my favorite songs that the leading men of Broadway's current running shows perform, such as Billy Flynn, Nicky Arnstein, Sir Lancelot, and even Scar and King George. There's also some favorites from shows that recently closed. I've auditioned for some of these parts. My director, co-writer, and one of my best friends in the world, Robbie Rozelle, really understands my humor. And I have the amazing Brian J. Nash as musical director, with a band of four extraordinary musicians. It's going to be such a fun night. And the cherry on the top: I have two extraordinary guest artists with me, Alexis Michelle and Linedy Genao. We're recording a live album these nights, and I couldn't be happier.
Tell me about a job/opportunity you really wanted but didn't get. How did you get over that disappointment?
I really wanted to play Che in Evita, back in 2019, for the City Center production. I swear they must've brought me back at least three or four times…It was down to, I think, two or three guys, and they ended up casting somebody else. They revived this production this year in Boston and D.C., but I was already cast as Don Quixote in Man of La Mancha at Asolo Repertory Theatre, and that was a dream role of mine, so it conflicted with Evita. Company was also a very close call, back in 2020. I've been in this business for many decades now because I started really young. And I've learned not to take things personally, and understand that you should always be proud of the process and in doing the best that you can. I sing and talk about all this in my concert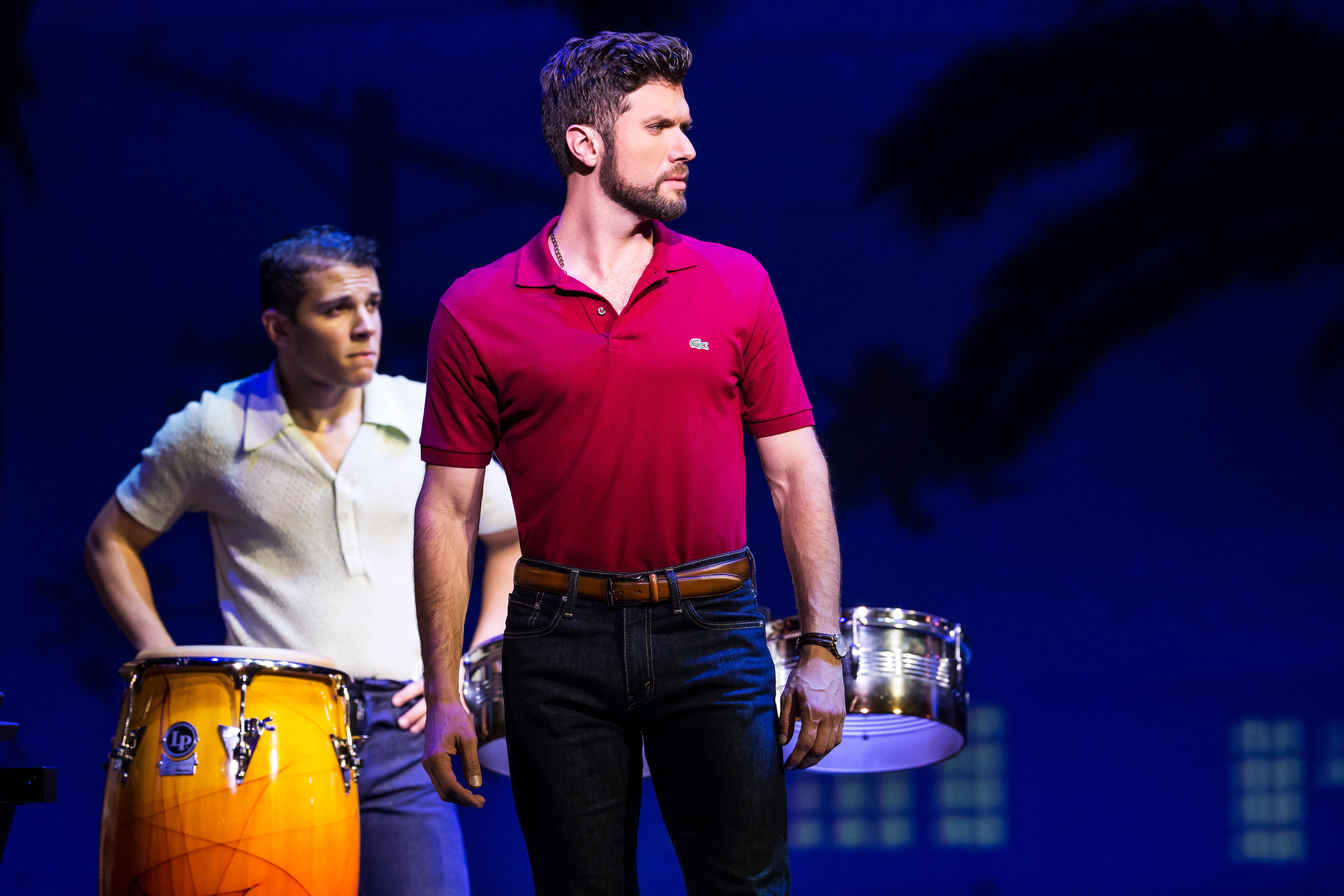 What made you decide to become an actor?
Ever since I can remember, I wanted to become a performer when I grew up. I always knew I had a voice, even as a kid. But I was a bit shy. I remember watching Grease as a kid and wanting to be just like John Travolta. Then I discovered Patrick Swayze in Dirty Dancing and said, "I want to do that!" Michael Jackson's videos also had a tremendous effect on me.
Was there a particular production or performance that influenced your decision?
I think it was Grease. It's a very beloved musical in Mexico, and it's been produced every decade. A very famous pop group of teenagers, who were just my age, did it at the time. When I went to see them, I knew I wanted to do just that for the rest of my life. I didn't know how I was gonna do it, but I knew it was my destiny.
Where did you train/study?
I studied musical theatre in the American Musical and Dramatic Academy, acting in The School for Film & Television in New York, and also at CEA Acting School in Televisa in Mexico City.
Was there a teacher who was particularly impactful/helpful? What made this instructor stand out?
Yes, I have two that really stand out. Well, three, actually. The first one is Miss Eloísa Elizondo in Monterrey, México, where I am from. She taught us art and music at the Colegio Inglés and always told me to pursue my dream of becoming an actor and a singer. She not only cast me as the lead in our production of Grease in junior high, but also gave me the task of directing the show. I was 15 years old. And, later in New York, my musical theatre [teacher] at AMDA, Elaine Petricoff—who has become a friend and mentor over the years. She really taught me how to act a song and be in the moment. I still use her method to this day, which consists of a chart, breaking down the song. And, of course, my voice teacher of over 25 years, Wendy Sharp, who I adore. We met at AMDA when I was a teenager, and I still vocalize with her warm-up exercises to this day. She's become a friend. To this day, both her and Elaine show up to my concerts and musicals, which makes my heart so full.
Can you share a memory of your first night performing on a Broadway stage?
I will never forget my Broadway debut in On Your Feet! on July 11, 2017. My mom flew in from Mexico and my sister from Spain. I had friends from all over the world, as well as Mexican press and even some fans who knew me from my Telenovela days in Mexico, who came to show their support. There was a mariachi outside the stage door and people with tequila and Mexican flags. It was beautiful. I'll never forget that right before the show started, the show's dance captain, Natalie Caruncho, came up to me and said: "Remember this moment, Mau. Up until today, you've never set foot on a Broadway stage before. And once you're there, you'll be a Broadway star. Think of everything you had to go through to be where you are now. Take in this moment, and cherish it forever." And that's exactly what I did.

Of the many musicals you performed in Mexico, is there one that stands out as a favorite? What made that production special?
I firmly believe that each project finds you at the right time when you're ready to deliver the message they need you to deliver. My first musical was Saturday Night Fever, and Tony Manero was a role I had dreamt of playing for many years, since I had auditioned for it when I was a student here in New York. I was cut from the dance call because I was pushed on the subway on my way to the final call back, so I wasn't able to sing. Years later, I was performing on cruise ships, and the director of the shows was the same choreographer of the show, so she had me flown back to New York to audition for the German production. I got cast as the understudy, but when I called my mom to tell her the news, she told me my dad had just been diagnosed with terminal cancer. So I had to drop everything and return to Mexico. After my dad passed, right after I did Mexican Idol, one of the producers of the show called me and said that they were looking for me to offer me the lead in a West End musical, based on a film, starring John Travolta [that was coming to Mexico City]. I couldn't believe it! It was Saturday Night Fever. So be careful what you wish for.

Another highlight is definitely Beauty and the Beast. I was a merchandise seller at the Palace Theatre back in 1998 when I studied at AMDA. I was working on the Beast's beautiful ballad "If I Can't Love Her," which closes Act One, at school with Elaine Petricoff. So it was my job to bring the little cart with Disney products each night into the orchestra section to offer to the audience right before intermission started. So I got the chance to see the Beast sing the song every night. The day after, I would come to school and tell Elaine what the Beast had done the night before. I dreamt of playing him one day. I was 19 years old. Ten years later, the revival of Beauty and the Beast was announced in Mexico City, and I went to audition. They only wanted me to audition for Gaston, but I told them I would only audition for the Beast. That is something that I've always believed in and done—fight for what I want and that I know I'm better at. In the end, I was offered the role. I got to play the Beast for a year. The day after opening, I sent an email to Elaine, dressed as a Beast, that said, "I made it!"
What do you consider your big break?
I think I've had many big breaks all throughout my career. I could say that definitely one of them would be the TV show Operación Triunfo (sort of like the Mexican version of American Idol) in 2002. That definitely made me a household name in my country and opened a lot of doors. But On Your Feet! was my crossover to Broadway as a leading man. That brought me back to NYC. Also, I was discovered by the casting directors of [On Your Feet!] by risking it all and coming to star in a musical, composed by one of my best friends, Jaime Lozano, called Children of Salt, at NYMF in the summer of 2016. That's what really brought me back to New York. So I am very grateful to Jaime for that, 'cause it changed my life, literally.
How did you get your first job in the theatre?
I could say that my first job in the theatre was a staged reading of an Off-Broadway musical called 4 Guys Named José…and una mujer named María in 1999. That was my first job right out of school. I was 20 years old. Then I sang as a guest entertainer in the production shows on board cruise ships for a year, and I came back to audition for the Off-Broadway reproduction of the same show, but my work visa had run out so I couldn't get cast. This was an ongoing theme in my life for the next decade or so.
Then, in Mexico City, I auditioned for Les Misérables in 2002 and was cast as Enjolras. But the same day, I was selected to be a part of the Mexican Idol show, so I had to turn Les Miz down and venture into television. The day after the TV show ended, I got a call from the theatre producer telling me that they were looking for me for Saturday Night Fever…and that's how it all started. I've never left the theatre since. It is my home.
What is the most memorable day job you ever had?
Back when I was a teenager, living in New York, and studying theatre, I became a Spanish teacher. I wasn't an expert or anything, I was just Mexican, so it was my first language. So I created business cards and went down to Wall Street and started giving them out to people. I charged $50 an hour, and it really helped me out back in those days. I basically created this character who was the Spanish teacher and would show up to people's apartments to teach them Spanish. To this day I don't know how they didn't find me out!
Is there a person or people you most respect in your field and why?
I am a huge Barbra Streisand fan. I respect her as an artist and as a human and everything she stands for. And I really admire and respect Hugh Jackman's commitment to coming back to theatre, even though he's a movie star and doesn't really need to. As far as Broadway, I deeply respect and look up to Audra McDonald, Stephanie J. Block, Raúl Esparza, Norm Lewis, and Brian Stokes Mitchell. I also really enjoy Ben Platt. I love actors with big voices who aren't afraid of anything…and, of course, one of my favorite voices is Jessica Vosk.
What advice would you give your younger self or anyone starting out?
I would tell him to enjoy himself even more and perhaps not take things too seriously, which is advice I took later on in life. I'd tell young Mau to have more fun because in the end, it all works out, and all my dreams have come true. Life can be scary at times. I am living proof of it. That's why we have to make the most out of it and follow our passion.
What do you wish you knew starting out that you know now?
That the people that are meant to stay in your life will do so, and that some people can take advantage of you in this business if you're not careful. Managers, producers…I've learned to choose more carefully. Also, in Mexico and Latin America, I've had my fair share of exploitative press. One tabloid literally outed me by publishing a copy of my wedding certificate a day before my first wedding anniversary. It was awful, and it felt such a violation of my intimacy. Some (not all) entertainment press in Mexico can be brutal, and I've learned to develop a thick skin from it.
What is your proudest achievement as an actor?
My proudest achievement is always my latest role, so I'd have to say that playing Cervantes and Don Quixote in Man of La Mancha is something that I am extremely proud of. This production was truly beautiful because it took place in a modern-day detention center, and the cast was multiethnic. In the end, we all sang "The Impossible Dream" in different languages. It was so moving and beautiful. I hope I get to play that role again someday. But also, I am from another country, and I literally had to fight to be able to stay in the U.S. and audition and create a new life in my late 30s, giving up an established career in Mexico.
And I have created that new life. It hasn't been easy, but today I live the life that I always dreamt of living, with its ups and downs, naturally. But that's life.