New York City Center is unveiling a new staging of A Chorus Line as part of the celebration of its 75th Anniversary Season. A home for artists from the worlds of dance, theatre, music, and opera since 1943, the institution has a special connection to the musical: Michael Bennett rehearsed three early companies—a national tour, an international tour, and the first replacement Broadway cast—in its studios in spring 1976.
The production is also being mounted in the midst of one of the great boom periods in Broadway history. The Great White Way recently concluded another successful season, accompanied by record attendance and over $1 billion in sales, with nearly all houses booked and a parade of new productions grabbing theatres within days of their vacancy announcements.
It's easy to forget that in 1975, when this musical story of artists fighting for "the chance to dance for you" premiered, Broadway wasn't just sick—the Fabulous Invalid was in serious trouble. Attendance was down, receipts were down, and more and more theatre marquees were sporting the sign "See a Broadway Show for the Fun of It!" which some owners used to keep their dark houses from looking empty.
"Broadway was in a very bad place," said Bob Avian, original co-choreographer of A Chorus Line with Michael Bennett. Avian directs the City Center revival with original cast member Baayork Lee, winner of the 2017 Isabelle Stevenson Award, recreating the original choreography. They both remember what it was like when the neighborhood was a real-life version of the HBO series The Deuce, overrun with porn, drugs, and crime.
The ethos of that era pervades the script of A Chorus Line: "I don't want to hear Broadway is dying because I just got here." That line of dialogue may confuse today's theatregoers who see shows that run not just for years, but for decades (The The Phantom of the Opera, Chicago), and who see the West 40s thronged with theatre fans of all ages waiting to get into Hamilton, Dear Evan Hansen, and other hits.
So, what happened in between? What brought Broadway back to life?
A Chorus Line was born in the darkest days of that period and proved instrumental in waking up Times Square. A group of dancers led by Tony Stevens and Michon Peacock, later joined by Bennett, had gotten sick of watching the employment pool dry up. They got together in January 1974 with a group of their friends and colleagues—professional dancers like themselves—to try to initiate their own project and get work for themselves. That urge—"Oh God, I need this job"—became the engine of the dancer project that became A Chorus Line.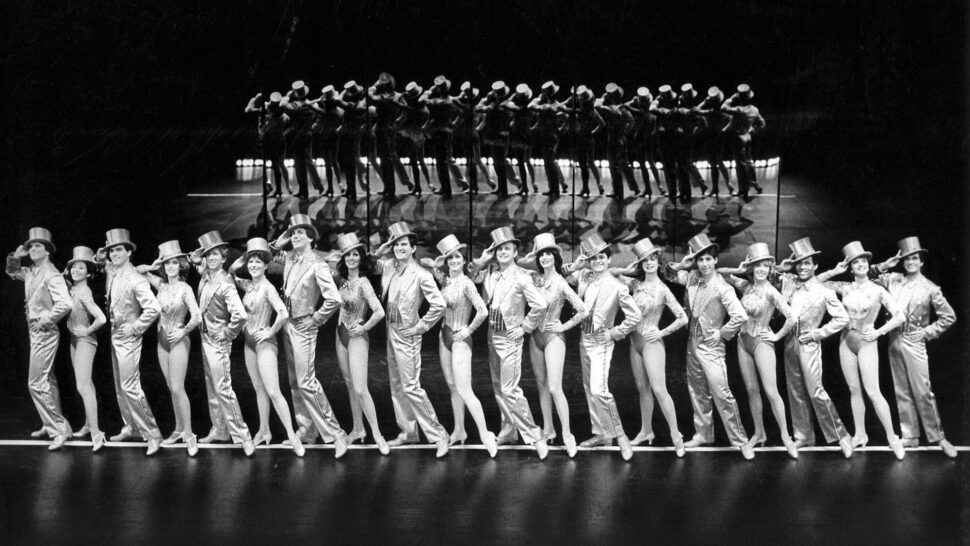 The details of what came next are now Broadway legend. A Chorus Line opened at the Public Theater in April 1975 and transferred to Broadway's Shubert Theatre in July 1975, won the following year's Best Musical Tony Award and Pulitzer Prize and ran 16 years, becoming, for a time, Broadway's longest running show. In addition to being a white-hot ticket, the show became a cultural phenomenon of a kind not seen again until the age of Hamilton. Images of the show penetrated mass culture via magazine covers, TV appearances, and newspaper stories.
It would be an exaggeration to say that A Chorus Line single-handedly rehabilitated Eighth Avenue. But, its success did start people in power thinking that maybe it was worthwhile to rehabilitate Eighth Avenue and create conditions for a Times Square renaissance. That there was something on Broadway with a spirit, with a life, that was going to survive and prevail and possibly even at some point prosper.
"A Chorus Line at that time was so groundbreaking," Avian said. "Nobody had seen anything like it. It hit people in their heart and their brain like no other show had done."
Avian said the positive effect of the show extended far beyond Shubert Theatre box office. "People who couldn't get tickets would try going to the theatre down the block. 'Oh, let's go see another show, and hope it's as good.' That kind of energy propels other shows to do better. It brought people back into the whole Theatre District. And when they finally did see our show they were so turned on by the energy and the emotion."
Lee said, "With the success of the show we knew that there was hope and Broadway was on its way up again. We changed the tide and everyone in the industry was going to work hard to bring back Broadway."
There were a lot of reasons why A Chorus Line had this effect. First of all, it was a really good show, with compelling dramatic engine, attention-grabbing characters, a completely original story, and a grand sense of size. While the characters are not kids, they projected a youthful energy that especially appealed to Baby Boomers, most of whom were in their 20s at that point. Here was a show that was sexy, dramatic, diverse, and plainspoken to the point of being R-rated.
These were also contemporary American characters, and their story was not set in Edwardian London or Bangkok or Anatevka. As the original Playbill said: "Time: Now. Place: Here." The subliminal message: Broadway is alive, it is still about youth, and it can still make magic.
In addition to supplying thrills for the audience, and making megabucks for producers, A Chorus Line fulfilled its original impetus, to provide work for dancers. It has continued to do so, not just for the original cast, but for thousands of dancers over the years in its many productions—dancers who have gone on to make their energy and talent available to countless other shows.
Above all, the show captures the essence of what is thrilling about its own art form. "The show itself, in many respects, is such a valentine to the existence of the Broadway musical," said Encores! Artistic Director Jack Viertel. "It's about how we make that thing that makes audiences go crazy. City Center's Encores! series itself was conceived out of the same impulse that Michael felt. Even cruel and unusual people like David Merrick felt it. We love that thing that makes us feel the way A Chorus Line make us feel—that love sustains us all. It's 'What I Did for Love.' That's the key song."
Robert Viagas is the founding editor of Playbill.com and author of 19 books on theatre including On the Line: The Creation of "A Chorus Line" with Baayork Lee and Thommie Walsh. He now continues writing as a freelancer throughout the theatre industry.