Wowza. I am tired! I took a red eye from Vegas to NYC after a Sunday night show with Kelli O'Hara and Wednesday night I went to bed around 12:45AM and woke up at 3:30 and couldn't go back to bed and then I had to get up at 5:15. Why did I have to wake up so early? Because I'm now on a plane that went from Newark to Houston and is currently on it's way to Puerto Vallarta. Gavin Creel and I are putting on a show for an amazing clinic that Broadway Cares/Equity Fights AIDS funds every year. I am exhausted, but it's nothing compared to the travel I once had to do with Betty Buckley.
She and I had a show at night in Bend, Oregon, went to bed and then had to wake up for our car pickup the next "day"…at 1:30 AM! Seriously! I thought it was a joke when I first got the itinerary. The crazy time was because it took three hours to get to the main airport and our flight was at 6AM. That happened nine years ago and I'm still sleeping it off.
This is a pic of me and Gavin on the plane where we decided to cross our eyes. After the pic was taken, we discovered I do not know at all how to cross my eyes. Gavin said I'm simply "glancing downward."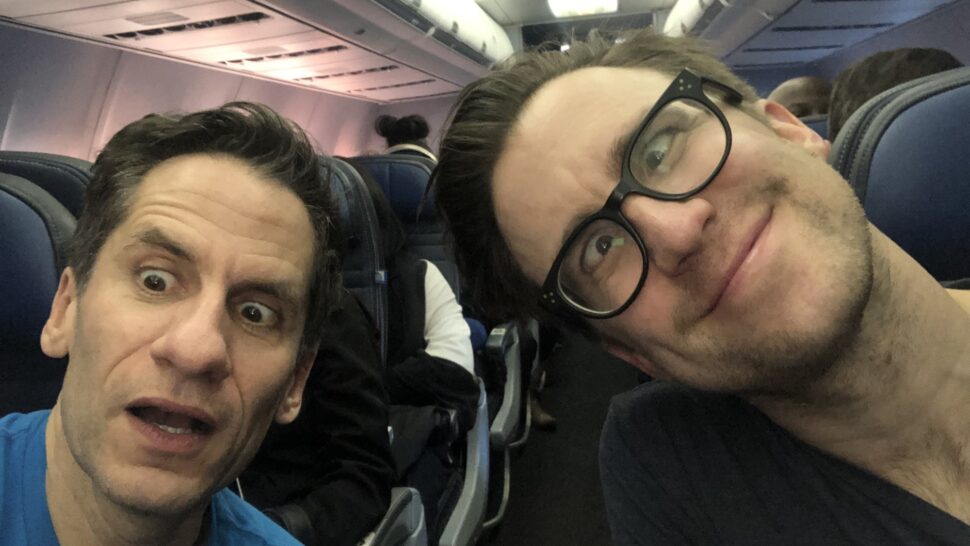 Regardless, let me write about how great the Kelli O'Hara show in Vegas was! We were at the Smith Center in Las Vegas and she sang up a storm—from The King and I to The Light In The Piazza and her upcoming role as Kate in Kiss Me, Kate. We revisited one of my favorite stories, which was when she was in the 200 revival of Follies with all of these Broadway luminaries, including Joan Roberts who was the original Laurey in Oklahoma!. Well, Joan may have had a sweet soprano with a lilting southern accent when she sang "Out Of My Dreams" but in reality she lived in Nassau County and had a thick Long Island accent. Who knew?
In the opening scene of the show, Kelli played her assistant and led her to the stage. Again, in the show, she played her assistant for a brief scene. Well, Joan thought that, in real life, Kelli actually was her assistant. Every day after rehearsal, she would ask/tell Kelli (in full Long Island accent) "Go outside and gemme a cab!" Kelli did it for many days until finally the stage manager told her that she was not required to hail cabs for any cast members. Follies wound up having a reunion many years later after Kelli had quite a few leading roles on Broadway and Joan was so complimentary. She told Kelli that she had been following her career and was extremely proud of her. Joan followed that by telling Kelli to go outside and tell her driver she was ready to go. Everything old is new again?
Kelli and I were talking about her award-winning stint as Mrs. Anna in King And I and she told us that when she went to London she found out that the accent she was using in the show was the so-called "Queen's English." She thought it was fine until she was informed that the "Queen"s English" came to be after The King And I takes place! I had no idea what accent she meant and she put it into layman's terms: Julie Andrews' accent. Got it!
SO, she, therefore, changed how she pronounced her words for the London production. When she got up to sing "Getting to Know You" for our concert, she couldn't decide what accent to use, so I told her to do it as Joan Roberts. She then sang Mrs. Anna sounding like the Long Island Medium. Perfect!
At one point in our show, we both sang "Small Talk"—a great duet from The Pajama Game, which she did on Broadway with Harry Connick, Jr. She was at the piano and busted herself by revealing that one of her character "choices" was constantly having her hand placed sassily on her hip.
One of my favorite things happened right after the show: We came offstage and Myron Martin, who runs the Smith Center, gave us each a framed photo….from the show we had just performed! It was amazing! A photographer was taking pictures, Myron got it developed (!) and framed and handed it to us on our way to the dressing room. It's the signature Pajama Game pose!
Kelli and I are doing another show on January 14 in NYC at The Town Hall. Here's our video promo!

Speaking of videos, I got an email from a dad who was making his daughter a video for her birthday. He went to lots of different stage doors and got so many amazing stars to wish her happy birthday. I taped myself on the deck off of my house and he put it at the end. It's such a fantastic video! WATCH
On Monday and Tuesday I hosted The Red Bucket Follies for Broadway Cares/Equity Fights AIDS. The opening number was a salute to Flower Drum Song and had members from the Broadway revival, national tour, and original Broadway cast! Watch the video here:
I told the audience how I first came to love that show; it wasn't from seeing it on Broadway, it was from seeing a local junior high school production. It is so important to take your kids to see theatre and it doesn't have to be expensive. Often, seeing local kids do musical theatre meant more to me than seeing Broadway show because they were starring kids like me and I got so excited because unlike Broadway, which maybe would never happen for me, I knew I'd have opportunities to do shows like that one day.
Next week I'm in delicious warm weather: I have a show with Sutton Foster at the Scottsdale Performing Arts Center. (Tickets here.) Then I'm with Christine Ebersole on Saturday. (Tickets here!)
Here's me and Sutton in action together at one of our previous concerts:

And at Christine's concert, composer Scott Frankel is going to be in town so I'm going to bring him onstage to play all the horrifically hard piano parts he composed for Grey Gardens and Warpaint!
Peace out and happy December!