When preparing for a performance, Mamie Gummer's appearance is the least of her concerns. Her most recent film, "Ricki and the Flash," featured the versatile actress as a depressed and suicidal woman suffering from the breakdown of a marriage and an absent mother. And her latest project, the Off-Broadway premiere of Lindsey Ferrentino's new play Ugly Lies the Bone, has Gummer playing a war veteran recovering from severe injuries.
"When promoting 'Ricki,' the question I got over and over, right out of the gate was, 'You look terrible in this movie. Was it difficult to have to check your vanity?'" Gummer recently recalled during a break from rehearsal. "My answer was, 'No. It was the greatest thing ever.' And the theatre has always kind of allowed and provided for that in a way that I've deeply appreciated."
It wasn't only the appearance that drew Gummer to Ugly's Jess. Listing the character's integrity, spirit, struggle and bravery as key elements, Gummer added, "She and her story — it scared me a little bit. And that's usually a sign that you ought to get involved in something. I felt scared for her, and what I can provide as an actor would be just to portray her to the best of my ability and defend her. Fight for her."
A lot of fighting is taking place in Ugly Lies the Bone, which chronicles Jess' return to civilian life and the new conflicts that await her far away from military battle. Living with her sister Kacie as she undergoes virtual reality video game therapy, Jess lashes out at Kacie's boyfriend Kelvin while rekindling a relationship with a former boyfriend Stevie. But recovery isn't simple for Jess, who attempts to build a new relationship with her physical environment as well as her emotional. The play is directed by Patricia McGregor, who is no stranger to military life. Several of her own family members have served in the armed forces, which, she said, have made Jess' struggles even more real to her. She recalled that following a day of rehearsal, she called her uncle, who is a former marine, to talk with him. "I remembered that he actually went through this journey — shot up, had to be on his back, had an iron lung. It makes it not abstract to me.
"I see the desire not to be in the abyss that going through combat pulls you into," she added. "I talk a lot about the undertow of this play. There's an undertow you have to be swimming and fighting against all the time, and that feels very real to me. I've worked on a couple of pieces about veterans. In a funny way, I hope to bring something to it, but it always brings something to me... My family lives in the aftermath of this, too. It makes me understand things like that. Hopefully I can bring some of what we've struggled through and survived and learned from [and] bring some clarity. It feels very personal to me what they're all struggling with."
Painting an honest portrait of the difficulties veterans are facing was important to Ferrentino, who shared that she didn't want to write a piece exclusively about victims of depression succumbing to suicide, nor did she want to write a piece only about a veteran's romance after the war, but rather the actual journey towards the first stage of recovery.
"Most people are in the middle of it," McGregor added.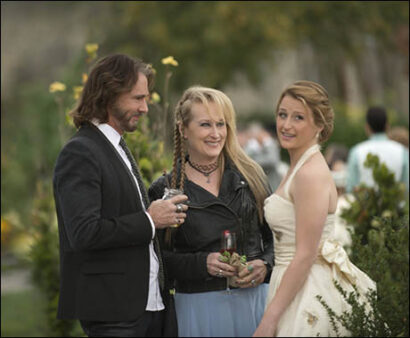 To prepare for the role of Jess, Gummer said she read everything she could get her hands on, including the books "Ashley's War: The Untold Story of a Team of Women Soldiers on the Special Ops Battlefield" and "Redeployment." She also watched the documentaries "Alive a Day" and "Lioness," among others.
"This war feels very remote to me in the life and the circle that I'm in here in Manhattan, living as we do," she said. "I was really interested in bringing it closer to home, to my heart."
Set in "the heart of Florida's space coast," Ugly Lies the Bone unfolds against the end of NASA's shuttle program and explores the differing points of view on the meaning of the American dream to people whose world is changing around them. Jess, who has faced a world her neighbors have not, finds her own hopes for the future differing greatly from Stevie's, a small-town man who works at a gas station and longs to buy a house and have a child with his wife.
Ferrentino weighed in on the changing perspective on the American dream from the female perspective, saying, "We're at a time where we're figuring out what is the new American dream, especially for a woman. It's only recently that women are allowed to be recognized as combat soldiers. Just that, symbolically, has a ripple effect. What are we, as a society, considering women capable of doing? I don't know what the woman's American dream is. I think we're in a time of transitioning, figuring that out as a society and a culture."
The transition has also been reflected in the theatrical community, Ferrentino added, referencing the term "parity raid" popularized by the Kilroys, an activist group dedicated to recognizing female playwrights — and which recognized Ferrentino in its 2015 List. The Kilroys, and other activist groups and writers, have worked to increase awareness of works by women being produced onstage and the various factors which affect the statistics.
Read more about the difficulty of balancing a family and a career in theatre here.
"The last three directors I've worked with have been directing, and then, on their breaks, nursing children," Ferrentino said. "It's this interesting time when that's being embraced and allowed. I think when you [McGregor] and I were meeting for this play originally, you were in rehearsals at LCT3 and you had someone babysitting on the side and you were on the breaks, pumping [breast milk]. I think that's really exciting how many different arenas women are juggling right now. I don't have any children, but on my days off I'm running up to grad school and you're [Gummer] insanely busy with all your projects. I think the amount that women are taking on is expanding."
Ferrentino is devoted to portraying women embarking on unconventional paths in her plays as well. In addition to Ugly Lies the Bone featuring a female veteran, her next play concerns a woman with Down Syndrome.
"I think diversity is something that I'm always thinking about when I'm writing," she said. "Diversity not just of casting, but of the stories I'm telling. Lately I've been interested in writing about unlikely female protagonists. I'm always thinking about diversity of body types and diversity of class and experience more than just race. Race is something I'm concerned with as well, but I think it gets tricky as a white writer how you're approaching race and what experience you claim to write about. I think of diversity in a broader spectrum and mostly diversity of who the people are that we're putting onstage."
The development of Ugly Lies the Bone, and its featuring a physically traumatized female soldier, inspired comments from many people, Ferrentino said, who questioned the ability of an audience to be sympathetic to a main character who does not fit the idea of traditional female beauty.
"'Can you write a play about a female soldier?' came up a lot when I was talking about this play," Ferrentino said. "'Can you write a protagonist who's an ugly women?' is still being asked. 'How much can an audience stand looking at a protagonist who's difficult to look at?' Those were questions that were sort of sexistly revolving around the beginning of this play."
Reflecting on her techniques as a director, a profession that is still largely dominated by men, McGregor said, "I do feel that women tend to be — not always — a little more communal or expansive. It's not just about me reaching the finish line. It's about me and bringing my closest to the finish line with me. There are a lot of fields where we're starting to be, in that alpha way, the one to reach the finish line by ourselves. But how does that negotiate with our desire to bring folks with us, which is an impulse I want to celebrate? I want to celebrate both the ability to be the leader, but also the impulse to want to bring people with you." McGregor's impulses were celebrated by both Ferrentino and Gummer, who spoke of the director's ability to maintain the dramatic tension of the story while still honoring the comedic moments. But, McGregor said, her leadership skills were called into question recently when someone told her she should be less demanding and more graceful.
"[I was told] I'll get farther if I use my more of my grace," she continued. "I really think about this. I think about practice. I am also a person who is brought in to make the show the best thing possible. In the face of being in rooms where cruel behavior has happened and it's been excused as, 'That's the auteur director,' to be told when you're just making requests … I think making demands or requests are part of what a director is supposed to advocate for the best possible show."
"I don't know if a man would ever be told he should be more graceful," she continued. "I don't walk through the world, [thinking] 'I can't do this because I'm a woman.' I walk through the world [thinking], 'I can do anything.' I think that pisses people off sometimes, and there's this little way they want to check that and be like, 'Stay in your place and show your gratitude and grace.'"
"How could you have more grace?" Gummer asked in disbelief.
Despite the struggles involved in playing Jess, Gummer savors the challenges, saying, "That's why we do what we do. That's why we get onstage: to be exposed. This is the reality. This is my truth, and I'm going to be vulnerable for the sake of all of us."