*
The Secret of Getting In
Not since Auntie Mame manned the switchboard at the law firm of Widdicombe, Gutterman, Applewhite, Bibberman, and Black has there been the level of short-circuiting comedy chaos you'll find in Application Pending, the one-person, 40-odd-character show playing through Apr. 19 downstairs at the Westside Theatre.
Christina Bianco, a graduate of Forbidden Broadway both in New York and London, is the hapless receptionist fielding all the quirky callers trying to pre-register their four-year-old in a private kindergarten. (She also plays the callers who range from the pushy and the snooty to George Clooney.)
This spoof of the galloping insanity that accompanies the kindergarten-admission process is the work of Greg Edwards and Andy Sandberg, a couple of 32-year-old Yalies who survived the ordeal as tots on opposite coasts. Edwards, in fact, didn't make the cut of his first choice, Nueva School, resulting in "a bitterness that has motivated — well, the rest of my life."
The computer age has added extra hoops to the obstacle course since they were kids, says Sandberg, who directs the show as well. "Kids are expected to have more skills in technological abilities these days," he notes, "and it gets pretty maddening. Perfectly sane people go nuts having to go through this process because they put their fates in the hands of a kindergarten admissions officer."
The Beginning and End of Eddie
"Is that you, Ed?"
"No, it's Edgar."
Although they are clearly separated chronologically by a century-and-some, and emotionally by several light years, Nevermore brings on an Edgar Allan Poe who, with his hair thoroughly greased and spiked skyward, is a dead ringer for Ed Grimley, the manic childman creation of Martin Short. That's part of the grand design of this cartoonish, largely sung-through morose musical purporting to be, says the subtitle, The Imaginary Life and Mysterious Death of Edgar Allan Poe.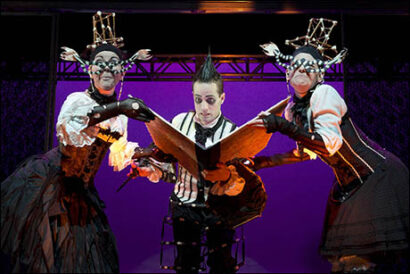 Most bios of the macabre writer begin when he's well along on the road to ruin, but this one goes in for Poe: The Early Years as well. Of course, you knew his father was a hopeless alcoholic (the tree never falling far from the apple), but did you know that his mother was a dance-hall doxy and that he had a brother and a sister, that the deaths of four major people in his life darkened his prose?
"It's inspired by the facts of his life, but we blended them with many of his stories," explains Jonathan Christenson, artistic director of Canada's Catalyst Theatre, who wrote and directed the show. "When you read those stories or his poems, you see so much source material from his own life, so we were really interested in looking at ways of seeing the characters from his stories in the moments of his life."
Scott Shpeley is Poe.