The Tonys are coming, the Tonys are coming! Hurry, children, gather round the flat screen and fire up your snark. Too harsh? How about relive your childhood wonderment? Maybe something in between; the Tonys stir up a who gamut of emotions for theatre lovers each season. When the envelopes are all opened, sometimes you're happy and sometimes you're sad, but the world goes round. This season, like any other, has its share of front-runners and dark horses and more open categories where we'll all be biting our nails until the winner is announced. And there will always be disappointment. The Tony voters can't possibly please everybody all the time.
History is rife with shocking Tony losses, including Ethel Merman in Gypsy, Julie Andrews in My Fair Lady, and Barbra Streisand in Funny Girl, to name just a few. Heck, why stop there? Andrea McArdle lost for Annie, Georgia Brown went home empty-handed for Oliver!, and you probably don't need me to tell you Elaine Stritch had to wait decades past her Company nomination before being handed the award. Keeping with this theme of great Broadway musical actresses, here are some more recent triumphs that failed to make Tony gold.
Click through to read my selections for the Tony Awards' Top Nine Non-Winning Nominees of the last 30 years.
9. Marin Mazzie, Ragtime
1998 Tony nomination for Best Actress In A Musical
Doubtless few who witnessed Natasha Richardson's now legendary performance as Sally Bowles in Cabaret would dispute Marin Mazzie's losing for Ragtime, but taken out of the context of that night's competition, and viewed broadly over the decades of musical theatre history, Marin ought to have a Tony and it ought to have been for Ragtime! Her Mother was the rock of Ragtime, a steady force even throughout social change, an evolving mind and heart, and she was gorgeously and powerfully sung. In an epic show, Marin was a human connection for the audience to care about. As Ragtime has become part of the canon of musicals, Marin Mazzie's Mother is the gold standard. She should have taken home the gold trophy.
Veanne Cox

Photo by Joseph Marzullo/WENN
8. Veanne Cox, Company
1996 Tony nomination, Outstanding Featured Actress In A Musical
Veanne Cox has built a solid career as a working actor across a variety of genres thanks to her impressive skills and versatility, but stardom and widespread name recognition has eluded her and this can be partly attributed to her unfair loss of the 1996 Tony for Company. I still remember her inspired "Not Getting Married Today" as if it were yesterday. Veanne's fresh approach to the manic number was very relatable, normal, like the sane half of the schizophrenic just, matter-of-fact, informing us of the madness beneath the surface. As the song built toward its climax, and more of the crazy showed through, Veanne's attempts to keep a lid on it provoked deep belly laughs and lifelong fandom.
Photo by Joan Marcus
1999 Tony nomination, Best Actress In A Musical
Another contender who should have taken home the prize, Carolee Carmello's Lucille Frank must have fallen victim to the "show already closed" syndrome, where the voters reward a performance still running. Or perhaps, there's no accounting for taste. Rarely, have I been so moved in musical theatre, to say nothing of the unforgettable goose bumps of Carolee's ferocious singing.
1992 Tony nomination, Outstanding Featured Actress In A Musical
Barbara Walsh deserved a Tony Award for her exemplary Trina in Falsettos. Less quirky than her predecessors in the Off-Broadway incarnations of the role, Alison Fraser and Faith Prince, Barbara brought a relatable everywoman quality, along the lines of Joanna Gleason's Tony-winning Baker's Wife in Into The Woods. Trina was rejected by her gay husband, and in Barbara Walsh's performance, she was then embraced by the audience, for her heart and humor and the way she grew from the obstacles she encountered to the life she'd expected to live, "very Jewish, very middle class and very straight." And she stopped the show cold with the brilliant "I'm Breaking Down," a Broadway highlight not discussed enough.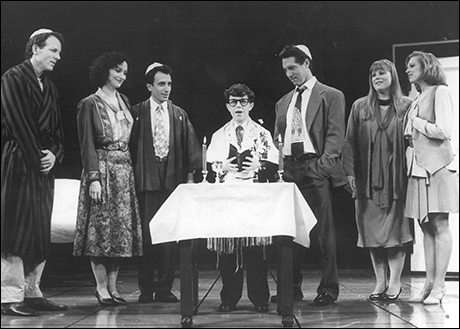 photo by Carol Rosegg
Photo by Paul Kolnik
2006 Tony nomination, Best Actress In A Musical
I think Patti LuPone's unforgettable performance as Mrs. Lovett in the 2006 revival of Sweeney Todd may have suffered from the "been there, done that" problem. Patti's first time playing Mrs. Lovett, albeit in a drastically different version of the show with the New York Philharmonic, was a recent and fond memory, easily accessible via an Emmy-winning broadcast with the San Francisco Symphony, available on DVD. It may have felt to Tony voters as if Patti had already won for this role. The fact is she hadn't and she should have. She managed to both seamlessly blend with the hard-working ensemble of actor-musicians and infuse the entire production with blazing star quality.
Photo by Joseph Marzullo/WENN
4. Eartha Kitt, The Wild Party
2000 Tony nomination, Outstanding Featured Actress In A Musical
How dare Broadway not give Eartha Kitt a Tony, even just for gracing us with her legendary presence, let alone for the enthralling work she did in the innovative The Wild Party. She could have just done a tour of some old chestnut, but Eartha brought her luster to new work by an up-and-coming writer. Surely, this deserved commendation. I will never forget the thrill and fright of watching her stalk that stage like a tiger. Her performance of "When It Ends" was chilling and oddly joyful. She was bursting with character and originality. It's a crime that she lost the Tony.
Tonya Pinkins

Photo by Michal Daniel
3. Tonya Pinkins, Caroline, Or Change
2004 Tony nomination, Best Actress In A Musical
Even the biggest Wicked and Idina Menzel fans in the world have to concede that Tony Pinkins' heroic turn in Caroline, Or Change deserved a Tony (she lost to Idina for Wicked). Perhaps the two could have tied, but for Tonya to lose was insane. She brought such warmth and fury to challenging material. I have to wonder if she was penalized for already having won for Jelly's Last Jam. Trust me, Tony voters, Tonya's got room on her mantle. Keep 'em coming!
Photo by Martha Swope
2. Bernadette Peters, Sunday In The Park With George
1984 Tony nomination, Best Actress In A Musical
I can certainly understand Tony voters rewarding Chita Rivera's 1984 performance in The Rink, and no doubt they owed her one since she had incredibly failed to win after decades of memorably starring in such monumental musicals as West Side Story; Bye, Bye, Birdie; and Chicago. But still! Is anything more heartbreaking and delightful than Bernadette Peters in Sunday In The Park With George? It should have at least been a tie. As Bernadette sang in Mack & Mabel, "time heals everything," but I can't help but listen to my Sunday In The Park With George cast album and feel my diva was robbed.
Photo by Brigitte Lacombe
1. Patti LuPone, Anything Goes
1988 Tony nomination, Best Actress In A Musical
Speaking of divas robbed, none has been treated as unjustly on multiple occasions, nor has any risen victoriously from the ashes with as much panache, as the unsinkable Patti LuPone. Patti had been the favorite to win for her celebrated Reno Sweeney in Anything Goes, and then lost in an awards night upset by Joanna Gleason for Into The Woods, who had been nominated as a Featured Actress for the Drama Desk Awards. Various solutions to this dilemma (this embarrassment of riches in the Musical Actress categories) were feasible, but sending Patti home empty-handed was the worst possible outcome. Anything Goes is a silly, old-fashioned romp, an excuse for great Cole Porter songs loosely tied together by a schticky plot. The 1988 revival was all about Patti LuPone! Patti's electrifying spontaneity and comic timing made the show fly by with far more urgency than would have seemed possible. And Patti's untouchable vocals justified the entire production. This kind of excellence is what awards were made for.
(Ben Rimalower is the author and original star of the critically acclaimed Patti Issues, currently on tour to Miami Beach, San Francisco and Los Angeles. Read more about the solo show here. Visit him at benrimalower.com and follow @benrimalower on Twitter.)