Peter and Jerry is the title of a pair of connected one-acts by Edward Albee, one of which is his famous career-starter, 1958's The Zoo Story. That two-hander, the mother of all park-bench plays, concerned two men who meet by chance in Central Park. (That's right: their names were Peter and Jerry.) Only one walks away from the charged encounter. The short play made critics sit up and take notice of the thitherto-unknown Albee, who soon after wrote Who's Afraid of Virginia Woolf? and many others.
Another playwright would have let, ahem, sleeping dogs lie. (That was a spoiler, readers!) But Albee decided to revisit the lives of these two very different New Yorkers a few decades later. The new play that resulted, Homelife, catches Peter at his house the morning before he goes to take a fateful walk. It premiered at Hartford Stage in 2004. And now finally gets its New York debut at Second Stage beginning Oct. 19. Johanna Day (who was in the premiere), Bill Pullman and Dallas Roberts star.
Albee, it is well known, is a massive Beckett fan; he has often had his plays paired with those of the famous Irishman. It is a fair guess, then, that the one play old Edward will catch this fall (aside from his own) will be Beckett Shorts, a collection of four one-acts directed by avant garde director JoAnne Akalaitis, whose work hasn't been seen in New York in some years.
She has brought along her old friend, composer Philip Glass and — Mikhail Baryshnikov, no less. (Suddenly, Beckett one-acts seem sexy.) The run begins in December at New York Theatre Workshop. Also featured in Beckett Shorts is actor Bill Camp, who, for this writer's money, has the most interesting fall schedule of anybody in town. In addition to doing Akalaitis' bidding, he will appear in another NYTW production: Moliere's The Misanthrope, directed by Ivo van Hove. Theatregoers will remember van Hove with either a shudder or a thrill. He's the experimental Dutchman who had Blanche dive into a filled bathtub in his A Streetcar Names Desire and whose Hedda Gabler stapled flowers to the wall and took V-8 showers. Camp will be Moliere's title hater, Alceste. It's not hard to see where van Hove got his casting ideas; Camp is the husband of frequent van Hove heroine Elizabeth Marvel. Performances begin Sept. 14. Wear your slicker!



photo by Aubrey Reuben
Manhattan Theatre Club takes a tip from Moliere by only booking titles that describe their protagonists: The Receptionist by Adam Bock and Pumpgirl by Abbie Spallen. In the latter, beginning Nov. 8, a tomboy pumping gas at a rundown gas station gets a little too involved with a local racetrack star. Meanwhile, Jayne Houdyshell plays that rarest of things: a receptionist who takes pride in her job and her office. That is, until a Mr. Dart arrives from "the central office" and turns everything topsy-turvy. Joe Mantello, who just can't say no this fall, directs the piece by the rising Bock (The Thugs). Performances begin Oct. 12. The two first plays in the Playwrights Horizons season also feature female central characters (as well as female playwrights). Kate Fodor's drama 100 Saints You Should Know puts together a set of misfits looking for direction, including a priest's mother (Lois Smith), a single mother (Janel Maloney)



photo by Aubrey Reuben
and her rebellions daughter (Zoe Kazan). Opening night is Sept. 18. Next up, Blair Brown, whose been racking up the directorial credits in recent years, directs Marsha Mason in A Feminine Ending, a new play by Sarah Treem. The story tells of Amanda Blue, whose great life falls apart when her mother calls asking for help. Performances begin Oct. 4. The ties that bind interfere, too, with the aspirations of the two siblings in Lucy Thurber's new work, Scarcity, set to begin the Atlantic Theatre Company's season when it opens Sept. 20. This is particularly true for Billy, who is given the chance to leave his rural New England town and attend a different school. Kristen Johnston is among the cast. That world premiere is followed at the Atlantic by another: Trumpery by Peter Parnell, beginning Nov. 14. The play reminds the world that Charles Darwin also had his family troubles, and that, though he came up with the theory, the universe was Darwinian for him as well.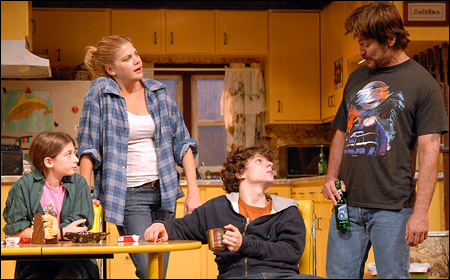 Meredith Brandt, Kristen Johnston, Jesse Eisenberg and Michael T. Weiss in Scarcity
photo by Doug Hamilton
A lesson in survival of the fittest will be on display at Primary Stages when the company presents Dividing the Estate, the latest by the indefatigable Horton Foote. The unusually fine cast — perhaps the best one to be found Off-Broadway this fall — includes Elizabeth Ashley, Arthur French, Hallie Foote, Penny Fuller and Gerald McRaney. The run starts Sept. 18. Adam Rapp, a playwright a few generations younger than Foote, always seems to bring his cast with him. And, so, in his latest, American Sligo, we see some of the usual Rapp stalwarts, including Guy Boyd, Paul Sparks and Michael Chernis. The plot description begins "Art 'Crazy Train' Sligo, all-star wrestling legend, is about to retire" — already it feels like a Rapp play! Previews begins Sept. 12 at Rattlestick Theatre. Rapp will direct.
A different director-actor reunion will take place at Classic Stage Company beginning Oct. 31 when artistic director Brian Kulick works with Michael Cumpsty in a Shakespeare play for the third time in as many seasons. First came Hamlet, an unexpected success that was followed by Richard II. This time around its Richard III. (Will Henry IV be next?)



photo by Aubrey Reuben
The collaboration — which has become the defining element of Kulick's reign at CSC — is now so close that the production is billed as being directed by both Kulick and Cumpsty. More Shakespeare is to be had at the Public Theater, which will host, beginning Oct. 9, The Wooster Group's rendition of Hamlet. The inventive, mulit-media troupe has incorporated scenes from a rarely-seen filmed performance of Richard Burton's legendary 1964 Broadway portrayal of the famed Shakespeare character, and has double-cast Wooster standard bearer Kate Valk as both Gertrude and Ophelia (which, when you think of it, makes awfully good sense, textually). The Public will also produce The Brothers Size, a tale by Tarell Alvin McCraney that is said to "play fast and loose with West African myths" (oh, not that again), and Yellow Face, a new play by David Henry Hwang, who still hasn't forgotten the controversy that surrounded Jonathan Pryce being cast as a Eurasian in the original Broadway production of Miss Saigon.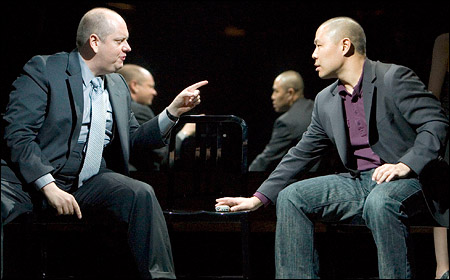 Tony Torn and Hoon Lee in the L.A. production of Yellow Face
photo by Craig Schwartz
Speaking of British imports, the
Roundabout Theatre Company
will, starting Sept. 28, give Americans a taste of playwright the
J.T. Rogers
drama
The Overwhelming
. The title is not an overstatement of what envelops the play's unfortunate characters, who arrive in 1994 in Rwanda, just as the country is about to tumble into genocide. Barbara, the heroine of
Jim Knable
's
Spain
, finds a much better time in her visits to the title country, even if they — as well as the sexy Conquistador she meets up with — exist only in her mind. Performances begin at
MCC Theatre
on Oct. 10.
Also dealing with illusions are the three brothers played by Paul Dano, Peter Dinklage and Josh Hamilton, and directed by Ethan Hawke, in Jonathan Marc Sherman's new play Things We Want. Breaking up this boys club is 100 Saints You Should Know's Zoe Kazan, who rounds out the cast. Performances for The New Group production begin Oct. 22 at the Acorn Theatre. And more illusions! (America runs on them, doesn't it?) In Julia Cho's new play The Piano Teacher, to run at the Vineyard Theatre this fall, Mrs. K's sweet memories of students from her past threaten to darken and turn on her.
All of the above are the work of nonprofit theatre companies. But, yes, Viriginia, there are commercial Off-Broadway productions. Charles Busch will star in a limited engagement of his comedy Die Mommie Die! this fall at New World Stages, beginning Oct. 10. Busch is Angela Arden, a fallen pop diva with a hated husband (film producer Sol Sussman), a young lover and a will to kill. The fact that she has children that may avenge her may cause the theatregoer to think, "It's all Greek to me."
Off-Broadway doesn't boast many musicals these days, but TheatreworksUSA and Lincoln Center Theater have one each on tap. TheatreworksUSA will offer Max and Ruby beginning Dec. 7. Featuring music and lyrics by Carol Hall and a book by Glen Berger, the show follows the adventures of a couple of bunny siblings. That's right: bunny siblings, and we're not talking Flopsy and Mopsy.
LCT, meanwhile, sticks by its favorite composing duo, Lynn Ahrens and Stephen Flaherty, producing their new theatre-steeped musical, The Glorious Ones from Oct. 11 on. It will feature Marc Kudisch and Grey Gardens veteran Erin Davie. Believe it or not, the musical tells the history of Italian commedia dell'arte players. Theatre majors who don't want to study that chapter of the textbook: buy your tickets now!
(Author's note: Because the Off-Broadway season is just so darn big, not every play due to open this fall could be addressed. This listing of shows should not be considered comprehensive.)