*
The most theatrical event in London recently wasn't in a theatre — it was in a restaurant. The Ivy, in Covent Garden, is the work cafeteria for the stars, producers, directors and playwrights of London and the world. Here, among the polished wood, white napery and classic stained glass windows that shut out the noise and bustle of theatreland, is where we gather, whether for a glass of champagne before the play, a light supper afterwards, a tête-à-tête, a business lunch, or just a relaxed dinner with friends. The Ivy has been synonymous with the theatre since 1919, when a corner café with linoleum on the floor and paper napkins on the tables was transformed by a genius restaurateur, Mario Galatti, into a refuge for actors and others who practiced the theatrical and political arts. Noël Coward was an early regular, as was Winston Churchill, the Prince of Wales and any American actor visiting London, from the Barrymores to the Fairbankses. It is still where everybody comes to celebrate their opening night, including Bolshoi stars laden with flowers from the Opera House around the corner. Everywhere actors make the rounds of the tables to greet their friends. The paparazzi are outside, kept in check by a doorman who knows the names and preferences of every regular and who seems to be able to summon cabs and limos simply by looking sternly at the street corner. Nobody knows how he does it.
The Ivy flourished until the 1960s, and though it closed at the end of Mario's reign, its mythology and glamour lived on. Then, exactly 20 years ago, it was rejuvenated by two young restaurateurs. It opened in a perfect re-creation of its original glory, down to the stained glass windows — and it was just as good, only better. I speak with some authority about this because I have been an Ivy regular since I was ten years old, when I was taken every Saturday by my only rich auntie before the matinee of whatever the hit show was that week. I was invariably the only child in the dining room, but that didn't stop the waiters from treating me, always, as a big star. I thought all restaurants were like The Ivy, and only when it closed did I realize how special it was and how unspecial I was. For me, it has always been that irresistible combination of home and the most glamorous place on earth.
On Nov. 12, in a star-stuffed dining room, The Ivy celebrated the 20th anniversary of its rebirth, and of course I had to be there. So did everybody else — and Fernando, the longtime maître d' and now director of The Ivy, had his work cut out for him trying to fit in every West End star and director for a special dinner. At every table there were familiar faces. The Ivy was definitely the place to be. Sir Ronald Harwood (The Dresser) wrote a short play for the occasion, Heavenly Ivy, cast with great West End actors such as Michael Pennington and Nicholas Woodeson. It was directed by Sean Mathias and performed between our main course and dessert. Only The Ivy would consider a play to be a suitable celebration of a restaurant. Because it is an "occasion" play and will never be seen anywhere else, Heavenly Ivy was published in a specially produced book, along with essays about The Ivy, one of them mine, which was ready in time for the birthday. The champagne sparkled and, somehow, so did we. What an evening!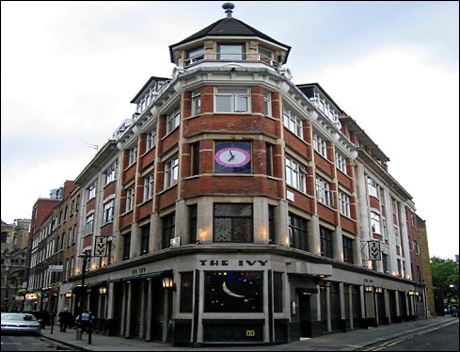 At this time of year every theatregoer I know in New York is on the way to London and every Londoner is heading for New York. The question is always the same: "What must I see? What is unmissable? What can I skip? What's the hot show?" So here, for incoming New Yorkers, is the current best of London theatre. I've seen all these shows and every one's a winner.
For lovers of classic English theatre, there's Sheridan's The Rivals (starring "To The Manor Born" stalwarts Peter Bowles as Sir Anthony Absolute and Penelope Keith as Mrs. Malaprop), Oscar Wilde's An Ideal Husband and J.B. Priestley's When We Are Married, all cast with first-rate actors who will be familiar to PBS viewers as well as regular London theatre tourists.
For Shakespeare lovers, Rory Kinnear's Hamlet at the National Theatre is a standout, even in a year that has seen four major Danes, including Jude Law's. Set in a modern police state, Nicholas Hytner's production takes a fresh look at the politics of power; the results, while not always poetic, give Shakespeare's tragedy a contemporary bite. There's Roger Allam as the best Falstaff ever at Shakespeare's Globe in Henry IV, while the great Derek Jacobi is finally doing his King Lear, the biggest mountain for any mature actor. Patient theatregoers will be able to see it next July when it will be streamed into 300 cinemas worldwide, but for maximum impact, see it in the confined space of the Donmar Warehouse in London's Covent Garden.
Among the new plays to strike audience chords are Yes, Prime Minister, based, of course, on the long-running television series about British politics at the top. This is selling out to as many Americans as Brits, has recouped its investment after only five weeks and seems likely to run forever. The audience is peppered with Cabinet ministers and other celebrities, from the chancellor of the exchequer on down, all anxious to see whether Anthony Jay and Jonathan Lynn's comedy mentions them.
photo by Johan Persson
The seminal theatre company Complicite presents the astounding Shun Kin, set in Japan and directed by Simon McBurney. It continues to transport the audience to a different world with its emotional punch and extraordinary beauty. Meanwhile, a young writer, Nina Raines, has appeared at the Royal Court apparently out of nowhere with Tribes, an assured and thought-provoking family play about silent communication among noisy people. Not enough attention was paid to The Company Man, a beautifully acted (by the veteran Isla Blair, among others), elegiac work by Torben Betts about another kind of family. It's playing at Richmond's Orange Tree Theatre.
One of our greatest actors, Simon Russell Beale — usually mired in the Russian classics or Shakespeare at the National — is having the time of his life on the West End being very funny in Ira Levin's creaky-but-still-scary old comedy/horror, Deathtrap.
And for musical lovers: although you've missed the best production ever of Stephen Sondheim's Passion at the Donmar, you should not, under any circumstances, miss the performance of the season — Tracie Bennett's blockbuster turn as the aging Judy Garland. End of the Rainbow is Judy at the end of her short life (she was only 47 when she died), when she was mad, bad and dangerous to know, but still oh so talented. Bennett rampages around the stage, careening wildly from out-of-control concert appearances to infinitely sad, drug-fueled episodes in her London hotel suite, singing as only Judy could, until the heartbreak of it all is almost too painful to watch. If Bennett doesn't win a Best Actress in a Musical Olivier Award for this, and if End of the Rainbow doesn't transfer to Broadway next year, I, for one, will want to know why.
For those of you heading in this direction, see it first here in London. And now, somebody, please tell me: what should I see in New York?
(Ruth Leon is a London and New York City arts writer and critic whose work has been seen in Playbill magazine and other publications.)
*
Check out more of Playbill.com's international coverage, including London correspondent Mark Shenton's daily news reporting.