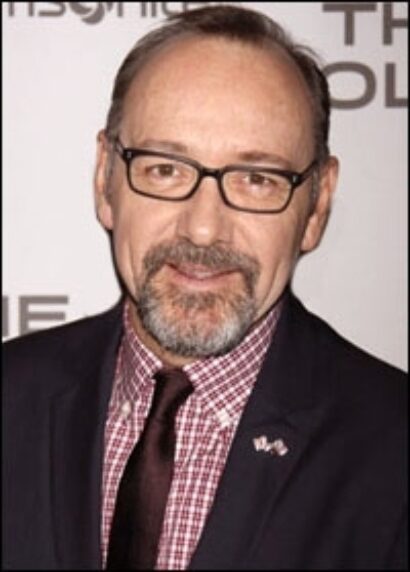 *
Oh my, how I'm going to miss Kevin Spacey. Not Kevin Spacey the actor, although him, too — especially after his valiant turn last month as the eponymous Clarence Darrow in David W. Rintels's drama about the pioneering lawyer — but Kevin Spacey, artistic director of London's most beautiful and historic theatre, the Old Vic. He's been in this job for ten years now and is moving on. His choices have been brave, selecting a mixture of classics, new plays and revivals, marked with exciting playwrights, fine directing, actors given the freedom to make difficult roles their own and some wild experiments, some of which worked.
Spacey's run started off slow with a poorly reviewed production of Cloaca, a translated Dutch play about, of all things, sanitation. But he soon found his stride, and Spacey's tenor gave us his Richard II, Mamet's Speed The Plow, Chekov's The Cherry Orchard, Rattigan's Cause Célèbre, Frayn's Noises Off, Baitz's Other Desert Cities and so many more memorable nights and thoughtful events that live on in the theatrical mind's eye. You can't ask more of an artistic director than that.
This month brings a moody and entirely believable version of one of my favorite plays, Arthur Miller's The Crucible, about the Salem witch trials, written at the time of, and influenced by, the determination of one demagogic senator, Joseph McCarthy, to discover and punish Communists, or imagined Communists, in American show business. In the early 1950s nearly all Miller's friends and colleagues were being bullied to "name names" to McCarthy's House Un-American Activities Committee of those who were, or might be, either Communists or "fellow travelers" and many distinguished careers were destroyed by innuendo and downright lies. It was a shameful time in American history, and frightening beyond belief to those who were targeted by the committee.
In this torrid atmosphere the only redress Miller had was to write about what was happening, albeit disguised as a historical drama based on the true story of mass hysteria in Salem, Massachusetts, in 1692, when a group of girls claimed to have been recruited by the devil. To save themselves from disgrace they pretended to have visions in which their fellow townspeople turned into demons in a nearby wood where they floated above the ground and communed with the devil. So consistent were their stories that, without any other evidence, those they accused were condemned by the courts of the Puritans and sentenced to death. In that year alone, in that one small area, there were more than 150 accusations of witchcraft; 40 terrified people made false confessions and of them 23 were condemned to death, by hanging, by beating, and, most gruesomely, by being pressed with stones. From this sad little story, Miller saw the parallels with what was happening around him, what was, in fact, happening to him. There, in 20th-century America, was a real witch-hunt, a frightening trail of accusations without evidence and it was affecting fellow artists. The Crucible, in my view one of the greatest plays of the 20th century, was the result. This latest production, directed by Yael Farber and starring Richard Armitage ("The Hobbit") as John Proctor, is eminently accessible both as drama and as realist theatre. Darkness swirls around this Salem, the plainness of its setting belying the extravagance of its claims. Sexual frustration, hysteria, infidelity, friendship, all play their parts as the inexorable conclusion of the condemnation of innocent men and women tug at Miller's certainty of the wrongness of their accusers and the rightness of their crusade for truth. Nine years after his death, Miller's convictions still blaze across the footlights and remind us that he, more than almost every other 20th-century playwright, still has much to teach us.



Photo by Alastair Muir
After reviewing for many years, I won't even tell you how many years, I rarely come across a play I can't even begin to understand.
Adler and Gibb
, by Tim Crouch, at the Royal Court is such a play. Pity, because usually I love Crouch's work but this one... Three directors, including Crouch himself, are credited with directing the play which may go some way towards explaining why it's such a muddle. What is it about? Well, it's about two hours with an interval. Sorry, that's the oldest theatre joke I know but I thought it would amuse you more than my trying to summarise the plot which appears to be something to do with death and art, friendship and the way artists relate to each other and the supposed idiocy of American academic art history. After Adler and Gibb, there is a coda, an odd piece of disjointed dialogue called what happens to the hope at the end of the evening. It doesn't have anything to do with what has gone before unless, possibly, I've missed the connection completely. Which could certainly happen but I'd lost the will to live long before that.
At the Haymarket, for a limited season, is Daytona, a small play about righteousness and memory and guilt by the actor and writer Oliver Cotton and starring Cotton himself, Harry Shearer and Maureen Lipman in the role of her career. She and Shearer are an elderly couple whose comfortable bickering over their ballroom dancing hobby is interrupted by the sudden appearance of his estranged brother. This encounter, which forms the meat of the play, gives Maureen Lipman the opportunity to show us what a truly extraordinary actor she is and to stretch her usual comedy chops in a part which goes way beyond what we have come to expect and what we have come to expect is pretty damn good.
The Tricycle has The Colby Sisters of Pittsburgh, Pennsylvania, an American play about the difficulties of being a celebrity — alas, poor darlings — in the form of five sisters from a fabulously wealthy family who are slightly distressed when one of them, I forget which one, commits suicide, leaving a perfect tennis doubles four. Well acted but slight, very slight.
Not, I think, the kind of plays that Kevin Spacey would choose for his Old Vic. As I say, I'm going to miss him.
(Ruth Leon is a London and New York City arts writer and critic whose work has been seen in Playbill magazine and other publications.) Check out Playbill.com's London listings. Seek out more of Playbill.com's international coverage, including London correspondent Mark Shenton's daily news reporting from the U.K.