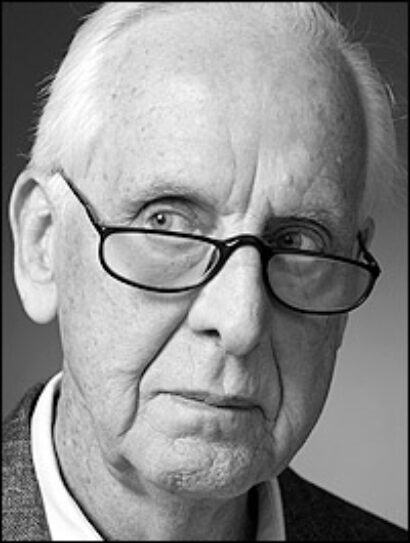 *
"Growing up in Australia, I was in love with the movies," the 80-year-old director Michael Blakemore says. "But then Laurence Olivier arrived with the Old Vic, and I saw Richard III and School for Scandal and Skin of Our Teeth, and I thought, 'This is what I want to do.'"
Blakemore has spent nearly 60 years, in Britain and the United States, doing what he wanted to do. He has received seven Tony nominations, including two Tony Awards — uniquely, both in the same year, in 2001, as Best Director of a Play for Copenhagen and Best Director of a Musical for the revival of Kiss Me, Kate. He is perhaps best known for his work with the playwright Michael Frayn (Noises Off, Copenhagen, Democracy, Benefactors). And this season he is directing a revival at the Shubert Theatre on Broadway of Noël Coward's comedy Blithe Spirit, starring Angela Lansbury, Christine Ebersole and Rupert Everett.
In Australia, Blakemore's father, an eye specialist, wanted his son to follow in the family tradition. "Initially, I capitulated, and started to study medicine," Blakemore recalls. "But about halfway through the five-year program I realized there was no way I wanted to spend my life doing this. So I rebelled and became a dropout. I went to England. My father was not too happy with my decision."
Blakemore wanted to direct. "But it's a hard game to get into," he says. "The theatre requires many actors and very few directors — therefore very few directors begin as directors." His first theatre job was doing publicity for the actor Robert Morley, who provided him with a recommendation to the Royal Academy of Dramatic Art in London. (Blakemore once told The New York Times that Morley said Blakemore would have to have a lot more personality to be a director, and that he should become an actor because actors can get away with anything.) He worked as an actor for 15 years. "I did quite well, but I found it a very frustrating life. It wasn't what I wanted to do. I wrote a novel about the life of an actor — 'Next Season.' It's still in print." When he was 37, "a friend who felt I should be directing invited me to the Glasgow Citizens Theatre, gave me two parts to play and three plays to direct."
And then another friend, "who couldn't get anybody to direct his play, gave me his play to direct. We did it in Glasgow, and within six months we were doing it in the West End of London. And before long, we were doing it on Broadway. So within a year and a half of starting as a director, I was directing on Broadway."
The playwright was Peter Nichols, and the play was A Day in the Death of Joe Egg, Nichols' drama about a mother and father (Nichols himself) and their handicapped child. It opened on Broadway on Feb. 1, 1968, starring Albert Finney and Joan Hickson, and was nominated for four Tony Awards, including one for Blakemore as Best Director.
In addition to his Tony double feat in 2001, Blakemore was nominated one other time as Best Director of a play and a musical in the same year — in 1990 for Lettice and Lovage and City of Angels. In England he has been a regular directing presence in the West End. He was an associate director for five years under Olivier at the National Theatre and then under Sir Peter Hall for two years.
Of Blithe Spirit, in which a remarried novelist invites to his house a medium who conjures up the spirit of his late wife, he says, "It's a good time for it. It's a very entertaining, very clever show that stands up very well. It was written during the Second World War simply to beguile and amuse and cheer up the audience. Now we're in the middle of an extremely alarming financial meltdown, and if we have any luck, the play will have the same effect as when it was first produced."
Looking back, Blakemore says, "I've been very lucky. I've had two remarkable playwrights — Peter Nichols and Michael Frayn — who have been very happy with the way I've done their plays. They have been great collaborators."
Does he have any regrets? "I wish I would have made more films. And I wish I had written more. I think if I had continued to be an actor I would have written a string of books."
But looking ahead, he says, he is happy to continue directing. "I've mainly made my name with new work, rather than doing Shakespeare or the classics. I'm always looking for something that really excites me, that is a little bit groundbreaking. That's really what would still get me going, something that lands on my desk that is fresh and exciting that relates to today."
And, he says, these hard times may have an unexpectedly beneficial effect for the theatre. "The disaster that we're going through is conducive to the arts," he says. "A lot of people are doing a lot of hard thinking. Audiences are starting to look for explanations. I think we're going to see a lot of truthful reexaminations of the recent past and of the way we've all been living."