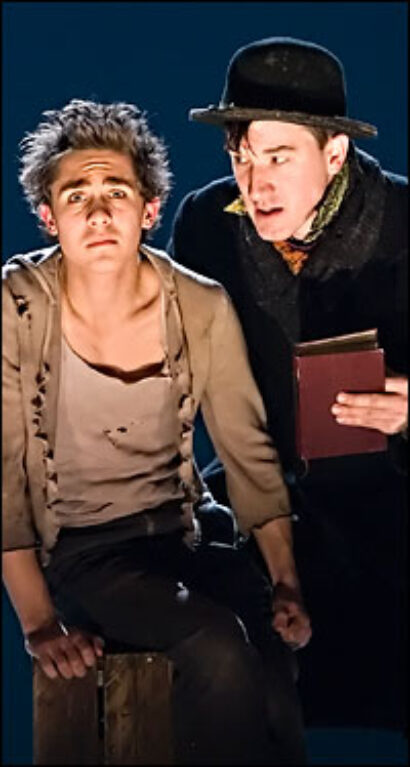 Based on the classic novel by Charles Dickens, Bartlett adapts and directs the work, re-creating his acclaimed London production with an American company of actors.
The New York run will officially open April 1 at The Gerald W. Lynch Theater at John Jay College (through April 15).
Produced by Theatre for a New Audience, the U.S. debut is presented in association with Cambridge, Massachusetts' American Repertory Theatre (where it just played) and Berkeley, California's Berkeley Repertory Theatre (where it stops next: May 11-June 24).
"Set in a Victorian music-hall context and featuring music by Gerard McBurney," the work — which is notedly "not a musical" —will have "members of the acting company playing instruments and singing," according to a release. "Taking its cue from the foot-lit world of the music hall, the cast of thirteen conjures up . . . Dickens's original words to bring the dark underbelly of 19th Century London back to thrilling life as seen through the eyes of an astonished child."
Eisenberg plays Fagin in Oliver Twist with a cast that also includes Remo Airaldi, Steven Boyer, Greg Derelian, Thomas Derrah, Carson Elrod, Jennifer Ikeda, Elizabeth Jasicki, Will LeBow, Karen MacDonald, Craig Pattison, Lucas Steele and Michael Wartella. Recently seen on Broadway in Awake and Sing, Eisenberg previously hit the stage for TFANA in The Green Bird and Titus Andronicus. The actor has been seen in the films "World Trade Center," "Flags of Our Fathers," "Million Dollar Baby" and on television in "Law & Order: Special Victims Unit" and in the pilot for the upcoming series "The Black Donnellys."
The design team features Rae Smith (sets and costumes), Scott Zielinski (lighting) and David Remedios (sound).
Tickets to Oliver Twist at John Jay College's Gerald W. Lynch Theater, 899 Tenth Ave., are available by calling (212) 279-4200. For more information, visit tfana.org.