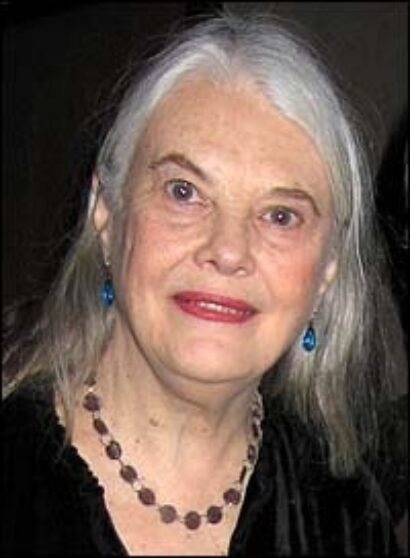 Among the winners — picked by a panel of judges without the fuss and suspense of nominees — were actress Christine Ebersole for her work in Grey Gardens (she played two characters); the creators of the post-modern musical comedy about musicals, [title of show]; director Daniel Sullivan for the New York premiere of David Hare's Stuff Happens; actress Lois Smith for The Trip to Bountiful; playwright Rolin Jones for The Intelligent Design of Jenny Chow; playwright Adam Rapp for Red Light Winter; the creators of the AIDS-focused play, In the Continuum; and more.
The judges for this season were Lynn Nottage, Didi O'Connell, David Herskovits, Eduardo Machado, Marc Robinson, Voice critics Michael Feingold, Alexis Soloski and Village Voice theatre editor and Obie chairman Jorge Morales.
The highlight of the awards was the Lifetime Achievement honor given to academic Eric Bentley, 90, for his untiring service to the theatre.
Here are the recipients of the 2006 Obie Awards:
PERFORMANCE

S. Epatha Merkerson for her performance in Birdie Blue
Ari Fliakos for his performance in Poor Theater: A Series of Simulacra
Scott Shepherd for his performance in Poor Theater: A Series of Simulacra
Gary Wilmes for his performance in Red Light Winter
Dana Ivey for her performance in Mrs. Warren's Profession
Christine Ebersole for her performance in Grey Gardens
Euan Morton for his performance in Measure for Pleasure
Lois Smith for her performance in The Trip to Bountiful
Edwin Lee Gibson for his performance in The Seven
Sherie Rene Scott for her performance in Landscape of the Body
Julie White for her performance in The Little Dog Laughed
Peter Francis James for his performance in Stuff Happens
Byron Jennings for his performance in Stuff Happens
Marin Ireland for her performance in Cyclone
Michael Cumpsty for his performance in Hamlet
Reed Birney for Sustained Excellence of Performance
Meg MacCary for her performance in What Then DIRECTION
Daniel Sullivan for his direction of Stuff Happens
John Clancy for Sustained Excellence of Direction PLAYWRITING
Rolin Jones for The Intelligent Design of Jenny Chow
Martin McDonagh for The Lieutenant of Inishmore DESIGN
Anita Yavich for Sustained Excellence of Costume Design
Allen Moyer for Sustained Excellence of Set Design
NTUSA for Design of Abacus Black Strikes Now SPECIAL CITATIONS
Nikkole Salter - In the Continuum
Danai Gurira - In the Continuum
Robert O'Hara - In the Continuum
Adam Rapp - Red Light Winter
Jane Moss, Jon Nakagawa, Ricky Ian Gordon and Doug Varone - Orpheus and Euridyce
Hunter Bell, Jeff Bowen & Michael Berresse - [title of show] THE ROSS WETZSTEON MEMORIAL AWARD ($2,000 Grant)
Ross Wetzsteon Memorial Award- Soho Repertory Theater LIFETIME ACHIEVEMENT
Eric Bentley EMERGING THEATRE GRANTS
Edge Theater Company ($3,000)
Red Bull Theater ($3,000)
Billie Holiday Theatre ($3,000) EMERGING PLAYWRIGHT GRANTS
Rinne Groff ($1,000)
Neena Beber ($1,000)