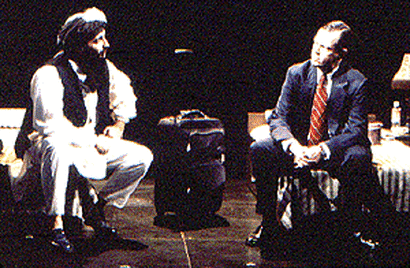 The much-anticipated new work by Tony Kushner opens Dec. 19 at the New York Theater Workshop. The drama that clocks four hours with two intermissions began performances at the downtown Manhattan venue Dec. 5 and is scheduled to end its run Feb. 10.
Timing is everything. When Tony Kushner's Angels in America: A Gay Fantasia on National Themes appeared on the theatrical scene, New York City and the entire country were still apprehensive about the outbreak of AIDS. Now, almost a decade later, Kushner returns to NYC with his new work, Homebody/Kabul, at a time when the play's setting of Afghanistan has become a major focal point of the world.
With lines like "The present is always an awful place to be," one might think the play has been modified following recent events, but Kushner assured an audience at a sneak peek the Solomon R. Guggenheim Museum Oct. 29 that the play has not been altered. Director Declan Donnelan helms the production.
Homebody/Kabul follows a British woman fascinated by Afghanistan and her encounter with an Afghan man whose fingers were cruelly severed. In the second part, the woman's husband and daughter search to find her in the nation's capital after she has mysteriously disappeared.
The first act is a monologue which recalls the piece's early stage as a solo show. The work-in-progress had a run at London's Chelsea Theatre Centre in 1999 starring British actress Kika Markham, the actress Kushner had in mind when it was written. The cast of the NYTW production includes Dylan Baker, Firdous Bamji, Yusef Bulos, Bill Camp, Jay Charan, Linda Emond, Kelly Hutchinson, Joseph Kamal, Dariush Kashani, Sean T. Krishnan and Rita Wolf.
Olivier Award-winning director Donnelan makes his American debut helming the new Kushner work. His creative team includes set and costume design by Nick Ormerod, lighting design by Brian MacDevitt, and sound design by Dan Moses Schreier.
In related news, the National Endowment of the Arts had held back on approving a grant that would allow California's Berkeley Repertory Theatre to put up the production. NEA acting chairman Robert S. Martin has since bestowed the $60,000 grant to the California theatre which will perform the play April 19-June 9. The show will first play at Trinity Repertory Company March 15-April 21 in Providence, Rhode Island.
Kushner fans can also be excited about his 1993 two-part epic drama, Angels in America, being filmed by Mike Nichols for HBO.
For tickets to Homebody/Kabul at New York Theatre Workshop, 79 East 4th Street, (between Bowery and Second Ave.), call Telecharge at (212) 239-6200, or go on-line at www.telecharge.com.
— by Ernio Hernandez