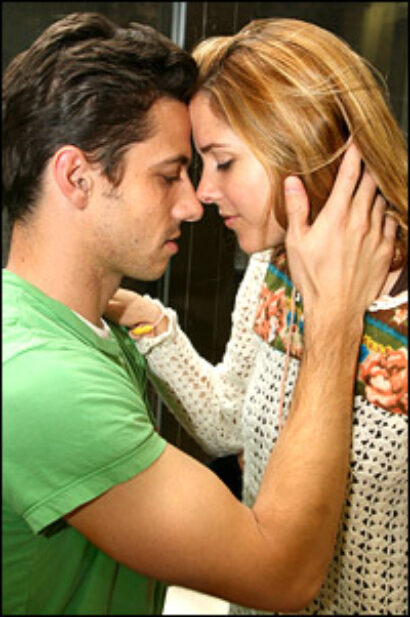 A spokesperson for the musical told Playbill.com that the 3PM matinee had been canceled because of technical difficulties.
The May 29 8 PM performance will go on as scheduled.
Xanadu began previews at Broadway's Helen Hayes Theatre May 23. The production — featuring extensive roller-skating — casts Hairspray's Kerry Butler as Kira with James Carpinello as Sonny, Tony Roberts as Danny Maguire/Zeus, Curtis Holbrook as Thalia, Anika Larsen as Euterpe, Kenita Miller as Erato, Mary Testa as Melpomene/Medusa, Jackie Hoffman as Calliope/Aphrodite, André Ward as Terpiscore and Marty Thomas as a Featured Skater. Opening night is June 26.
Directed by Christopher Ashley, Xanadu features choreography by Dan Knechtges and musical direction and arrangements by Eric Stern. The design team includes David Gallo (scenic design), Howell Binkley (lighting design), David Zinn (costume design), T. Richard Fitzgerald and Carl Casella (sound design), Zachary Borovay (projections design) and Charles LePoint (wig and hair design). John Miller is music coordinator.
Xanadu boasts a book by Little Dog Laughed playwright Douglas Carter Beane — a 2007 Tony Award nominee — and utilizes songs from John Farrar and Jeff Lynne's film soundtrack. The musical, according to press notes, "tells the story of one of the nine muses of ancient Greece who comes to earth to inspire the greatest of artistic achievements – a roller disco. Along the way she falls in love, bumps into an old acquaintance and for the first time, feels the desire to create herself." Xanadu, which is performed without an intermission, features the songs "I'm Alive," "Magic," "Evil Woman," "Suddenly," "Whenever You're Away From Me," "Dancin'," "Strange Music," "All Over the World," "Don't Walk Away," "Fool," "The Fall," "Suspended in Time," "Have You Never Been Mellow?" and "Xanadu."
The 1980 film "Xanadu" was written by Richard Christian Danus and Marc Reid Rubel and was directed by Robert Greenwald.
The performance schedule is Tuesday-Saturday at 8 PM, Saturday at 2 PM and Sunday at 3 PM. Beginning June 27, the musical will offer performances Tuesday at 7 PM, Wednesday-Saturday at 8 PM with matinees Wednesday and Saturday at 2 PM and Sunday at 3 PM.
The Helen Hayes Theatre is located in Manhattan at 240 West 44th Street.
*
The "Skate to Xanadu" offer — where the first 200 people who wear roller skates to the box office can purchase half-priced tickets ($49.50, limit of two per person) — will continue on Mondays, June 4 and 25, July 16 and 30, Aug. 20, Sept. 10 and Oct. 1.