The show runs June 7-28 at the Segal Centre in Montreal, where the story is set, with Austin Pendleton directing.
Watch the trailer:
Stewart plays the title role, with George Masswohl as Max Kravitz and Montreal's Marie-Pierre de Brienne as Duddy's love interest, Yvette.
The Apprenticeship of Duddy Kravitz is based on Richler's novel of the same name, published in 1959. It was adapted as a film, starring Richard Dreyfus, in 1974. The musical has an original score by Alan Menken, the Tony- and Oscar-winning composer of Beauty and the Beast, The Little Mermaid and other Disney musicals. He won the 2012 Tony Award for Best Score for Newsies. He's currently represented on Broadway by Aladdin, and his The Hunchback of Notre Dame stage adaption recently played the Paper Mill Playhouse in New Jersey.
Lyrics are by David Spencer, who has also written a new libretto. Spencer and Menken collaborated on the Off-Broadway musical Weird Romance.
Menken wrote the first version of the score for Duddy between Little Shop of Horrors and Little Mermaid. The musical was first presented in Philadelphia as part of the 1987 American Music Theatre Festival, but did not continue on to Broadway. Menken and Spencer continued to work on it after the Philadelphia production. It now has a completely new libretto by Spencer.
Also in the cast: Adrian Marchuk, Victor Young, David Coomber, Sam Rosenthal, Michael Rudder, Kristian Truelsen, Albane Chateau, Gab Desmond, Julia Halfyard and Michael Daniel Murphy.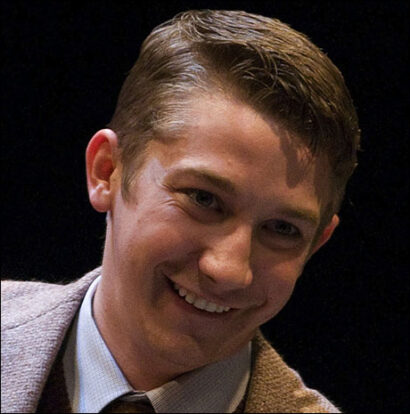 The Apprenticeship of Duddy Kravitz is a morality tale about a young man in 1950s Montreal, from the working class Jewish inner city, desperate to make his mark and prove himself to his family and community. Told by his grandfather that "a man without land is nobody," he launches into a series of schemes and enterprises aimed at acquiring and developing a lakefront property. Often his compulsive ambition is at odds with better judgment and threatens his relationships with those who love him, among them a French Canadian girl he meets while working at a Summer resort; and yet he is as likely to come to the rescue of those he loves in just as aggressive and subversive a manner. This duality is at the center of a journey in which 19-year-old Duddy, on the cusp of manhood, must finally, ultimately, decide what kind of man he's going to be.
Spencer told Playbill.com that he has rewritten the show from the ground up, with "a handful" of songs remaining from the Philadelphia version, "and most of those altered in shape. Quite literally, and in every practical and artistic sense, the Philadelphia version had become another show with the same title."
Spencer said he has stuck with the show for all these years because "it's one of those rare stories that get under your skin and speak to you and your sensibility at a gut level, such that you have to work on it. And we've never doubted how special the show is. In spite of everything, putting Duddy Kravitz in the drawer and walking away was never an option."
Tickets cost $32-$64 and can be ordered via phone at (514) 739-7944 and online at www.segalcentre.org.