A quartet of stage alums return to Broadway as Christopher Demos-Brown's American Son celebrates its official opening at the Booth Theatre November 4. The Kenny Leon-directed production began performances last month.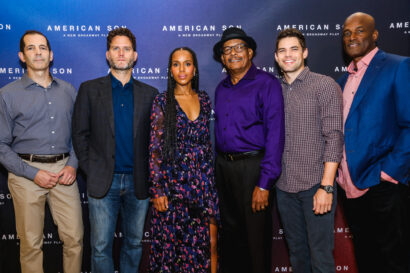 Leading the cast are Emmy and Golden Globe nominee Kerry Washington and Steven Pasquale; they are joined by Tony nominee Jeremy Jordan and Eugene Lee.
The play, which premiered at Barrington Stage Company in 2016, is set in a Miami police station in the middle of the night as a separated, interracial couple reunites and grapples with the disappearance of their teenage son.
Read: KERRY WASHINGTON AND KENNY LEON ON THEIR INTIMATE COLLABORATION FOR BROADWAY'S AMERICAN SON
"It's a very civil play about people expressing ideas and listening to each other and expressing their passion for love and the country," Leon explains in the video above.
The new production feature sets by Derek McLane, costumes by Dede Ayite, lighting design by Peter Kaczorowski, and sound design by Peter Fitzgerald.
Washington also serves as a producer alongside Scandal creator Shonda Rhimes, Jeffrey Richards, Rebecca Gold, Will Trice, Jada Pinkett Smith, Gabrielle Union-Wade, Dwyane Wade, Steve Stoute, and Nnamdi Asomugha.