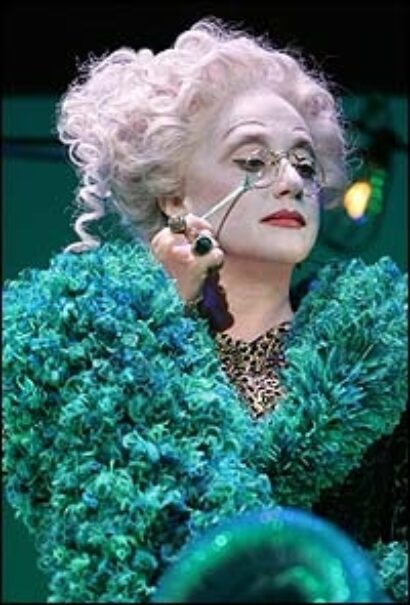 *****************
Throughout her career, the delightful Carol Kane has moved effortlessly from big screen to small screen to stage, creating a body of work that includes the movies "Hester Street" (Academy Award nomination), "Dog Day Afternoon," "Annie Hall," "Addams Family Values" and "The Princess Bride"; the television series "Taxi" and "Brooklyn Bridge"; and productions of The Tempest, A Midsummer Night's Dream, and five plays by Beth Henley. About the only things she'd never done are a big Broadway musical and a national tour. But now she's added both to her long list of credits, portraying the horrible Madame Morrible in the first road company of Wicked.
The touring company was launched March 8 in Toronto, and the critic for the Toronto Star called Kane's performance "deliciously macabre." The production, which can be seen at the Ford Center for the Performing Arts in Chicago through June 12, stars Stephanie J. Block as the green-faced Elphaba, Kendra Kassebaum as the bubbly Glinda and features David Garrison as the Wizard.
The part of Madame Morrible doesn't require a great deal of singing, and a few weeks into the tour Kane seems remarkably calm about vocalizing onstage for the first time. But she admits she finds other aspects of being in a musical a bit intimidating. "What's daunting about it is the scale of the whole thing," she says. "When you're doing a legitimate play, if you have a company of 12, it's considered a big cast. But there are 32 people in this show, not to mention a crew of 36, not to mention the giant 2,700-seat house that we played in Toronto. That's all kind of startling. We wear these microphones on our heads, under our wigs, and then you open your mouth to speak and who knows what that is coming out of your mouth, because it's so big. I've never had to wear a microphone onstage before. And there are other new things for me, like the numbers on the stage, which I guess are a standard choreographic tool for placement. But the first day of rehearsals, someone said, 'Now you go to Number Eight,' and I said, 'What?' It's a new language of sorts."
Kane and the rest of the cast were able to find their way into their roles, and were not locked into choices made by their original Broadway counterparts. "It's safe to say that most of the main characters are fairly different than they were on Broadway," she says. But she is reluctant to talk much about her process or her character. "I don't like to discuss my work in a lot of detail; I'm afraid of dissecting it in a way that is not good for me. But I am having a lot of fun." Ask her, though, about her long collaboration with Beth Henley, and she is touchingly eloquent. Kane's first appearance in a Henley play was at the Williamstown Theatre Festival in 1986, when she was invited to step in at the last minute for an actor who had to drop out of the play The Lucky Spot.
"Beth's a beautiful writer," says Kane. "I relate to the family situations and to the strength of her characters. Her characters are so specific; when I read their voices on the page, they just ring so loud and clear. I can hear them. And I'm also drawn to that element of unrelenting hopefulness in the face of a hopeless situation. I'm very moved by that. I think it's exquisite, and that it's so fundamental to human beings. It's been one of the great miracles in my life to have found Beth, for her writing and for her friendship."