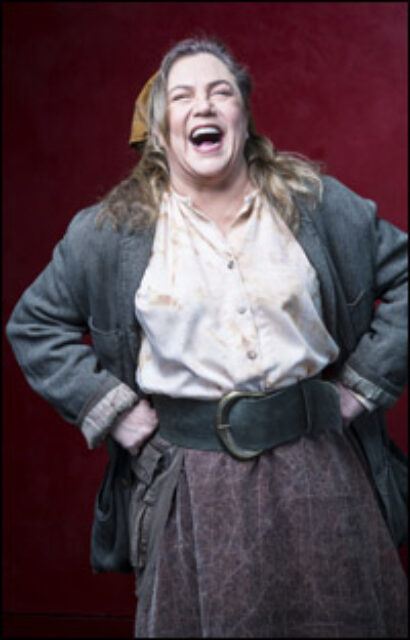 Helmed by Arena Stage artistic director Molly Smith, performances of the David Hare translation continue through March 9 at the Mead Center for American Theater.
Making her professional singing debut, Turner (High, Who's Afraid of Virginia Woolf?) stars as Mother Courage; her children are played by Nehal Joshi (Les Misérables, The Threepenny Opera) as younger son Swiss Cheese, Nicholas Rodriguez (My Fair Lady, Oklahoma!) as elder son Eilif and Erin Weaver (The Last Five Years, Xanadu) as daughter Kattrin.
The cast also features Rick Foucheux (Ah, Wilderness!) as The Chaplain, Meg Gillentine (Cabaret, Damn Yankees) as Yvette and Jack Willis (Julius Caesar) as The Cook.
Nathan Koci leads the ensemble as music coordinator along with Monalisa Arias, Lise Bruneau, Jed Feder, Rayanne Gonzales, Jacobi Howard, Dan Istrate, James Konicek, Jesse Terrill and John Leslie Wolfe.
Click here to read Playbill.com's interview with Smith on finding the humor in Brecht's work. The production features more than ten pieces of original music composed by musical supervisor James Sugg.
"Kathleen Turner returns to Arena Stage... as the tough-as-nails matriarch Mother Courage — a single mother determined to keep her family alive and her business afloat during war," press notes state. "The show fuses politics and satire to paint an unforgettable and provocative portrait of war, incorporating more than 10 pieces of original music composed in a rollicking, gypsy-punk style and performed by cast members doubling as musicians."
"To stage Mother Courage and Her Children with Kathleen Turner and this host of artists is a galvanizing experience," Smith said in a previous statement. "People who believe that they've seen Mother Courage before should forget everything that they've ever known about this show. We've assembled a dream team cast who, together with James Sugg's brilliant music, David Leong's imaginative movement work and Todd Rosenthal's rough and expansive use of the Fichandler, will make this an epic production. We are creating something that will be absolutely vital and exhilarating and terrifying."
The creative team for Mother Courage and Her Children also includes set designer Todd Rosenthal, costume designer Joseph P. Salasovich, lighting designer Nancy Schertler, sound designer Timothy M. Thompson, wig designer Anne Nesmith, dramaturg Mark Bly, movement director David Leong and assistant fight and movement consultant Brad Willcuts. The stage manager is Susan R. White, and the assistant stage managers are Kurt Hall and Marne Anderson.
More information can be found by visiting arenastage.org.