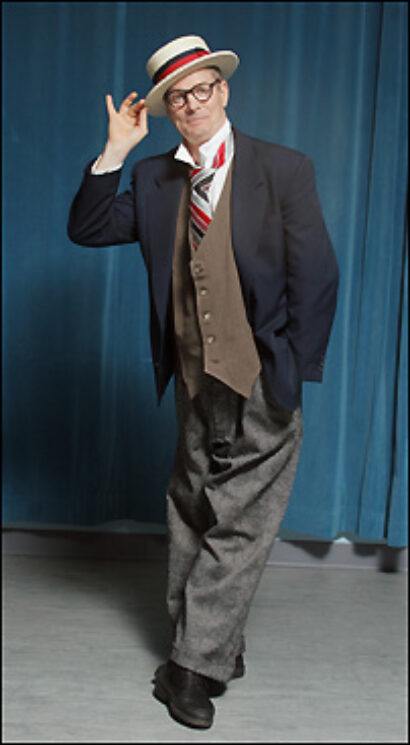 Philadelphia Theatre Company's first season in its new home — the Suzanne Roberts Theatre — ends May 16-June 15 with the world premiere of master clown Irwin's The Happiness Lecture, conceived and performed by Irwin, who partners with a company of eight performers, including local artists Nichole Canuso, Jennifer Childs, Melanie Cotton, Aaron Cromie, Lee Ann Etzold and Makoto Hirano, as well as Ephrat "Bounce" Asherie and Cori Olinghouse.
Opening night is May 21. According to Philadelphia Theatre Company, "In The Happiness Lecture, Bill Irwin leads a versatile ensemble of eight actors and dancers on an adventure in the pursuit of happiness. A unique and imaginative evening of delightful vignettes and physical comedy, this world premiere event is a wild theatrical ride that spoofs theatrical conventions while exploring the sheer joy of laughter."
*
"We are incredibly happy and privileged to be continuing our relationship with Bill Irwin, with whom we first worked on our 2004 production of Trumbo," stated Sara Garonzik, producing artistic director of the Philadelphia Theatre Company. "Over the last two years we have supported The Happiness Lecture as it sprung to life in Bill's imagination, introducing him to Philadelphia's most versatile performers through development workshops and creative meetings. It has been an invigorating opportunity for PTC to meet the artistic needs and exacting standards of this brilliant and inspirational artist. Bill has made an indelible impact on the creative life and profile of Philadelphia Theatre Company."
Irwin is an actor, film and television star, comedian, playwright, director and choreographer. The recipient of a Barrymore Award for his performance in Philadelphia Theatre Company's production of Trumbo, Irwin won a Tony Award for his lead role in Edward Albee's Who's Afraid of Virginia Woolf? opposite Kathleen Turner. The creator and star of the productions Regard of Flight and Fool Moon, for which he also won a Tony Award, he starred opposite Sally Field in the 2002 Tony Award-winning play The Goat or, Who is Sylvia? Off-Broadway's Signature Theatre devoted the 2003-04 season to his original work. His other Broadway work includes his original work, Largely New York, which received five Tony Award nominations and won Drama Desk, Outer Critic Circle and New York Dance and Performance Awards. In the fall of 2000, Irwin directed and performed his own adaptation of Samuel Beckett's prose work Texts for Nothing at the Classic Stage Company, for which he received a nomination for Outstanding Solo Performance by the Outer Critics Circle. He appeared in Waiting for Godot at Lincoln Center with Steve Martin and Robin Williams. Irwin was the subject of a PBS "Great Performances" segment in 2005 called "Bill Irwin: Clown Prince."
In 1983 Irwin was awarded a National Endowment for the Arts Choreographer's Fellowship, and in 1984 was named a Guggenheim fellow and was awarded a five-year MacArthur ("Genius") Fellowship.
The Happiness Lecture creative team includes set designer Kelly Hanson, lighting designer Nancy Schertler, costume designer Rebecca Lustig, sound/video designer Jorge Cousineau, and Nancy Harrington, Irwin's long time collaborator/production stage manager.
Philadelphia Theatre Company's dramaturg for The Happiness Lecture is Warren Hoffman.
The Happiness Lecture was commissioned by the Philadelphia Theatre Company and made possible in part by a grant from the Philadelphia Theatre Initiative, a program of the Philadelphia Center for Arts and Heritage, funded by The Pew Charitable Trusts and administered by The University of the Arts.
Performances run Tuesday through Sunday. Tickets are $46 to $58, with discounts for students, seniors and groups.
Tickets are available by calling the PTC box office at (215) 985-0420 or visiting www.philadelphiatheatrecompany.org.