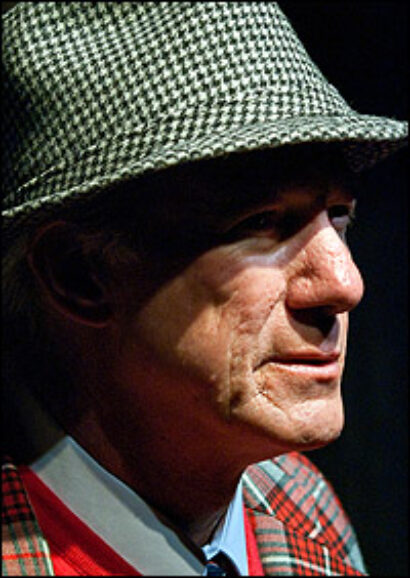 A limited ASF run of the new play by Mike Vigilant runs at Birmingham's historic Virginia Samford Theatre Aug. 6-20 and features refinements made since the January-February run at ASF in Montgomery. An original song has been added.
Birmingham is a 90-minute drive from Montgomery, and this engagement represents an important state outreach for the Equity company known as the State Theatre of Alabama.
Bear Country — about the life and times of University of Alabama's legendary football coach Bryant — received its world premiere at the Alabama Shakespeare Festival Jan. 9-Feb. 22, 2009, and became the best-attended and highest-grossing play in the 24-year history of ASF's Octagon Theatre. In its six-and-a-half-week run at ASF, Bear Country played to 98 percent capacity.
Written by ASF chief operating officer Vigilant, Bear Country "highlights the wit and wisdom of Paul W. Bryant, who rose from the child of dirt-poor sharecroppers to become the standard by which college football players are judged."
Bear Country was originally commissioned for the theatre's Southern Writers' Project, which creates and promotes the telling of Southern stories on the stage. In Birmingham Bear Country features three of its four original cast members, with Rodney Clark again playing Coach Bryant, and John Patrick Hayden and Yaegel T. Welch assuming a variety of roles. William Peden joins the cast as Young Coach Bryant. Tim Rhoze directs.
The Virginia Samford Theatre is located at 1116 26th Street in Birmingham. Ticket prices range from $38 to $45. Tickets are on sale now. Call (800) 841-4273 or visit www.asf.net.
*
For the Birmingham run, Vigilant previously said, "We've added a new song to the play entitled 'Mama Callin'. My hope was to have an original song to thread through the first production [in Montgomery], but we simply ran out of time before opening. Now, we've got it for the Birmingham run."
Vigilant wrote the lyrics with his longtime collaborator, composer Gerry Castle.
Coach Bryant famously used the phrase "Mama called" when referring to leaving Texas A & M to coach his alma mater, Alabama, in the late 1950s.
The (recorded) song is sung by singer-actress and Alabama native Celeste Burnum, who has acted and sung from New York to Florida. She has also appeared in several Birmingham productions, including as a featured performer with the Alabama Symphony Orchestra. Burnum also performed in ASF's popular play Always Patsy Cline.
Vigilant and Castle have collaborated on numerous songs during a 20-year writing partnership. Since 1989 they have had more than a dozen musicals published by Samuel French, Inc. Contemporary Drama Service and Pioneer Drama Service.
Bearcountrytheplay.com, a website devoted to the hit play, went live July 23. 2009. Bear Country was commissioned and produced by the Alabama Shakespeare Festival.
Bearcountrytheplay.com features production information, a slide show of production photos from the Alabama Shakespeare Festival world premiere and an audio clip of the new song "Mama Callin'."