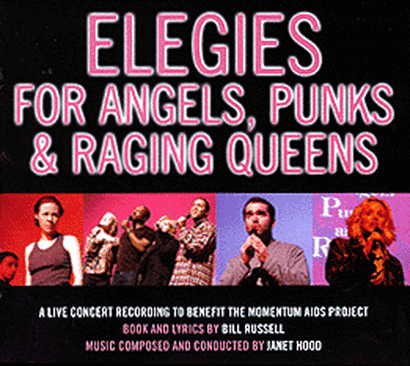 Bill Russell's poetic theatrical concert, Elegies for Angels, Punks & Raging Queens, performed and recorded in a Manhattan benefit April 2, 2001, is now available in CD form from Fynsworth Alley's website prior to a Sept. 11 store release.
The all-star American concert featured Alice Ripley, Emily Skinner, Brian d'Arcy James, Stephanie Pope, Sharon Wilkins, Norm Lewis, Alton Fitzgerald, Amy Spanger, Orfeh and more, singing Russell's ruminative songs — with music and music direction by Janet Hood — inspired by the losses from AIDS in the past 20 years.
The concert and recording benefit Momentum AIDS Project (www.momentumaidsproject.org). Songs and monologues punctuate the concert recording, with monologues by Russell performed by Steve Burns, Erin Torpey, Veanne Cox, Bryan Batt, Christopher Durang and Mario Cantone.
The primary inspiration for Elegies, according to Russell's liner notes, were the Names Project Quilt that commemorates the lives of those who died from AIDS and Edgar Lee Masters' "Spoon River Anthology," the collection of free-verse epitaphs of dead characters from the fictional town of Spoon River.
"Having written poetry for a number of years, primarily in my own style of free verse, I had the idea to attempt a 'Spoon River' of AIDS with the Quilt replacing Masters' cemetery as the cohesive metaphor," Russell writes in his notes. "I thought there were theatrical possibilities in the material and asked Janet Hood if she would be interested in collaborating on songs to accompany the monologues, in the way that Charles Aidam incorporated classic American folk songs into 'Spoon River' when he adapted that piece for the stage in the '60s." Several stagings of the flexible piece have been presented over the years, including a production in London's West End that originated as a fringe production at the King's Head Theatre in Islington. That fringe staging moved to another fringe theatre, The Drill Hall, before landing at the West End's Criterion Theatre. The cast recording is on First Night records.
Russell still updates the piece occasionally. The 2001 concert featured the largest cast yet for the show and is the first American recording of the material.
Russell's work as the lyricist and book writer of the 1997 Broadway musical, Side Show, has been embraced in cities throughout the country, and his musical comedy take on "The Ugly Duckling," Everything's Ducky (also with Side Show composer Henry Krieger) is making the rounds of regional theatres — apparently circling for a New York nest. Russell also wrote the cult Off-Broadway fave, Pageant. Russell directed the 2001 Elegies concert and Bruce Kimmel produced the album. The liner notes include the lyrics. For more information, visit FynsworthAlley.com.
— By Kenneth Jones