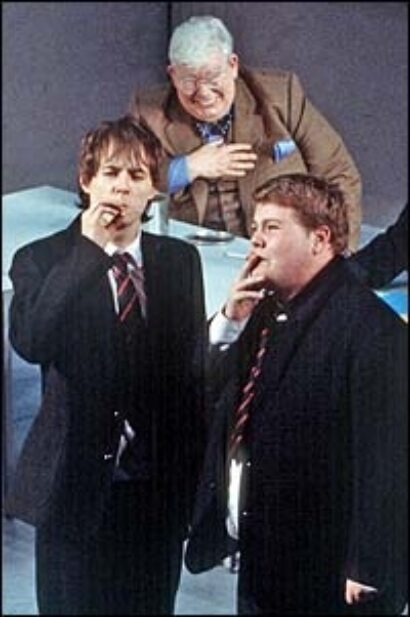 If Boyett and partner Bill Haber do cart that title across the sea, it would follow the already arrived National production of Jumpers, as well as Democracy and Pillowman, both scheduled for Broadway this fall.
Alan Bennett made his first return to the National Theatre since 1991 (when he had a hit with The Madness of George III) with The History Boys. It's also his first new London play since 1999's The Lady in the Van. The latest show is set in an English school, and the goings-on amongst a group of lively sixth-formers with their minds on things other than their studies. There's also an English teacher who does things his way and doesn't get along with a young supply (substitute) teacher, a headmaster determined to get results and a history teacher who thinks he's a fool. Anarchy is never far away, so how are the boys supposed to learn about history? And what's the point?
As well as George III, which spawned the successful film "The Madness of King George," Bennett's National Theatre premieres include Single Spies and his version of The Wind in the Willows. History Boys is directed by NT boss and frequent Bennett collaborator (on Willows, George III and The Lady in the Van) Nicholas Hytner. Bob Crowley provides the designs, with lighting by Mark Henderson, music by Richard Sisson and sound design by Colin Pink.
The cast includes Richard Griffiths, Frances de la Tour, Clive Merrison, Samuel Anderson, Tom Attwood, Samuel Barnett, Stephen Campbell Moore, Dominic Cooper, James Corden, Sacha Dhawan, Rudi Dharmalingam, Andrew Knott, Jamie Parker and Russell Tovey. The production is currently scheduled to run at the National until Sept. 2.