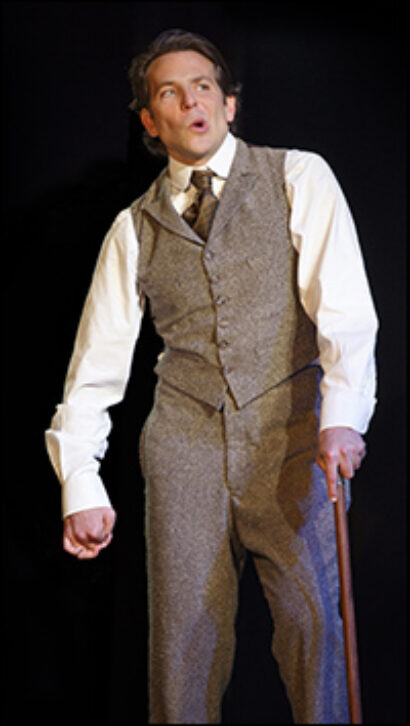 "We're going to do it 'til Feb. 22, and then I think we're going to take it to London — bring it back home for the summer for 12 weeks. We're working on it now, but I think it's going to work out," Cooper said. "We're going to take the whole company, too. Everybody."
Deadline.com reports that The Elephant Man will likely begin a 12-week London engagement in April. A London transfer has not been officially announced.
The production, starring two-time Academy Award nominee Cooper, Oscar nominee Patricia Clarkson and Alessandro Nivola, opened Dec. 7, 2014, following previews that began Nov. 7. The limited engagement recently extended through Feb. 22, 2015.
The starry revival has been a box-office draw. The production grossed $1,058,547.08 for the week ending Dec. 28 and is the first production in the history of the Booth Theatre to gross over $1 million in a week. It recouped its $3.1 million investment in six-and-a-half weeks, producers announced Dec. 28.
Read reviews of The Elephant Man. Cooper ("Silver Linings Playbook, "American Hustle") previously appeared as John Merrick (the titular Elephant Man) in the Tony-winning Bernard Pomerance drama at the Williamstown Theatre Festival in 2012. Scott Ellis, who directed the Williamstown production, also stages the Broadway return of the 1979 play.
The Broadway revival also features Academy Award nominee Clarkson ("Pieces of April," "Far from Heaven") as Mrs. Kendal and Nivola (The Winslow Boy, A Month in the Country) as Dr. Fredrik Treves. Both Clarkson and Nivola appeared with Cooper in the Williamstown staging.
Read Patricia Clarkson's interview with Playbill.com here.
They are joined by Anthony Heald (Ross/Bishop Walsham How), Scott Lowell (Snork/Pinhead Manager/Lord John), Kathryn Meisle (Miss Sandwich/Princess) and Henry Stram (Carr Gomm/Conductor). Chris Bannow, Peter Bradbury, Lucas Calhoun, Eric Clem, Amanda Lea Mason, Marguerite Stimpson and Emma Thorne complete the cast.
Here's how the production is billed: "The Elephant Man tells the story of a 19th-century British man (Cooper) whose severe disfigurement made him a star of the traveling freak show circuit. When the renowned Dr. Treves (Nivola) takes Merrick under his care at the London Hospital, he discovers that beneath this shocking exterior lies a brilliant mind and an unshakable faith. Soon all of Victorian high society becomes fascinated by Merrick, especially the beautiful actress Mrs. Kendal (Clarkson). But with his new life comes new complexity… and as Merrick's condition grows more severe, a 'normal' life begins to seem all but impossible."
Read Playbill.com's interview with Cooper, who discusses his determination to play Merrick, here.
The Elephant Man premiered on Broadway in 1979 with Philip Anglim in the title role. Anglim earned a Best Actor Tony Award nomination, and the play was awarded the Tony for Best Play that season. A 2002 revival starred Billy Crudup, who was also Tony-nominated for his work.
The Elephant Man has scenic and projection design by Timothy R. Mackabee, costume design by Clint Ramos, lighting design by Philip S. Rosenberg and original music and sound design by John Gromada.
The Elephant Man is produced on Broadway by James L. Nederlander, Terry Allen Kramer, Catherine Adler, Roger Berlind, Caiola Productions, Patrick Catullo, Roy Furman, Larry Hirschhorn, Jeffrey Finn Productions, Van Kaplan, Edward M. Kaufmann, Hal Luftig, Arielle Tepper Madover, Peter May, Stephanie P. McClelland, The Shubert Organization, Douglas Smith, Jonathan M. Tisch, Harvey Weinstein, Scott & Brian Zeilinger.
Due to Clarkson's filming schedule for "Maze Runner: Scorch Trials," the performances on Jan. 13 at 7 PM, Jan. 14 at 2 and 8 PM and Jan. 20 at 7 PM have been canceled. A performance has also been added for Jan. 25 at 7:30 PM.
Visit elephantmanbroadway.com for more information.