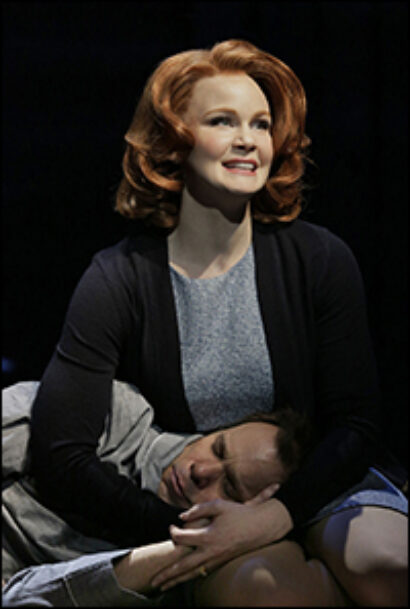 Big Fish, the big new Susan Stroman-directed musical based on the film of the same name, docked at Broadway's Neil Simon Theatre this past week, putting in its first four previews. It showed well for a newcomer, playing to over 100% capacity, while taking in 58% of its potential box office.
Big Fish was one of the few shows to command such attendance. The advent of Rosh Hashanah took its toll on attendance. In a anemic showing all across Broadway, only one show — the reliably packed The Book of Mormon — played to full houses. A couple others — Kinky Boots and The Lion King — came within a hair's breadth.
Matilda The Musical, a powerhouse throughout most of the summer, plunged from full audiences to houses 88% full. The changed coincided with the exit of Tony Award-nominated original cast members Bertie Carvel and Lauren Ward.
Also new to the boards was the revival of The Glass Menagerie, starring Cherry Jones, which moved into the snug Booth Theatre. Over six previews, it took in 53% of its possible box office and played to 82% capacity audiences.
Two musicals, Spider-Man Turn Off the Dark and Annie, increased in percentage capacity over last week, the former playing to houses 76% full, the latter to 75%. But these numbers were deceptive, as both shows reduced their seating capacity — Annie going from 1,708 seats to 1,421 at the Palace, and Spider-Man dropping from 1,930 seats to 1,583 at the Foxwoods. Annie announced this past week that it would close in Jan. 2014.