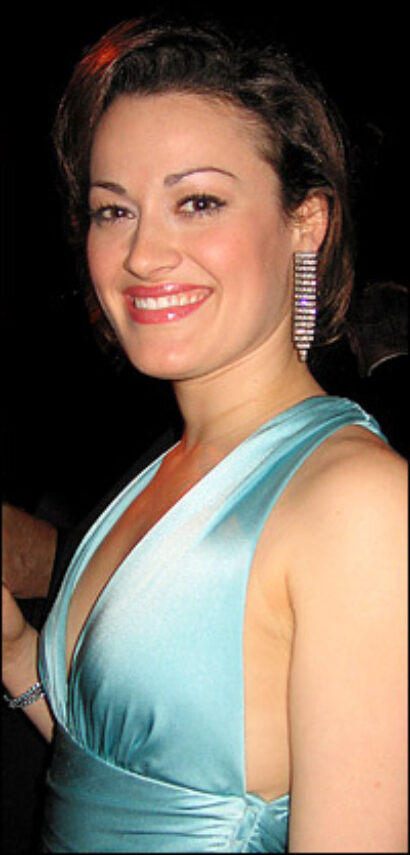 Vincent Pastore — of "The Sopranos" fame — will be the narrator and play the role of Big Julie for the upcoming concerts of the classic Frank Loesser musical. He will be joined onstage by Mary Poppins' Ashley Brown as Sarah Brown, Phantom's Hugh Panaro as Sky Masterson, Tony winner Gary Beach as Nathan Detroit, former "Barney Miller" star Hal Linden as Arvide Abernathy, recent Damn Yankees star Megan Lawrence as Adelaide and Joe Cassidy as Nicely Nicely with Philip Sneed as Lt. Branigan, Andrew Lebon as Benny Southwest, Aaron Fuksa as Rusty Charlie and Gwendolyn Jones as General Cartwright.
The ensemble comprises Scott Beck, Anne Nicole Beck, Amy Biddle, Robin Leigh Massie, Ellen Kingston, Mark Gilgallon, Kathleen Gentry, Greg Gilpin, Kathleen Hacker, Angelina Holliman, Robert Leffler, Lara Moffet Menard, Joseph Sark, Rhonda Kaspar, Jennifer Ladner, Adreienne Atkins, Christine Colquitt, Kate Cherichello and Steven Condy.
David Levy will stage the concert with vocal direction by Fred Barton, costume design by Clare Henkel, choreography by Jen Ladner and lighting design by Stuart Duke and Ruth Hutson. Jacob Brent is the artistic assistant. Ty Johnson produces. Jack Everly will conduct the orchestra.
In a statement Everly said, "America has given the world the Broadway Musical Comedy and Guys and Dolls is one of the classics of all time. Tuneful, funny and endlessly entertaining, our in-concert production combines a brilliant, award-winning Broadway cast with our glorious Indianapolis Symphony Orchestra so that the timeless Frank Loesser score will be heard in all its glory."
Based on a story and characters by Damon Runyon, Guys and Dolls features music and lyrics by Frank Loesser and a book by Jo Swerling and Abe Burrows. The original Broadway production opened at Broadway's 46th Street Theatre in November 1950, running 1,200 performances before closing Nov. 28, 1953. Among the premiere cast were Robert Alda as Sky Masterson, Isabel Bigley as Sarah Brown, Sam Levene as Nathan Detroit and Vivian Blaine as Miss Adelaide. Blaine re-created her role for the 1955 film, which also starred Marlon Brando as Sky Masterson, Jean Simmons as Sarah Brown and Frank Sinatra as Nathan Detroit. The most recent Broadway revival of Guys and Dolls featured Nathan Lane and Faith Prince. That Tony-winning revival, directed by Jerry Zaks, played 1,143 performances at the Martin Beck Theatre from March 1992-January 1995.
Two-time Tony Award winner Des McAnuff will direct a Broadway revival in spring 2009 at a Nederlander theatre to be announced. Sergio Trujillo will choreograph.
Show times are Oct. 10 at 11 AM and 8 PM, Oct. 11 at 8 PM and Oct. 12 at 7 PM.
Tickets, priced $20-$73, can be purchased by calling (317) 639-4300 or by visiting www.IndianapolisSymphony.org.