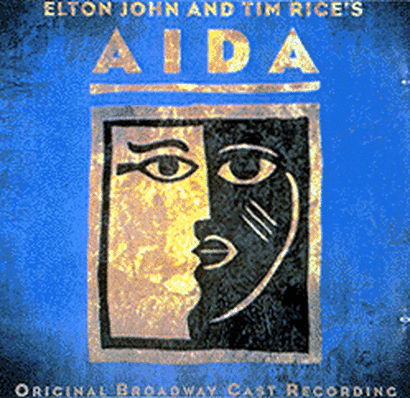 Just a week after Aida surprised the theatre industry by taking four Tony Awards -- including one for Best Original Score -- theatre people worldwide will get a chance to hear what the voters liked so much. According to spokesperson Maria Kleinman, Disney's Buena Vista Records will release the original Broadway cast CD of Elton John & Tim Rice's musical on June 13.
Seventeen songs are on the disk, including "Easy As Life," "Elaborate Lives," "A Step Too Far," "My Strongest Suit" and "The Gods Love Nubia."
Aida opened at Broadway's Palace Theatre March 23. The show stars Adam Pascal, Sherie Renee Scott and Tony winner Heather Headley, and is Disney's third Broadway venture, after Beauty and the Beast and The Lion King (both of which are still running). Aida began previews Feb. 25, after concluding a two-month stint at Chicago's Cadillac Palace Theatre Jan. 9. As in the Windy City, Robert Falls directs, Wayne Cilento is choreographer and Bob Crowley provided the Tony-winning scenic designs.
The book credit for Aida has been revised with the New York bow; director Falls and playwright David Henry Hwang now share credit with original book writer Linda Woolverton. Hwang was hired as a "creative consultant" shortly after the ill-fated, initial Atlanta production of the musical. Furthermore, a few changes have been made to the Elton John Tim Rice score since Chicago. Pascal has a new song, "Fortune Favors the Brave," and "Elaborate Lives," previously sung by Headley, has been reassigned to Pascal. The intention in these alterations is to further humanize the character of Radames.
The show marks Falls' first work in New York after winning the 1999 Tony Award for directing Death of a Salesman. Falls made his initial reputation in Chicago, first as artistic director of the now-defunct Wisdom Bridge Theatre, then as head of the Goodman Theatre. Among his landmark Second City productions have been a grandly rethought Hamlet and Galileo -- the latter being the first of a string of collaborations with actor Brian Dennehy that led to the Tony-winning Broadway revival of Salesman. Aida represents Falls' first musical in long memory, though he has directed many operas. Completing the 25-member cast of Aida are Tyrees Allen, Robert Armitage, Troy Allan Burgess, Franne Calma, Bob Gaynor, John Hickok, Kisha Howard, Tim Hunter, Youn Kim, Kyra Little, Kenya Unique Massey, Corrine McFadden, Phineas Newborn, Daniel Oreskes, Damian Perkins, Jody Ripplinger, Raymond Rodriguez, Eric Sciotto, Samual Thiam, Jerald Vincent, Schele Williams and Natalia Zisa.
*
The new Aida is vastly different from the production which opened at Atlanta's Alliance Theatre Oct. 7, 1998. Of that show's stars, only Heather Headley, as Aida, and Sherie Rene Scott, as Amneris, remain. Newly added in Chicago was Adam Pascal (Rent) as Radames. Tony winner Robert Falls took over as director in Chicago, replacing Robert Jess Ross; and acclaimed set designer Bob Crowley supplanted Stanley A. Meyer. Also part of the new Chicago team was choreographer Wayne Cilento.
Disney's Beauty and the Beast left Broadway's Palace Theatre Sept. 5 to make room for Aida's arrival. Beast reopened Nov. 12, at the Lunt-Fontanne.
Tickets for Aida range $25-$80. For information, call (212) 307 4747.