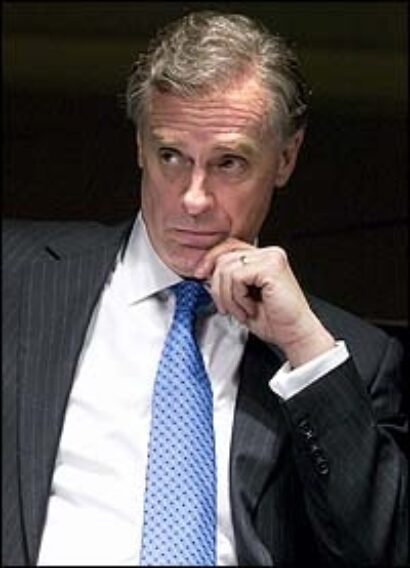 Center Theatre Group's founding artistic director Gordon Davidson stages the controversial Bush administration drama at CTG's Mark Taper Forum as his farewell work. Performances began May 25 for a run through July 17.
Stuff Happens, which depicts nearly every major politico attached to the Bush White House, follows the prelude to the invasion of Iraq using actual quotes from the administration peppered with imagined dialogue. The work debuted at London's National Theatre and has only appeared stateside in readings at New York Theatre Workshop and Hartford Stage.
Carradine — recently seen on HBO's "Deadwood" as Wild Bill Hickock and on Broadway as the title character in The Will Rogers Follies — takes on the new American cowboy, President George W. Bush. British actor Sands — known stateside for his film turns in "Boxing Helena" and "Warlock" — will play his homeland leader Prime Minister Tony Blair.
The 22-member American premiere cast (who play almost 100 characters) of Stuff Happens will also feature Tyrees Allen (as Colin Powell), Henry Brown (Kofi Annan), Jane Carr, Mitchell Edmonds (as George Tenet), Brian George, Kip Gilman (as Paul Wolfowitz), James Gleason, Francis Guinan, James Handy (Paul O'Neill), Jay Harik, John Michael Higgins (as Donald Rumsfeld), Anna Khaja, John Rafter Lee, Dakin Matthews (as Dick Cheney), Paul Messinger, Alan Oppenheimer (as Hans Blix), Stephen Spinella (as former French foreign minister Dominique de Villepin), Lorraine Toussaint (as Condoleezza Rice), Inger Tudor and John Vickery.
"Initially, I wanted to 'retreat' into the world of the classics to say goodbye, but I could not escape my feelings about our society, about where we are now and how we got there," stated Davidson in a release. "When I read Stuff Happens I said to myself, 'We have to do it.'" He added, "Though it's a familiar story, Hare provides us with many new insights." The design team for Stuff Happens includes Ming Cho Lee (scenic), Candice Cain (costume), Christopher Akerlind (lighting) and Jon Gottlieb (sound). The production features music by Karl Fredrik Lundeberg. Mary Michele Miner serves as production stage manager.
Hare's other works include Racing Demon, Murmuring Judges, The Absence of War, Plenty, The Secret Rapture, Skylight, The Blue Room, Amy's View, The Judas Kiss and Via Dolorosa.
Tickets to Stuff Happens at the Taper, 135 North Grand Ave. in Los Angeles, CA are available by calling (213) 628-2772 or on-line at www.TaperAhmanson.com.