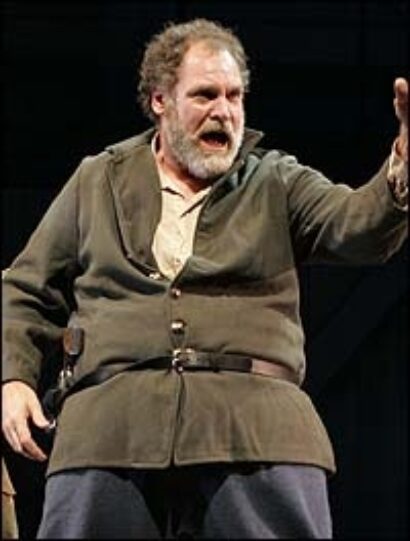 The acclaimed Off-Broadway musical from 2004-05 was preserved on disc earlier this year. The 20-track CD will come with a full-color 40-page booklet complete with lyrics and production photographs. The recording was produced by PS Classics co-founder Tommy Krasker.
PS Classics announced that according to the show's producers, "Broadway transfer plans for Lone Star Love are currently underway, with the show expected to open in a Shubert house early in the 2006-07 season. Further details will be forthcoming."
Nominated as Outstanding New Musical Off-Broadway by the Outer Critics Circle, Lone Star Love is inspired by Shakespeare's The Merry Wives of Windsor, as conceived and adapted by John L. Haber, with music and lyrics by Jack Herrick, and contributions from Michael Bogdanov, Bland Simpson and Tommy Thompson.
The crowd-pleaser features the beloved Red Clay Ramblers, who since 1975 have been melding bluegrass with jazz and rock.
"Lone Star Love transports Shakespeare's John Falstaff to post-Civil War Texas, where he wreaks havoc on the town of Windsor, and in so doing, gets his comeuppance," according to production notes. The Off-Broadway production began a limited run at the John Houseman Theatre on Nov. 23, 2004, and was extended by popular demand through Feb. 6, 2005.
The production was directed by Michael Bogdanov (Olivier Award-winner for The War of the Roses), with Randy Skinner (2001 Tony nominee, 42nd Street) serving as choreographer. The cast included Stacia Fernandez, Harriett D. Foy, Stacey Harris, Beth Leavel, Joe Mahowald, Drew McVety, Jay O. Sanders, Dan Sharkey, Nick Sullivan, Clarke Thorell, Julie Tolivar, Brandon Williams, and the Tony Award-winning Red Clay Ramblers: Clay Buckner, Chris Frank and Jack Herrick. Joining the Ramblers' band were Gary Bristol, David Longworth, and Emily Mikesell.
PS Classics is the Grammy-nominated label, founded in 2000 by Tommy Krasker and Philip Chaffin, known for its diverse line of show albums, solo CDs and songbook recordings. Its cast albums celebrate Broadway (Assassins, Fiddler on the Roof, A Year With Frog and Toad), Off-Broadway (Zanna, Don't!, My Life With Albertine) and regional theatre (Michael John LaChiusa's First Lady Suite). Its solo albums range from jazz ("Jessica Molaskey: Make Believe") to pop ("Johnny Rodgers: Box of Photographs") to folk ("Rebecca Luker: Leaving Home"). PS Classics is distributed by Image Entertainment. Visit www.psclassics.com.