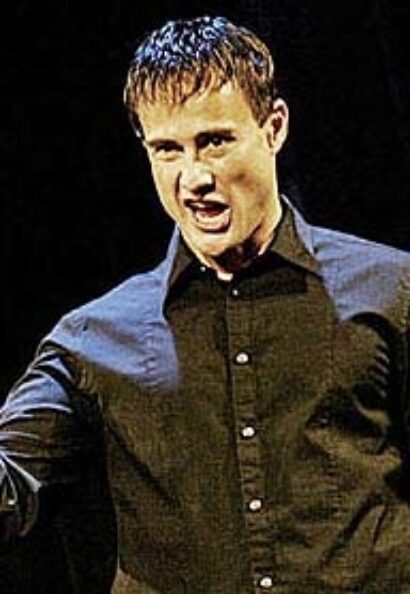 Originally called X'd: Confessions of a Mormon Boy, the autobiographical piece, featuring its writer Steven Fales, has been seen regionally and was to have a commercial Off-Broadway run in 2003. That stand did not materialize, and the X'd in the title has since been axed.
Tony Award-winner Jack Hofsiss (The Elephant Man) directs the play at The Plaza Café at Pace University, 3 Spruce St. (east of Park Row, near corner of Gold St).
"In his unflinchingly honest comic/dramatic monologue, Steven Fales, a sixth-generation Mormon, plays over 25 characters from his highly distinctive life's journey as a gay Mormon, a Boy Scout, missionary to Portugal, BYU graduate, husband, father, and Manhattan escort," according to production notes. "Confessions details his failed attempt to overcome his same-sex attraction through 'reparative therapy,' resulting in his divorce and excommunication from the Mormon Church. Shortly after coming out, Fales left his home, wife and two children in Utah and moved to New York City where he hoped to come to terms with the pain, anger and confusion of his situation. While struggling to make it as an actor, he became a high-end male prostitute in a period he calls his 'gay adolescence.' Fales tells what it took to leave the world of prostitution and drugs, re-establish a life of integrity, and reclaim his 'Donny Osmond' smile."
Fales holds an MFA in acting from the University of Connecticut. His professional credits include everything from TV to Off-Broadway and stand-up in New York City to regional Shakespeare festivals and performing on the Las Vegas strip.
"He has an extraordinary relationship with his ex-wife and sees his children regularly," according to the announcement. He lives in Portland. OR. For more information, visit www.mormonboy.com.
The scattered performance schedule plays Aug. 13 at 8:15 PM, Aug. 15 at 3:30 PM, Aug. 18 at 10:15 PM, Aug. 19 at 4 PM, Aug. 21 at 3:15 PM, Aug. 27 at 5:15 PM and Aug. 29 at Noon. Tickets are $15 and are available by calling (212) 279-4488 or (888) Fringe-NYC or visit www.FringeNYC.org.