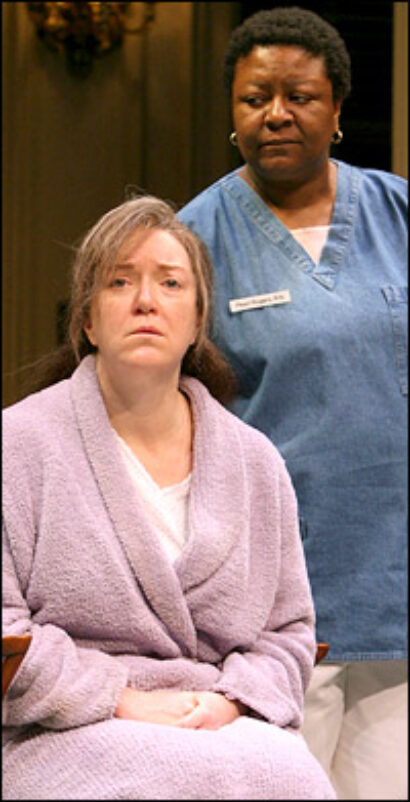 Tony and Academy Award nominee Weaver plays Mary's cousin in the family drama that the Off-Broadway company describes this way: "In an attempt to account for the family inheritance, the scion of a wealthy Buffalo, NY clan (Weaver) and her willful, college-aged son (played by Michael Esper) visit their long lost cousin Mary (Nielsen). The catch: Mary is living in an asylum for the wealthy insane and has barely spoken in years, forcing mother and son to employ radical ends to get through."
*
Nielsen appeared in Christopher Durang's Miss Witherspoon and Betty's Summer Vacation, both at Playwrights Horizons.
Weaver is a Tony Award nominee and three-time Academy Award nominee known for Hurlyburly on Broadway; Gemini at Playwrights Horizons; Mrs. Farnsworth, The Mercy Seat and The Guys Off-Broadway; and the films "Aliens," "Gorillas in the Mist" and "Working Girl."
Jim Simpson directs the play by the chronicler of the white upper-middle-class experience. Gurney penned The Dining Room, Sylvia, The Perfect Party, What I Did Last Summer, Indian Blood, Love Letters and Later Life. This is the sixth and final production of PH's 2006-07 season. It plays Off-Broadway to June 17 at Playwrights Horizons' Mainstage Theater (416 West 42nd Street). The cast also features Michael Esper (Manic Flight Reaction at Playwrights Horizons, subUrbia at Second Stage) as the son, Mitchell Greenberg (Isn't It Romantic at Playwrights Horizons, Old Wicked Songs at The Promenade) and Myra Lucretia Taylor (Fabulation at Playwrights Horizons, Nine on Broadway).
*
Gurney, Simpson and Weaver all collaborated on Gurney's Mrs. Farnsworth at The Flea (where Simpson is the artistic director) in 2004.
Crazy Mary features scenic design by Tony Award winner John Lee Beatty, costume design by Claudia Brown, lighting design by Brian Aldous, sound design by Jill BC DuBoff and original music by Michael Holland. Production stage manager is Janet Takami.
The performance schedule is Tuesdays through Fridays at 8 PM, Saturdays at 2:30 and 8 PM and Sundays at 2:30 and 7:30 PM. Tickets are $65.
For tickets visit TicketCentral.com, call (212) 279-4200 (noon-8 PM daily), or go to the Ticket Central box office, 416 West 42nd Street (between Ninth and Tenth Avenues).