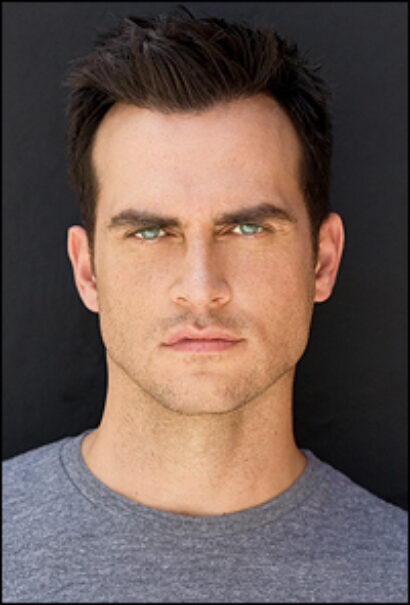 (Clicking on a name bolded in blue will take readers to that actor's entry in the Playbill Vault.)
Cheyenne Jackson
This one's easy. I did a production of HMS Pinafore at Coeur d'Alene Summer Theatre in Idaho, where the show was set in a toy shop. Sounds clever, right? I mean, imagine the possibilities. Unfortunately, it was decided that all the girls in the ensemble were going to be ducks, (WTF??) and all the men would be Raggedy Andy dolls. (Yup.) It was insane. We all wore white makeup with long curly red wigs. Some of the smaller, cuter ensemble boys could pull it off, but me…???? I looked like a giant, deranged, Howard Stern Clown-Monster.
Marissa Jaret Winokur
When I was a dancing fiber girl with a hard hat singing "Fiber, gotta keep it moving." You can only imagine the costume!
Patrick Page
Worst in what way? Lumiere was 40 pounds, Scar 45 pounds, Grinch is very hot! Worst looking was a loincloth I wore as Marc Antony in Julius Caesar at the Oregon Shakespeare Festival.
Photo by Joseph Marzullo/WENN
Kelli O'Hara
When I was in 5th grade, I played "Jumbo the Elephant" in the school play (No, not Dumbo...Jumbo), and I wore an elephant costume that went embarrassingly well with my chubby body at the time.
Will Swenson
Giant, blue, hairball-inducing bear suit in 90-degree outdoor amphitheater show. Boo Jungle Book. Boo.
Josh Grisetti
My theatrical debut, a kindergarten production of Peter Rabbit, in which I played "the Mother Mouse"… wearing my older sister's skirt and a paper mouse head.
Michael Urie
When I had to dress like Betty for the Halloween episode of "Ugly Betty." Itchy wig and poncho.
Matt Doyle
I did a lot of clowning in school, and my clown's costume was pretty absurd. I wore a pair of ugly plaid shorts that were entirely too big, belted way above my belly button, fluorescent orange flip flops, and a tank top that was about three sizes too small with the words "yeah, rock" written across it. Oh, and a backwards newsboy cap to top it off.
Diana DeGarmo
The dang orange jumpers I have now been put in for two shows! My hell is made out of orange jumpers.....
Photo by Joseph Marzullo/WENN
Tom Hewitt
An orange and pink moo-moo in
Antony and Cleopatra
. (I was playing Antony, bitches). As I passed the Egyptian guards, they would whisper, "Mrs. Roper… It's Mrs. Roper!"
Jonathan Groff
My lederhosen that I wore as Rolf on The Sound of Music tour. They were great at first, but were never washed. By the end of the tour, I had stretched them out so much it looked like I pooped my pants.
Chad Kimball
My "punk" look in Baby at Papermill Playhouse. Tight, tight, tight bright red plaid pants. More like leggings. Oof.
Photo by John Fortunato
Tony Yazbeck
Ok, I was a Disney Kids of the Kingdom dancer when I was 19. I wore this silver unitard and big silver cone on my head in the Galaxy Search show in Tomorrowland at Magic Kingdom. I have a teacher who still has a video recording of it and he better not show it to anyone!
Santino Fontana
Slutty Pumpkin
Ben Vereen
The watermelon suit in the film "Funny Lady"
Bill Heck
1970s airline stewardess...pink miniskirt, purple go-go boots...also: best costume ever.
Kevin Isola
The paper bag with a Slinky glued to the front in How The Elephant Got His Trunk (first grade). Also the best.
Zoe Kazan
Given how many plays in which I've had to appear naked or in my underwear, any costume that I get to keep on my body is a good one.
Photo by Monica Simoes
Patrick Breen
Full chicken suit. Jon Robin Baitz'
Coq au Vin
.
Karine Plantadit
My worst costume was having to dress as a tomato for a fast food commercial. The avocado, the onion and me (the tomato) were auditioning to be part of a new up-and-coming season sandwich!
Elizabeth Stanley
I was once handed a garbage bag full of wigs and told to find one that I liked for the show…. I loved that mullet.
Rebecca Naomi Jones
A floppy hat with a big flower on it, a long patchwork skirt, an apron, a high-necked spandex shirt, some other layer that resembled a doily, rainbow socks, and chunky Mary Janes. All of those things gracing my body in tandem! Blossom Russo meets Mrs. Butterworth. I had that costume on for like an hour in tech before our director was like... "OK, no."
Kate Walsh
I played a tree once in the Fringe Festival in Edinburgh...a tree.
John O'Hurley
My first musical in New York, Eternal Love, a medieval musical catastrophe of epic proportions. I wore a quilted tunic that looked like it came off a bad Vegas sofa. I had a little hat that had a rounded top. The whole outfit made me look like a condom.
Michael Arden
It may have been a costume for
As You Like It
I wore in high school. I was playing Oliver, the evil brother and somehow ended up in a completely "pleather" riding suit... complete with riding crop. I've attempted to have all photos destroyed.
Stark Sands
A Chris Durang play in college: a pink frilly dress, Mary Janes and a bloody diaper. I've got to find pictures of that.
Sierra Boggess
When I worked at an aquarium in Denver, I had to dress up as a shark and sing songs. Wearing a giant hammerhead shark on my head was not only the worst costume ever, but totally humiliating.
Natalie Cortez
A nude body stocking... that's all!
Edward Hibbert
A leopard skin thong.
Hugh Panaro
In Martin Guerre, there was a scene where I was stripped and dressed for my wedding in full view of the audience, so I had to wear this period undergarment that looked like a "Depend" adult diaper. Not my favorite look!
Danny Burstein
I wore a hubcap strapped to my otherwise bare chest in a play in grad school at UCSD. I was playing Chango, the Sun God (of course I was).
I wore white parachute pants, had gold arm bands, a head band and beads. When I walked out on stage a women in the audience yelled, "Oh My GOD!" I knew exactly how she felt.
Or perhaps it was the time I wore nothing but a thin, black thong, a few leather straps across my chest and a leather helmet with zippers over my face in a play at Playwrights' Horizons. No one yelled anything that time... but they should have.
Andy Karl
A 40-pound freight train outfit on roller skates in Starlight Express.
Michael Ball
Neither yet but I've worn a very uncomfortable fat suit twice now – once as the revoltingly fabulous Count Fosco in Woman in White and again, as Edna Turnblad in Hairspray where the enormous boobs alone weigh about two kgs each!!
Michele Pawk
Hands down,
Reefer Madness
, where I was in a nude bodysuit with marijuana leaves covering my privates.
Lisa Brescia
Ugh!!! In Jesus Christ Superstar (the 2000 revival), a strappy number which consisted of three small leather triangles and a strap up my butt. This was my first Broadway show, before I knew I could say: "Umm... I don't know that I should be seen in this outside of this room."
Sarah Stiles
Giant fat clown suit in Dr. Dolittle that was originally designed for a six-foot-tall man.
Darren Pettie
Spandex biker shorts
Josh Gad
I had to do three days on a movie where I wore nothing but a sock on my nethers. Not fun.
Alexandra Socha
One time I was an eraser in a play about school supplies. Oh, and my dad made my costume. Out of felt.
Stephen Kunken
I had a bulky beige sweater in
A Very Common Procedure
that I always felt made me look a little like I had swallowed a donkey for dinner.
Although the sheer white tights catastrophe in Romeo and Juliet somewhere downtown in my youth was probably a lot scarier for the audience.
Nicole Parker
I think it would have to be a children's play I did as a teenager, about a little girl who was a genius that went on adventures around the world like Indiana Jones. I was not the genius girl, I played a bunch of the crazy characters she ran into.
The worst costume was literally the tentacle of a giant squid, whom she fights in the ocean. It was made from a gigantic blanket-type thing with a giant stick inside, that I had to sway back and forth to "fight" with her.
I am positive the material had asbestos in it. The worst was when I watched a video of it, I had shuffled the tentacle too far onto the stage, so that you could see it wasn't attached to anything. I was just a disembodied tentacle waving about on stage. Memorable.
Adam Godley
For a production of Chekhov's The Wood Demon, I was presented with a gold lamé kaftan, slippers that curled like wearable French horns and a foot-long forked beard.
I tried to explain to the costume designer that the character's larger-than-life nature was all in his head. She paused and asked, "You mean... like a hat? Like he'd have a big hat?"
Christopher J. Hanke
A gold metallic blazer that I wore in college in a play where my character died and went to heaven. I remember a critic writing, "this kid over-acted his way to heaven." Oh, yeah, Mr. Critic, how do you know what it's like to go to heaven, huh? How?!
Sarah Uriarte Berry
I have two that deserve a mention. I played the balloon girl in a dinner theater production of Gypsy... when I was in college!
I had a large chest at the time, and coupled with my little braids, the purple leotard and the balloons pinned all over me, it was amazing, but not in a good way.
The other was in Taboo, a show I did in 2003. I had a four-month-old baby and I showed up to rehearsal one day and they showed me my newest costume, which was a nude body stocking with crystals covering the private areas. I cried.
Bryce Ryness
And by "worst" you, of course, mean "best." Out at Bay Street Theatre in the summer of 2007 I played a Luchador in Turandot: Rumble For The Ring.
Full spandex outfit. Cape. Lucha Libre mask. And cartoon-graphic'd Chuck Taylor shoes. Wrestling and singing high C#s all night. Awesome.
Gavin Lee
Dressed as a bat, dancing to Michael Jackson's "Bad" in pantomime.
Marlo Thomas
In my series "That Girl," my character Ann Marie, was always trying to get a job as an actress. She never got a good job but one of the worst was when I played a singing mop in a TV commercial. The mop head hung from my head and I had to sing through it!
Hamish Linklater
Whatever I wore when getting a hernia exam in a Craig Lucas play. It didn't cover enough of me.
Van Hughes
In
Hairspray
, in the song "Without Love," I had to be a dancing silhouette in the female jail because there weren't enough ladies in the cast to fill all of the slots on the set.
I wore a very large wig and a corset on top of my normal Sketch costume and wiggled quite girly. I hated putting that wig on everyday.
Mare Winningham
Polyester pants and turtleneck over fat suit in Side Man. But I asked for it, so...
Nikki Renee Daniels
I once played a soccer ball in a Christmas concert. That was a real low point...
Josh Young
Upper Darby Summer Stage in Upper Darby, PA, is a fantastic place for kids to do theatre. But don't piss off the costume designer or you'll end up a fat griffon wearing fishnet stockings with felt wings in a production of
Alice in Wonderland
.
Kevin Daniels
Again back to Irving Community Theatre. I was playing a space alien covered in gold and purple glitter and what I believe was once a hefty trash bag.
Bryce Pinkham
Had to do a strip-tease out of a red floor-length sheer dress and six inch heels down to women's lingerie (matching brassiere and thong if I remember correctly) and lip sync "My Baby Shot Me Down" directly to the audience.... ahhh grad school.
Michael Cumpsty
Naked was the worst. I've done it three times and never liked it.
Elizabeth A. Davis
I played Athena in The Oresteia. I was painted gold. ALL OF ME. Even my hair.
It looked really cool, but it wasn't fun to "put on" every night. Or take off. Actually, it never really all came off for three weeks. It was worth it, though.
Jayne Houdyshell
A tree in Morgan le Fays' forest in a summer stock production of Camelot. Think tie-dyed unitard with sequined leaves and ballet slippers.
Christina DeCicco
Leather fringe pants, a leather fringe coat and a huge floppy hat while playing Annie Oakley in
Annie Get Your Gun
in a non air conditioned barn theatre during a record breaking heatwave.
Ivan Hernandez
Wearing tights in Camelot.
Graham Rowat
No contest: the egg beater in Beauty and the Beast