The closure of the store in the famous Brill Building at 49th Street and Broadway is due to "increased expenses, decreased sales," Turk said bluntly, citing the explosion of online purveyors of sheet music and recordings. Colony has an online sales arm that will also fold, Turk said, explaining that he would need to put more money into it than he thinks he would ever gain.
"The digital age completely changed the business," he said. Amazon.com and other sites — including competing boutique sites like playbillstore.com — continue knocking out brick and mortar, mom-and-pop shops like Footlight Records, Coliseum Books and Gotham Books, where staff members had encyclopedic knowledge of inventory. Turk has 15 employees in the 5,000 square-foot Colony, whose facade has long been known for its neon signage and tagline "I Found It at Colony." The store is open 365 days a year. (It closes early on New Year's Eve.)
Tower Records, Borders and Virgin — stores that offered Colony competition over the years, primarily in the record department — preceded Colony in death.
The business was founded by the fathers of Turk and his business partner Alan Grossbardt. Sidney Turk and Nappy Grossbardt opened Colony at 52nd Street and Broadway in 1948, catering to jazz musicians and theatre people in the vibrant midtown jazz, cabaret and theatre scene. The business later moved to the Brill Building, known for being a creative hive for pop writers like Neil Sedaka, Neil Diamond and Carole King. Neil Diamond treasured it. James Brown dug it. Child prodigies bought classical sheet music there.
The store survived seismic changes in the industry. You used to be able to buy hit singles — 45's — there. Then came albums. Then CDs. Always, there was sheet music. For many years it was the go-to place for the latest Broadway cast album. For visitors to New York City from places that didn't have easy access to show albums, particularly obscure discs, it was heaven.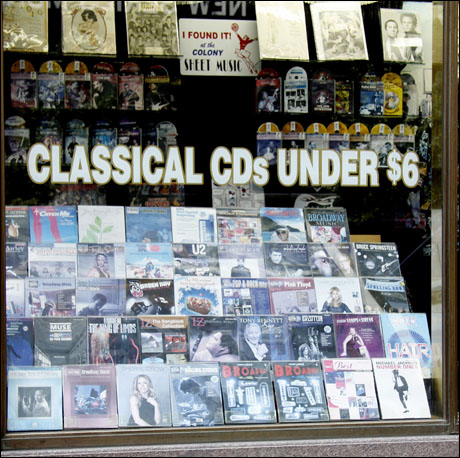 photo by Joseph Marzullo/WENN
Photo by Joseph Marzullo/WENN
The company's bread and butter was always printed music. "The original Colony had a piano in it, and sold sheet music," Turk said. "Then the record came in. Our attraction was always the music book for the musician."
The Broadway composer-lyricist Andrew Lippa told Playbill.com, "Colony was — like Tower Records — a place to hang out or, more appropriately, geek out. And, seeing my published music in the window was always a thrill. In fact, I think they've still got a large picture of The Addams Family outside in front of the 49th Street door. Don't tell anyone, but I snapped a couple photos in front of it. I mean, if you made it to Colony, that meant you really made it!"
Broadway lyricist David Zippel told Playbill.com, "Even before I came to visit New York as a kid, I was aware of Colony Music and The Brill Building and their place in songwriting history. It was a magnet for anyone who loved Broadway and popular music. I remember, years later, the thrill of looking in the window and seeing my songbook and those of my songwriting colleagues, among those of the Broadway's golden age giants. It will be missed."
Turk said, "The Colony was, and still is for many, always a place that the musician trade — theatre people going on auditions — could come in, and our savant-like sales staff would tell them what a great song would be for [a certain] type of audition. We have many — including myself — very savvy people who understand the industry and have done this all our lives. That's what the Colony's reputation always was: A place to come to talk about music. But what happened in the retail environment everywhere is the human element is gone."
Music director and composer Georgia Stitt told Playbill.com, "I'm in London this week and I just walked past Dress Circle, which closed its doors last week. Seeing the announcement that New York's Colony Records is also closing is shocking and sad. It's definitely the end of an era. When my songbook ["This Ordinary Thursday"] came out in 2007, the first place I went to look for it was Colony. In my mind, I wasn't validated as a published songwriter until I saw my book on their shelves. "For years I have headed into midtown early just so I could browse at Colony before a show. And that's what I will miss most — the browsing. No matter how the sheet music industry changes, and it is indeed changing, there is nothing like flipping through the pages of a songbook that contains the music you love. The songs come to life in your head — you imagine playing them, singing them with your friends around a piano, auditioning with them, memorizing them, coming back to them year after year as they reveal themselves in new ways. I will continue to order songbooks online, but I will miss very much having the midtown location where I could just go visit them, discover something new, and surprise myself with an unexpected purchase. Thanks, Colony, for so many years of stocking sheet music in Times Square."
How rooted in New York is Colony? Turk said the store has had the same phone number since 1948.
In a year from now, Turk said that he imagines he will be working on a book about the Colony's place in the American music scene. He tells two quick anecdotes. James Brown walked in one day perhaps 30 years ago and sniffed the air and said, "Yeah, baby, this smells like a music store." Neil Diamond was captured on a documentary touching the store's door handles, crafted to look like clef notes, and he said to the camera, "Man, this is home, these doors should never close."
Paging, Andrew Lippa! Maybe there's a musical in this story?
(Kenneth Jones is managing editor of Playbill.com. Follow him on Twitter @PlaybillKenneth.)