For these artists, performing in a non-traditional venue like a correctional facility is not a token experience, but a regular part of every year—and so is presenting interactive concerts for kids, designing residencies abroad, giving master classes in the U.K., training the next generation of teaching artists in South Africa, and now playing on the stage of Carnegie Hall. It's all in a day's (or, perhaps, season's) work for Decoda, performing at Carnegie Hall November 14.
The musicians of Decoda trained together in Ensemble Connect—a two-year fellowship program of Carnegie Hall, The Juilliard School, and the Weill Music Institute in partnership with the New York City Department of Education. Officially launched six years ago, Decoda is no longer a new ensemble trying something out, but an established artist-driven group with executive leadership. Their thoughtfully crafted approach to performing and performance is unlike any other.
"Our shared background from Ensemble Connect is key and brings us together," says Catherine Gregory, flutist and co-artistic director, "but we each bring a unique approach and artistry to the group." Decoda is modular, able to create ensembles of different sizes and instrumentations based on the needs of each project. Founding member James Austin Smith explains that being a part of Decoda "is an entirely collective experience—no one else takes care of the details or plans the programs for you … Everyone has a collective responsibility, which is what's at the core of chamber music. We embody as an ensemble what we present onstage."
Part of this thoughtful approach means investing in and engaging with the community. "Decoda brings the music that we play in the concert halls to the communities we inhabit—and each project tries to make chamber music a relatable part of people's lives," says Anna Elashvili, violinist, founding member, and co-artistic director. "We do this by engaging [our audiences] in a musical activity that feels familiar and helps them connect the music to their lives." Gregory adds, "That connection also comes full-circle, influencing our own music making."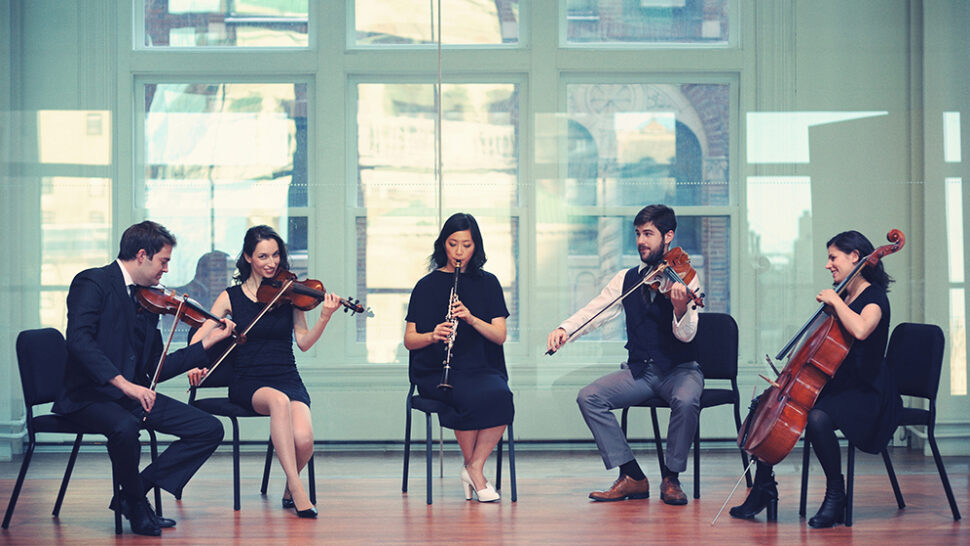 Decoda embeds itself in communities by offering a "performance plus," pairing a concert with another offering—a master class, coaching, creative project, interactive performance, or other innovative project in a community venue. A 2017 residency in South Africa exemplified what Decoda can do: Over three weeks, the musicians presented three distinct concert programs in a variety of traditional and non- traditional venues; performed with two symphony orchestras; offered interactive concerts tailored to varied audiences (from townships to big cities, kids to adults); performed a newly commissioned work; and established the Decoda in South Africa initiative to train new teaching artists in the Decoda style.
Decoda artists are not just performers, but also teachers and activists who care about the sustainability of their projects and training the next generation of musicians. Along with Decoda in South Africa, they have established the Decoda Skidmore Chamber Music Institute in Saratoga Springs, New York (where Ensemble Connect also has a residency) to foster new teaching artists in America and abroad. Decoda also serves as the Resident Ensemble in Creative Performance at the Guildhall School of Music in London, and presents annual performing and teaching residencies at universities across the US.
In addition to their work abroad, this collective is committed to performing at home, this year appearing twice at Carnegie Hall on its own subscription series. Their Carnegie Hall debut this November presents a "signature and world-premiere" program, celebrating in their hometown the music they have performed around the world. "We are so excited for this program filled with celebratory music!" enthuses Gregory. Elashvili adds, "In some ways, we built the program around a piece composed by one of our own members, Brad Balliett. We wanted to highlight what we do best and what sets us apart, and having such an accomplished composer as a part of our performing ensemble is one of our unique features."
Gregory continues: "Concertgoers will be treated to a true 'Decoda experience,' curated from the minute they step off the street and even lasting through intermission, when we will lead an activity to create a ringtone together." Their second Carnegie Hall performance comes in January, with a program that highlights the "jazzy and funky elements of various works," according to Elashvili.
"For us, the most important thing is to engage all audiences and all communities, and create a meaningful musical experience for everyone," Gregory reflects. Decoda has done just that around the globe—and now they are bringing it home.