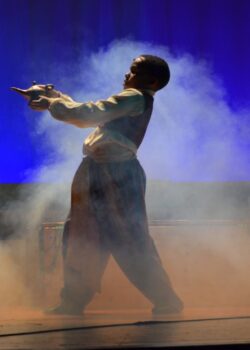 A new 60-minute middle school adaptation of Disney's Aladdin, based on the 2014 Broadway incarnation of the popular animated film, is now available for licensing from Music Theatre International as part of the Broadway Junior collection.
The updated release of Aladdin Jr. reflects material added for the Broadway production, which restored several songs by Howard Ashman and Alan Menken that were not included in the 1992 animated film, such as "Proud of Your Boy," "High Adventure," and "Babkak, Omar, Aladdin, Kassim." They now appear alongside popular titles from the score, including "A Whole New World," "Friend Like Me," and "Prince Ali."
Watch: PLAYBILL'S THE TYLER MOUNT VLOG HEADS TO THE JUNIOR THEATRE FESTIVAL
Originally released in 2005, Aladdin Jr. is one of the most performed titles in the Broadway Junior collection, which condenses popular Broadway shows for school-aged performers.
The title is currently available for licensing in the U.S. and Canada. Visit MTIShows.com.
Music Theatre International (MTI) shows are currently featured on PLAYBILLder.com. Visit PLAYBILLder.com today to learn how to create and print your own Playbill programs to engage and build your audience! Share your Playbill virtually, promote your show through social media, distribute programs in your theatre and much more!