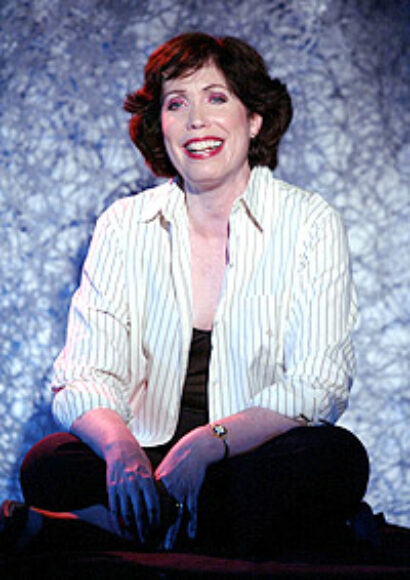 ALIX KOREY
Do you remember the television commercial slogan "When EF Hutton talks, people listen?" I'm reminded of that advertisement whenever I hear Alix Korey sing. For when Alix Korey belts, people listen — anyone within a 100-mile radius, that is. Korey possesses one of the biggest belts and one of the most expansive belt ranges of any singer today, and when she pours out that voice in a comedic or dramatic number, the effect is always thrilling.
Korey is now co-starring in a revue of the songs of David Friedman, the talented writer and musical director who composed many of the late Nancy LaMott's signature tunes: "Listen To My Heart," "Help Is On the Way" and "We Can Be Kind." Friedman also appears in the new show — Listen to My Heart: The Songs of David Friedman — at Upstairs at 54, seated at the piano and surrounded by the wondrous talents of Korey, and Anne Runolfsson as well as Joe Cassidy, Allison Briner and Michael Hunsaker.
I had the chance to chat with Korey this past week during a break in rehearsals for the new show. Korey, who has worked extensively in theatre and cabaret, estimates that she and composer Friedman have known each other nearly 30 years. "[We met] around 1973 or '74 because we both had the same mentor — my acting teacher, a man named Aaron Frankel. Some of David's first experience in New York was playing for Aaron's classes, so we knew each other through that, and then we became just friends and played bridge together. And in the early eighties David became the musical director for what was the beginning of a cabaret act. So, it's been a long time!"
Friedman has also written several tunes for Korey throughout their decades-long friendship, and theatregoers will get the chance to hear the singer-actress interpret these songs during the new Off-Broadway show. Among the titles are the touching "He Comes Home Tired," a poignant "If I Were Pretty," the comedic "I'm Not My Mother" and the hilarious show stopper "My Simple Christmas Wish," which has been slightly reworked and retitled "My Simple Wish." "We took the Santa references out, and now I'm just talking to God," Korey explains. When asked to describe Friedman's songs, Korey says, "I think a lot of it depends on whether he's the composer or the composer and lyricist. For David's songs that he's written [alone], they tend to be more pop-oriented and anthemic. But when he writes with somebody else, he services the other lyricist. I wouldn't say there's a definite David song, [but] you can tell a David Friedman song [because] he always has a little catch phrase at the end." She adds, "I have a preference for great lyrics, that's all. As it happens, I think it's a lot harder to write a funny song, so I'm always impressed when it is actually [funny], when a funny lyric is funny as opposed to me having to kill myself to make it funny."
Korey was last on Broadway in the Tony-winning revival of Kander and Ebb's Chicago, portraying that matron-with-a-monetary-mission, Mama Morton. Korey says it was the perfect role: "You walk out, sing a song, sit down. You say some funny lines, sit down. Say some more funny lines and then leave. You don't even have to change your costume. You just come back, sing another hit song, you have some funny lines, and you're done! I'm a lazy old gal, [so] this is a great part. I got to watch everybody else dance their asses off, and I never broke a sweat," she says with a laugh. "And the people in it, that ensemble is fabulous. They are dynamite performers, and I never got bored sitting on the side watching the dance numbers. They were just so great."
It's an especially busy time for the actress, who will also be seen in the upcoming film "Anything But Love," where she plays the "alcoholic, pill popping mother of a wannabe cabaret singer." Though Korey doesn't get the chance to display her mammoth vocals in the film, moviegoers will get to hear another Broadway veteran, Eartha Kitt, who is also featured in the film. "And there's a dance number," says Korey, "a dream dance number that's quite lovely. I think the premiere is Nov. 7, which is kind of cool, because I've never been part of a premiere before."
But, for now, Alix Korey is enjoying singing the work of her good friend David Friedman on the intimate stage of Upstairs at 54. Don't miss your chance to see one of the most exciting singers deliver some of Friedman's beautiful songs.
(Upstairs at Studio 54 is located in Manhattan at 254 West 54th Street, between Broadway and Eighth Avenue. The revue will play Tuesday through Friday evenings at 8 PM, Saturdays at 7 and 10 PM with matinees on Wednesdays at 2 PM and Sundays at 3 PM. Call (212) 239-6200 for tickets.)
FOR THE RECORD: Avenue Q
The new cast recording of Avenue Q — the joyous, often poignant musical at the Golden Theatre — may put Prozac manufacturers out of business. If your serotonin level needs a little boost, instead of reaching for a pill, try playing the musical's uproarious opening number, "It Sucks To Be." It's a guaranteed pick-me-up. In fact, the entire score (now available on the Victor label) is a pure delight from beginning to end, with catchy melodies and witty, near-perfect lyrics that run the gamut from hysterically funny — "If You Were Gay," "The Internet Is for Porn," "Everyone's a Little Bit Racist" and "Schadenfreude" — to more touching fare like the Act I and II finales, "There's a Fine, Fine Line" and "For Now."
The cast is also one of the finest ensembles to be found on Broadway: newcomers John Tartaglia and Stephanie D'Abruzzo, who each play two main roles, bring their characters/puppets to full life with an astonishing array of voices and vocal colors. Tartaglia is a delight on the soul-searching "Purpose" and the riotous "My Girlfriend, Who Lives in Canada," and D'Abruzzo scores with "Special" and "Fine, Fine Line." Other standouts: the remarkably belty Ann Harada on "The More You Ruv Someone" and the equally full-voiced Natalie Venetia Belcon on "You Can Be as Loud as the Hell You Want."
The recording also provides just enough of the spoken dialogue to put the songs in their proper contexts. The tense dialogue prior to "If You Were Gay" — between the closeted, "good-for-nothin'" Republican Rod and the well-meaning Nicky, who is none too subtly trying to push his roommate out of the closet — is particularly amusing.
Often described as a "Sesame Street" for adults, Avenue Q is much more: It speaks of what are, perhaps, life's two most important quests: the search for purpose and someone to love. The Robert Lopez Jeff Marx-Jeff Whitty musical also demonstrates how friends can help each other navigate the bumpy roads (and avenues) of life. The recording, like the show, is a must for musical theatre lovers.
IN OTHER DIVA NEWS OF THE WEEK: Donna McKechnie returns to New York this month for two concerts at the King Kong Room. On Oct. 24 and 25 the Tony-winning A Chorus Line star will perform her new concert program, Lucky To Be Me, which features the work of Comden and Green, Jerome Kern, Jule Styne and Stephen Sondheim. Directed by Thommie Walsh, the program's musical director is Eugene Gwozdz. The King Kong Room is located within The Supper Club at 240 West 47th Street. There is a $25 cover charge and a $15 food-drink minimum. Call (212) 921-1904 for reservations. . . . Great music continues at the King Kong Room Oct. 27 when the work of three musical theatre composers — Lance Horne, Amanda Green and Tom Kitt — will be offered. At 7 PM the songs of Horne, a Juilliard graduate whose works have been developed by the Public Theater and Lincoln Center, will be presented by a host of Broadway performers. Those scheduled to interpret Horne's songs include Hairspray's Jennifer Gambatese, Mamma Mia!'s Michael Winther, Parade's Randy Redd as well as Kim Cea, Nathan Lee Graham and Anika Larsen. There is a $15 cover and a $15 food-drink minimum for the concert, which also features Horne at the piano. A host of theatre performers will also take part in the 9 PM concert saluting the works of Amanda Green and Tom Kitt. Joining Green and Kitt onstage will be Jonathan Dokuchitz, recently seen on Broadway in The Look of Love; Urban Cowboy's Jenn Colella; Once on This Island's Jerry Dixon; and Greg Naughton. There is a $25 cover and a $15 food-drink minimum for the 9 PM concert. The King Kong Room is located within The Supper Club at 240 West 47th Street. Reservations may be made by calling (212) 921-1904. . . . First Night Records will release in the U.S. the original London recording of the Boy George musical Taboo at a date to be announced shortly. The London cast recording features Euan Morton and Boy George, two of the stars of the Broadway production, which begins previews Oct. 24 at the Plymouth Theatre. The CD boasts 20 original songs composed by Boy George as well as his hit tune "Do You Really Want to Hurt Me." An original Broadway cast recording is also planned, although details have not been confirmed. . . . The Producers' Brad Oscar will host a benefit for Only Make Believe on Monday, Nov. 3 at the Lamb's Theatre. Featuring several of Broadway's finest performers, the evening — simply titled Only Make Believe — will benefit the non-profit charitable organization of the same name that brings the magic of theatre to hospital-bound children. Among the performers lending their talent to the 8 PM concert are three-time Tony Award winner Audra McDonald, Side Show's Emily Skinner, recent Chess star Julia Murney, Tony-winning Parade composer Jason Robert Brown, Titanic captain Michael Cerveris, Seussical's Janine LaManna, Les Miserables' Lauren Kennedy, Into the Woods' Chad Kimball and actor-writer-musical director Seth Rudetsky. Also taking part in the starry evening will be Bon Jovi's David Bryan as well as Marcy Heisler, Zina Goldrich and Anika Larsen. Only Make Believe will be held at the Lamb's Theatre, located in Manhattan at 130 West 44th Street. Tickets, priced at $50, are available by calling (646) 336-1500. . . . And, finally, a memorial service will be held Oct. 23 for longtime wardrobe supervisor Adelaide Laurino, who passed away last month at the age of 74. The service is being organized by Laurino's sister Mary Lightfoot and by director Richard Jay-Alexander, a longtime friend of the woman whose numerous theatre credits include A Little Night Music, Pacific Overtures, Annie, Sweeney Todd and Evita. Father Erno Diaz will offer blessings at the 3 PM service at St. Malachy's Church (The Actors' Chapel) in Manhattan. For producer Cameron Mackintosh, Laurino worked on Cats, Song & Dance and the Broadway and national companies of Les Miserables, The Phantom of the Opera and Miss Saigon. Mackintosh said in a statement last month, "The Great White Way is a little grayer today. Adelaide wasn't just an extraordinary costume supervisor of landmark musical productions…she was a unique and colorful presence. Wherever she decided to be backstage, she became the hub of the theatre. When I did Miss Saigon, most people thought I had the theatre remodeled for the helicopter. It wasn't true. The major work was rebuilding the understage of the Broadway Theatre as a kingdom where Adelaide could work her magic. We will all miss her greatly and love her forever." St. Malachy's is located at 239 West 49th Street, between Broadway and Eighth Avenue.
REMINDERS
Betty Buckley in Concert:
Oct. 18 at the Rialto Center for the Performing Arts in Atlanta, GA
Oct. 28-Nov. 8 at Feinstein's at the Regency in New York, NY
Nov. 22 at the Dominican University in River Forest, IL
Liz Callaway in Concert:
Nov. 8 with the Hartford Symphony Orchestra in Hartford, CT
Nov. 10 in The Three Leading Ladies of Broadway in Washington, DC
Dec. 13 in Arlington, VA
Jan. 17, 2004 in Asheville, NC
Jan. 31 in Sibling Revelry in Boston, MA
Feb. 8 in Sibling Revelry in Riverfront, IL
Feb. 14 with Jason Graae in Palm Springs, CA
Feb. 26-28 with Jason Graae in West Palm Beach, FL
April 24-25 with Jason Graae in San Rafael, CA
May 1 in Sibling Revelry in Orono, ME
May 8 in Sibling Revelry in Purchase, NY
Barbara Cook in Concert:
Oct. 18 with Marilyn Horne at Lehigh University's Zellner Ctr. in Bethlehem, PA
Oct. 30 in Mostly Sondheim in Opelika, AL
Nov. 1 in Mostly Sondheim at the Ferst Center in Atlanta, GA
Nov. 22 in Mostly Sondheim Revisited at Carnegie Hall in New York, NY
Nov. 29 in Mostly Sondheim at the Paramount Theatre in Peeksill, NY
Patti LuPone in Concert:
Oct. 25 at Symphony Hall in Boston, MA ("Coulda, Woulda, Shoulda")
Nov. 1 at the Capitol Center for the Arts in Concord, NH ("Matters of the Heart")
Nov. 7-9 with the Houston Symphony ("Coulda, Woulda, Shoulda")
Jan. 23, 2004 at the Eissey Campus Theatre in Palm Beach Gardens, FL
Jan. 24, 2004 at Florida Atlantic University in Boca Raton, FL
Feb. 27-29, 2004 at the Myerhoff Hall in Baltimore, MD
March 12, 2004 at the New Jersey PAC in Newark, NJ
March 13 at the McCarter Theatre in Princeton, NJ
Karen Mason in Concert:
Oct. 18 at the Emelin Theater in NY
Nov. 15 at the New Jersey Performing Arts Center in Newark, NJ
Christiane Noll in Concert
Dec. 31 Des Moines, IA with Des Moines Symphony & Brad Little
Well, that's all for now. Happy diva-watching!