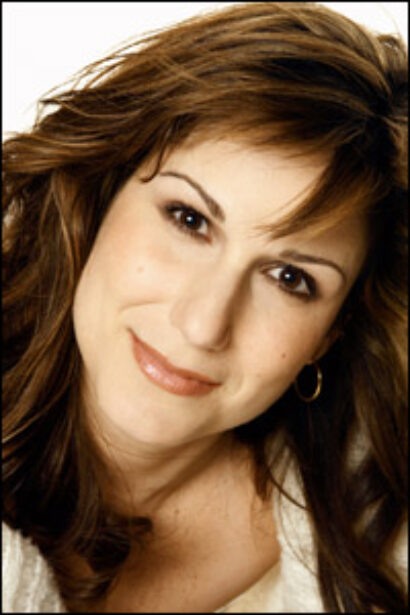 STEPHANIE J. BLOCK
If you were among those thrilled by Sutton Foster's performance in the Tony-winning revival of Anything Goes, you will be equally wowed by the star turn that Stephanie J. Block is currently providing as sexy evangelist Reno Sweeney at the Stephen Sondheim Theatre. Block, a Drama Desk nominee for Best Actress in a Musical for her work in 9 to 5: The Musical, previously stepped into the Tony-winning tap shoes of Foster in the critically acclaimed revival of the Cole Porter musical this past fall, and she has now taken over the role full-time. Block, whose textured, rangy Broadway belt has also been heard in Main Stem productions of The Boy from Oz, Wicked and The Pirate Queen, is offering a terrific performance as nightclub singer-turned-evangelist Sweeney. Block, in fact, is a humorous delight in the role, earning laugh after laugh while thrilling the audience with her rich, velvety renditions of such Porter classics as "I Get a Kick Out Of You," "Blow, Gabriel, Blow," "Friendship" and the title tune. Earlier this week, I once again had the pleasure of chatting with the good-natured, upbeat singing actress, who spoke about her return to Broadway; that interview follows. (Read more about Stephanie J. Block's theatrical history in the Playbill Vault.)
Question: The last time we spoke was the afternoon of your first performance when you were temporarily stepping into Anything Goes. What was that first performance like when you think back on it?
Block: [Laughs.] I will be very honest and say, "I have no idea!" It's one of those out-of-body experiences, where you literally just get yourself on stage and you take it line-by-line and step-by-step, and that's what I did. I tried to do it with as much joy as I could, but it really was crazy. I'm not even going to pretend like it wasn't. It was crazy!
Question: Did anything go wrong?
Block: No! I mean, there were a couple of backstage moments, where I thought perhaps I wasn't going to make a quick change. But, no, everything went just fine, and, looking back now, you go, "Wow. Okay." I don't want to say I'm more comfortable in the role, but I do have the ability to play a little bit more. I do look back and go, "Oof! That was…" It's just crazy… I don't have a clear memory of what that first performance was because it was just an out-of-body, cross-your-fingers, look at your fellow castmates for love and support and any indication if you're in the wrong place at the wrong time… [Laughs.] And, next thing you know, you're taking your bow, and you go home and go, "How the **!* did that happen?" [Laughs.]
photo by Joan Marcus
Question
: I think even people who aren't performers have a fear that they're going to be thrown on stage and will be in the wrong number.
Block
: Oh, yeah! I mean, I don't know if you have them, but those anxiety dreams where you think, "Oh, yeah, I know exactly what's going on," and then you arrive at the theatre or you arrive at school or you arrive wherever, and you're like, "I have no idea what's happening." That was a little bit the sense of what that first round of
Anything Goes
was. Of course, by the end of the second week, going into my third week, it started to feel so great and so fun, and I loved every second on stage. And then, it became kind of a strange countdown, where you think, "Oh, I only have nine performances left, and that's going to be the end of it." It's really great to be back and know that I've got more time with the role, more time with the music and more time with this really fantastic cast.
Question: When you learned that you would be coming back into the show, what was your reaction? Were you excited to get to do it again?
Block: I was thrilled! I really, really was thrilled. I made it very known that if they needed someone, if Sutton's [TV] show got picked up or if Sutton, at any point, didn't want to stay for the entirety of its run — because it really is kind of a mammoth role, and she had been doing it for a year, so I don't know if anybody expected her to stay through its entire run — but I let them know that I had a great time, I loved the part. Costumes were already made… [Laughs.] Therefore, that was an expense they didn't have to look at! They were very honest on their side, saying, "We've got to see what happens. It definitely is Sutton's role…" And, of course, who wouldn't want the originator and Tony Award-winning actress to stay in the part? But I found out again [that I would be going on quickly]. It was like mid-February with a March start. It wasn't that much time, and I think this go-around, I had nine hours of rehearsal.
Question: How much would you say you still remembered and how much did you have to…
Block: Quite a bit. I remembered quite a bit, yeah. I think because of the process that took place in October, [when] I kind of just lived, breathed, ate it, that it was still in my system. I remembered pretty much every line, all of the blocking. We had to touch on a couple of connective tissues in the choreography: "Oh, that four-count. I don't know what happens in that four-count." But the whole sort of shape and skeleton of the piece was still very clear and in my body.
Photo by Joan Marcus
Question
: I'm always amazed that someone can leave a production and still remember so much.
Block
: It's funny. But I still feel that way with Elphie [in
Wicked
]. I think if I were to be given a handful of hours… And, this is not me asking to come back! [Laughs.] But that is one role that I think, because of the journey I had with the musical itself and with the role of Elphaba, that, yeah, if I had a handful of hours, I think I could pop into that one.
Question: Now that you have been playing Reno for a while, how do you think your performance has changed? Or have your thoughts about who she is developed?
Block: There are more clear indications for me in the script. Although I was saying the lines night after night, I went, "Wow. This is really defining who she is," and I have probably brought in a little bit more sexuality — not vulgarity — but sexuality in the sense that what really made me think was when Mooney comes up with a plan for Reno to go into Lord Evelyn's room and catch him in this big illustrious affair to break up Evelyn and Hope… I thought, "Holy cow! This woman is on the ship. She meets him for the first time, and about three hours later, she's willing to go to bed with him." That says a lot about who this character is. [Laughs.] I had always thought of "Blow, Gabriel, Blow" as the kind of defining, sexual coloring to Reno, but I went back, and I think this time around, I go, "Wow, there are indicators throughout that her evangelist techniques and how she 'converts' people is sexually timed for, of course, the 1930s, but it does have a charge to it."
photo by Joan Marcus
Question
: I thought you were terrific and, at the end of the show, I felt, "I want her to come back and sing more Cole Porter songs."
Block
: Oh, thank you!
Question: What's it like for you singing that music?
Block: That's home to me. Ever since I was a little girl, I would pretend to be sick in order to stay home and watch the M-G-M musicals and the Turner Classic Movies, and so that's what I was kind of raised on — that time period and flavor of music. You always think you know Irving Berlin's cannon and the Gershwins and Cole Porter, but when you really study the music and the intricacies in all of his key changes and his half-steps, it's really, really something the way this music is written. And, just when you think you know exactly what the melody is, you're like, "Oh! Oh, he makes that note a natural? I had no idea that note was a natural." So it's been a wonderful kind of reintroduction for me to his stuff, and it sits in a place that just feels very comfortable, and I love it. This role, too — the way that Reno is devised, that she starts out really cool and easy, sitting on a stool singing a song, and then you up it with "I Get A Kick," and then you up it just a little bit with "You're the Top," then you up it again in "Friendship," and then it's "Anything Goes," and then you blow it out with "Blow, Gabriel," and then you come back down a little bit with "Gypsy"… Her map is really amazing the way that I kind of slowly, but surely grow into a big voice, and I don't have to belt my face off in the first ten minutes of the piece. I really, really appreciate that.
Question: Do you have a favorite moment in the show for her or a favorite song?
Block: "I Get a Kick" is my favorite song. I just think that it is so definitive of what the period and what the era are, and I think it sets the tone for the whole show, and the audience really gets to be introduced to who Billy and Reno really are in that smoky bar… The map of Anything Goes is genius, but it's just so comfortable and there's nothing forced about it, so people get to have a taste of, "Who are these characters?" and kind of get to know them, as opposed to Reno being thrust into their face right off the bat. And, of course, the top verse of "Anything Goes," when you're standing on the mezzanine of the ship, and you're just singing this iconic song, and you can hear the audience. When you sing the first verse, and then you go into the body of the song — "In olden days, a…" — the whole audience goes, "Ah!" Like, now they know what the song is because they're not familiar with the beginning part — that's a great joy for me, too.
Question: "Gypsy in Me," which is a good song — but I don't think it's Cole Porter's greatest song — got rock-star applause when you and Robert Petkoff performed it.
Block: [Laughs.] People go crazy for that number! And, I think, again, it's because they feel like they've seen every side of Reno and, in this instance, Lord Evelyn, and then we get to just be complete wackadoodle people and be ridiculous that they go, "Oh, I never saw that coming, and look how silly they are!" Literally, just be ridiculous. So, I think again, the play has afforded us the ability to do that, and the audience feels this great sense of silliness and sort of release at the very tail end of the play. And, I also think that if people don't know the exact storyline of Anything Goes, they forget that this sort of tight-laced English guy ends up with this wild broad named Reno. They forget, and to see these two personalities come together, I think the audience absolutely loves it.
Photo by Joan Marcus
Question
: What would you say is the biggest challenge of this part?
Block
: For me, it's still the whole marathon of it. I'm not going to even pretend that the end of "Anything Goes"… I literally roll my eyes and take in a gasp of breath and pray that I can belt out that last D at the end. And, the same thing with "Blow, Gabriel."… Sutton was very honest, too. She said, "I really thought that by — who knows — the first month, the end of the second month, the third month that I would get a sort of comfortability at the end of these numbers…" She goes, "You will never. You will never feel comfortable." It always tests your endurance and your cardio. I'm glad that the audience goes, "Oh, you make it look so easy," but on the inside we're ready to explode. [Laughs.]
Question: What's your day like? How do you warm up for this? How do you make sure you have enough energy?
Block: There's a lot that goes into it. Because of the show, I don't have to do cardio anymore, so that's really exciting. There's a great workout called "Revolution in Motion." It's based on yoga balls and BOSU balls, so it's very much about centering and balance. I love doing that a couple times a week. I have acupuncture a couple times a week. I get at least one or two massages every week to work out all the kinks. Of course, there are voice lessons and constantly warming up. This is one role that I have to get to the theatre well before an hour before the show. I'm usually there about an hour and a half, an hour and fifteen before curtain to warm up the body and before the makeup and the hair. There's a great discipline to maintaining — just staying strong and staying healthy for eight times a week.
Question: When you're doing it eight times a week, what is the thought before you go on to start a show? Are you excited each time you're going out?
Block: You know what, I'm still at the point where it's great excitement. I've been lucky enough to have been in long-running shows where you've done it for eight months. And, sure, it does — it feels like a job. There are certain days in the week where you're like, "Holy cow, I've got to get myself to the theatre," but when you start hearing the orchestra, and you start hearing the murmur of the audience, and you see everybody in costumes. This may sound, I don't know, old-fashioned or cliché, but that sort of live theatre still gets me very excited, and as soon as you step onstage, all of that other nonsense goes away, and you just feel so lucky and so proud and in-the-moment that before you know it, the two-and-a-half hours is over, the story's been told and you're like, "Holy cow. We just did another Broadway show. That's amazing!"
Question: Have you thought about recording any of these songs or a whole CD of classic musical theatre songs?
Block: I have, actually. I really would love to do an American Songbook series. I feel like there's such great music out there. And, I made my debut CD, "This Place I Know," and it's based on a lot of music that people didn't know — even in the musical theatre industry. So these past couple of years, I've been going out and singing with symphonies, and that's one thing that I found — that a lot of middle America or even in the South they look at my CD and go, "Well, what song is that?" And, thank God there are names like Dolly Parton and Stephen Schwartz, who are recognized, but people are really fond of music that they're familiar with, music that brings back personal memories for them, so yes, it's really been on my mind about recording not only classic musical theatre, but just classic American Songbooks, like you mentioned with Irving Berlin and Cole Porter — these greats.
Question: Are there other classic musicals you'd want to do because I know you've done some regionally?
Block: Yeah, I would like to show a different side of my voice, which I very rarely get to show. Sometimes with the symphonic orchestras I sing a little bit of Phantom, I get to sing a little Nellie Forbush, I get to go to that more legit place that I love singing, but at this stage of the game, I just have yet to be hired. [Laughs.] So it would be great to have that opportunity, even if it's something that I produce myself, like my sophomore album, to make sure that that voice and that sound — that I'm really pretty proud of — gets a life, gets to be heard by some people.
photo by Joan Marcus
Question
: I don't think I've really heard you sing in a more legit sound.
Block
: It's really amazing because when I'm asked to sing at benefits or I'm asked to sing at any sort of events or "We'd love to hire you to sing five songs," I'll send them a list of different songs, and they will always overlook "I'm In Love With a Wonderful Guy" and go straight to "Don't Rain on My Parade," "Defying Gravity." [Laughs.] This is what they want. They want 11 o'clock numbers, one right after another, and I keep trying to push, "But 'I'm in Love' is so beautiful… Don't you want to hear 'People Say We're in Love'?" No! [Laughs.]
Question: Someone told me there's a YouTube clip of you singing a song from Miss Saigon…?
Block: The week prior, myself, Lea Salonga, Terrence Mann, Brian Stokes Mitchell, Peter Lockyer and Marie Zamora — there was a cast of the six of us and the Dallas Pops Orchestra — we performed at the American Airlines Arena, and it's a new concert series that Claude-Michel Schönberg and Alain Boublil are doing. It's called Do You Hear the People Sing. It's very much in the vein of Andrew Lloyd Webber's Music of the Night. So it's kind of their cannon — Les Miz, Miss Saigon, The Pirate Queen, Martin Guerre. And, it's a wonderful evening, and they had come to me — I guess it was a month or two ago — and said, "Miss Saigon is now happening [overseas]." Because they never felt that Ellen had the right sentiment with "Her or Me" or "Now That I've Seen Her," they've written this song called "Maybe," which makes Ellen much more likable. It's much more introspective as opposed to, "You're going to have to choose." [Laughs.] Because it never put Ellen in a good light, since the audience has already fallen in love with Kim and Kim and Chris' relationship. This song is now called "Maybe," and it's really, really beautiful, so they wanted me to premiere it here in North America at this concert. It was thrilling and terrifying because at that juncture, I flew in the day before the concert, and, at that point, I had only had a recording and a lyric sheet, but the recording was also of this girl [who was] singing it in her native language… So the day before, I got the lyrics, I had a really good rehearsal, and it was quite thrilling. I was scared to death because I knew I only had one chance… It's really quite great. I haven't seen the YouTube video, but I hope it's a good one.
photo by Joan Marcus
Question
: Was Ellen a part you ever played? Were you ever in
Saigon
?
Block
: No. They've talked to me about doing Fantine [in
Les Miserables]
… They came to me and said, "Would you be interested in going to the West End and playing Fantine?" So, yeah, that could be really fun somewhere in the future.
Question: That would be exciting…
Block: I would love to work in the West End, but there's always the case of wanting to stay here in New York and sleep in your own bed and be with your husband and your dog, but if I could work out the details, are you kidding me? Playing the West End would be a great thrill!
Question: What is your husband [actor Sebastian Arcelus] up to these days?
Block: The success that he's found in voiceovers is really something. He's got the Verizon campaign. He's one of the voices of TBS, and he's also one of the voices of L'Oreal. And, he has recently been cast in The Prince of Broadway, which is the new Hal Prince musical coming out in the fall. Question: Any other projects you can talk about?
Block: I do have a project after Anything Goes. It is a Broadway show that is coming back, and I'm thrilled, but they haven't officially announced me, so I can't announce myself.
Question: Well, that's exciting. So you're busy.
Block: I'm busy! I'm happy to say I've got work into 2013, so it's great!
[Tickets for Roundabout's Anything Goes are available by visiting Telecharge.com or calling (212) 239-6200 or (800) 432-7250. Visit roundabouttheatre.org.]
Well, that's all for now. Happy diva-watching! E-mail questions or comments to agans@playbill.com.