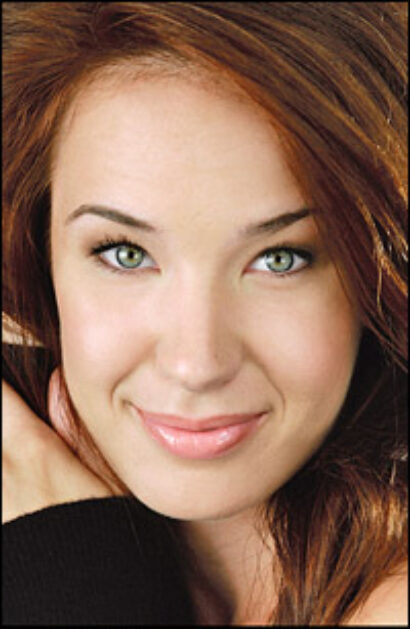 Sierra Boggess
Sierra Boggess, Broadway's Little Mermaid who recently played Christine Daaé during the 25th anniversary celebration of Andrew Lloyd Webber's The Phantom of the Opera, is preparing to offer her own Lessons in Love April 21 at The Riverside Church. The evening, which features direction by David Alpert and music direction by Brian Hertz, will benefit the Broadway Arts Factory, which provides "professional musical theatre training to students aged 11 to 18, irrespective of their socio-economic status, helping them to fully realize their dream of one day being on Broadway." Boggess' own luminous journey includes creating the role of Christine in the London premiere of Andrew Lloyd Webber's Love Never Dies, playing Fantine in the West End production of Les Misérables and starring opposite Tyne Daly in the acclaimed Broadway revival of Master Class. The gifted soprano, who will share her love of the theatre in her upcoming concert, had also been announced to star in the much-in-the-news Broadway premiere of Rebecca. The down-to-earth Boggess, who sprinkles her conversation with laugher, spoke about that ill-fated musical as well as her numerous successes in our recent interview, which follows.
Question: How did this concert come about?
Sierras Boggess: Well, I've worked with both Ben Hartley and Amanda Edge, who run the organization that I'm doing this concert for. I worked with Ben on The Little Mermaid and Amanda in Phantom… They asked if it would be possible for me to do a cabaret to raise money for their amazing organization, and when they told me what their organization was, I said, "Yes, absolutely, completely, 100%. It's something I believe in!" They run the Broadway Arts Factory, and they give scholarships to families that don't have enough money to send their kids to a musical theatre program, which is absolutely incredible. I so relate to this kind of thing because I was a kid in a drama department in an inner-city high school in Denver, Colorado. And if I hadn't had that drama department, I don't think I would have graduated. It's so important to have music and theatre and all that stuff within school. So I just think it's incredible, and I had always wanted to do my own cabaret, but I wanted it to be in connection with something that I cared about, and I just hadn't found that thing yet…so I'm really excited!



photo by Joan Marcus
Question
: Have you done much concert work before?
Boggess
: I've done a lot of concerts, but I haven't done my own cabaret or concerts.
Question: How are you feeling about being yourself onstage rather than playing a character?
Boggess: I'm thrilled. I'm so excited because that's what this cabaret is about. We ended up calling it Lessons In Love. I'm enjoying so much just telling my story and relating it to being the age that these kids are who are going to get to go and be a part of this program. All these kids basically have a dream of being on Broadway. So I'm like, "Yep, ok!" In the cabaret I talk about teachers that influenced me, and I'm singing one of the songs that was the very first song I ever worked on when I was in high school. I'm enjoying going through that journey of how I got to where I am and the lessons that I learned along the way. Question: Without giving too much away, what are some of the titles people can expect to hear?
Boggess: I had to be sure that there are certain songs people would want to hear me sing, so you are going to hear "Part Of Your World." I'm dusting that old chestnut off! [Laughs.] And some Andrew Lloyd Webber, of course, and some Rodgers and Hammerstein, which is some of my favorite stuff to sing. But I basically looked through my songs and what I wanted to do, and I'm singing an aria as well because I love opera. I realized each of the songs I wanted to do coincides with things that have happened in my life that I wanted to talk about… It's going to be pretty eclectic.



Photo by Catherine Ashmore
Question
: You've had a busy few years. What was it like for you getting to create a role in London in
Love Never Dies
?
Boggess
: That was just, it was so heaven! Andrew [Lloyd Webber] and Hal [Prince] and Gilly [Lynne] were basically – and I'm going to talk about this [in my concert] – they gave me my start really. They weren't my Broadway debut, [but] they cast me in
Phantom
in Las Vegas, and I worked with them firsthand right away, straight out of school pretty much. So I feel like that relationship with Andrew, especially as it continued on—to get to then create for him the Christine in
Love Never Dies
—was just one of the most special, incredible experiences of my life. I just feel grateful all the time. [Laughs.]
Question: What was it like working with Andrew Lloyd Webber? Evita was the musical that got me hooked years ago.
Boggess: That's awesome. He's amazing! He is truly a genius. He is so funny, and he's just also a cool guy, too. I just love hearing all the stories he has to tell. It's hard to explain being in the presence of a genius all the time, but it's what you would expect. [Laughs.]
Question: Then you had the chance to go back and play Christine in the first Phantom both in London and then on Broadway. What was it like finally getting to play the role on Broadway?
Boggess: It was so cool. I feel like I completed my Christine journey, and I feel so lucky. I got to play with four different, absolutely incredible Phantoms. I feel like I can die a happy girl, and I have really done the Christine thing in just the greatest way possible. I find it fascinating that I was born at the time I was born so I could be the 25th anniversary Christine. Do you know what I mean? It's incredible. I just feel so lucky because it's one of the shows that I saw when I was little that I knew I wanted to be in. I just knew it. And, so it's just pretty incredible.
Question: I know they reworked Love Never Dies for Australia. Is there any talk of it coming to New York or having a U.S. life? And, would you be interested…
Boggess: If it happens in New York, I'm there in a heartbeat. They're always talking about it. It's definitely not dead in the water, but who knows anymore with the way Broadway is, what shows can get up. Andrew's always talking about it. We'll see what happens. I think it's one of the most beautiful scores he's ever written, and I'd love for it to have a life in the United States as well.
Question: You also played Fantine recently. What was that like? That's a bit of a darker role than what you're used to.
Boggess: It was amazing. Les Miz is one of my favorite shows ever written, and I did the show straight out of college. I went on tour with it and had one of the greatest times of my life. And then to get to come back and play Fantine in the West End, which is still the original production – it's the longest-running show in the West End. That in it itself just made me feel amazing. Being American and everything, it's just cool. I like that sort of stuff, and it was really fun to be a part of it when there was so much buzz about Les Miz because when I was doing it is when the movie was coming out, and we got to go to the premiere. So it was amazing. I always loved the character of Fantine and [enjoyed] researching it and reading the book and seeing more things that she went through. I loved getting to tell that story every night. And my fiancé, who is British, was playing Javert! So that was cool. His name is Tam Mutu. Question: How did you meet him?
Boggess: I met him on Love Never Dies. He was the alternate Phantom…and he's still playing Javert in the West End.
Question: Do you have a wedding date yet?
Boggess: No, not at all because it's very difficult to figure it out when he was born there and I was born here and with our schedules and this business – man, it's just not very forgiving. [Laughs.] So, we'll see! I'm very happy where it is right now.



Photo by Alastair Muir
Question
: Getting back to Fantine. When you know you're going to do a song like "I Dreamed a Dream," which has been performed so much, how did you go about approaching it?
Boggess
: I do this with all the characters I've ever played. I never try to be somebody else, but I always invoke who has come before. So if I would be starting to get anxious, then I invoke
Patti LuPone
or
Ruthie Henshall
on stage. I'm part of this line of these amazing women who have played this part before, so [I try to] bring their energy on stage with me. But, like I said, I researched the character as if I've never done the show before. I read her story. When you read what she goes through, you could write an entire musical about Fantine alone. It's incredible. So that's what I did. I researched her and I personalized it. It was actually so therapeutic to go on stage every night and once everyone leaves, it's just me and the orchestra and the spotlight. I can just sit down on the stage and tell the story. I feel like I recharged a bit. It was like I got gas in my car and I just came back to New York. I just recharged doing that show. It was really a special production to be part of.
Question: You were also supposed to be part of one of the most-written-about musicals this season…
Boggess: Whatever are you talking about? [Laughs.]
Question: I'm sure you followed and read the different stories [about Rebecca] as they unfolded. What was your reaction?
Boggess: Well, it just broke my heart for the cast and the crew and the orchestra, who had all basically been unemployed for a year with the promise of this musical happening. You know, no one ever promised us consistency in this business, so you can't get angry about a show not happening. But at the same time, being promised something for over a year, that's pretty heartbreaking. So that's where I went with it. I don't know the truth of anything. [Laughs.] I don't know any of the ins and outs of what's true and what's not true. It is just unbelievable. There's a lesson in it, of course. There's got to be some huge sort of lesson for the entire Broadway community in there. Something to think about.
Question: If Rebecca gets done, would you still be interested in doing it?
Boggess: Oh God, it's so hard to know anymore! [Laughs.] If that gets done….I have no idea anymore with anything! [Laughs.] Oh man...that poor show. Everyone should just go back and read the novel since it's been so tainted lately. Just go back and read the beautiful, beautiful novel and then everyone will feel better.



photo by Joan Marcus
Question
: What was it like for you to be part of
Master Class
?
Boggess
: Tyne Daly is one of the greatest, not just actresses, but people I've ever met in my life. I just felt every day was a master class with her. She's one of those people who, on stage, you look in her eyes and you just know, this is war. I've learned so, so much from her. I could talk to you about her for an hour. And I walked away with, once again, that feeling of being recharged from working with someone of that caliber. And then playing [opposite] one of my favorite people that ever lived – Maria Callas, and learning from her too…I really learned how much I loved YouTube with that show. Because without YouTube, how could I have ever seen Maria Callas actually perform on stage? It's incredible what is up there that you can see from these performances from so long ago. I just learned so much just researching that kind of stuff. And also just getting to sing opera, which is something that I've loved since I was kid. I was obsessed with
La Boheme
. So to get to sing in a way that I never thought that I would. I'm not going to be an opera singer… It's a whole other level of life that I didn't know anything about.
Question
: After this concert, do you have any upcoming projects that you can talk about?
Boggess
: I don't know what I'm allowed to talk about anymore. [Laughs.] But yes, there's tons of stuff going on. One of the things I know I can talk about is I'm going off to Japan for the entire month of June to do concerts with
Lea Salonga
and Ramin Karimloo, and a guy called Yu Shirota, who's a big pop star in Japan. And we are doing concerts there. I am so looking forward to it. I've spent a little bit of time in Japan but never a month, [but never got] to really perform there and [now I will opposite] one of my favorite people, Lea Salonga, so it's pretty awesome. So I'm really looking forward to that. And we're all going to sing stuff we're known for, so I'm going to sing a lot of my favorite things. We're singing from
Les Miz
and
Phantom
and Disney, of course. What a great month of June I plan on having! [Laughs.]
[The Riverside Church is located at 91 Claremont Avenue. For tickets, visit BroadwayArtsFactory.org.]
Well, that's all for now. Happy diva-watching! E-mail questions or comments to [email protected].