KRISTIN CHENOWETH
Fans of Tony winner Kristin Chenoweth should be in delirious states these days: Not only is the gifted singing actress back on The Great White Way in the first Broadway revival of Promises, Promises, but she is also appearing on the silver screen in the new motion picture "You Again," which features a starry cast led by Kristen Bell, Jamie Lee Curtis, Sigourney Weaver, Victor Garber, Betty White and more. The "Pushing Daisies" Emmy winner will also be seen later this season in the international phenomenon "Glee," reprising her Emmy-nominated appearance as April Rhodes, and Chenoweth is also spending Mondays in the recording studio laying down vocals for her latest solo album.
I recently had the pleasure of chatting with the delightful performer, who spoke about her many new projects as well as her performance in Promises, where she plays Fran Kubelik, the role created in the original NYC production by Jill O'Hara and later in London by Tony winner Betty Buckley. The role is a departure for the actress, who, heretofore, has scored in parts that utilized her tremendous comedic gifts. (I've yet to see a Glinda who gets even half the laughs that Chenoweth did in the musical phenomenon Wicked, and no one possesses a more beautiful soprano than the one she displayed in that international hit.) Chenoweth's newest stage role allows her to explore her dramatic potential and the chance to wrap her powerful, rangy voice around a host of Burt Bacharach-Hal David gems. In fact, it was her duet with co-star and Broadway newbie Sean Hayes — who is also delivering a wonderful performance — on "I'll Never Fall in Love Again" that moved this diva lover immensely. Her rendition was simple, honest and, ultimately, touching. I was also surprisingly moved by Chenoweth's take on the pop hit "Say a Little Prayer" — her tone was so pure and the delivery so enjoyable — and she also scores with the more dramatic "A House Is Not a Home" and "Knowing When to Leave." My recent interview with the stage and screen star follows:
Question: How did you get involved with "You Again"?
Chenoweth: Basically, the director [Andy Fickman] and I had a meeting and he said, "There's this part that is not really written, but we want you to do it." And, thus Georgia, the wedding "extra-ordinator," was born. [Laughs.]
Question: Where did you film?
Chenoweth: I was lucky. We got to film in Los Angeles. I live there a lot, and I was doing "Pushing Daisies," so I got to do the movie on my hiatus.
Question: I know at one time there was talk of a "Pushing Daisies" film. Anything happening with that?
Chenoweth: I would give anything — I would give my right arm to have a "Pushing Daisies" film! Bryan Fuller is such a genius. . . . I miss it every day. I miss the people, really. There's talk of [a film]. I know there's a comic book now with Marvel Comics that they're doing, which is really cool. But you know, it's kind of like that "Arrested Development" situation: "Will there be? Won't there be? Will there be? Won't there be?" I don't know. I hope so.



photo by Mark Fellman, ©Disney Enterprises, Inc.
Question: Tell me a little more about the character that you play in "You Again."
Chenoweth: She calls herself the "wedding extra-ordinator." She is very serious about what she does, but she's very fun-loving. She speaks many languages, as you will see. She sings at the weddings and dances at the weddings. She does everything at the wedding. She has a bubble machine. You know, it's a really wonderful little part. It was a part that was kind of not there, and Andy, our director, just let me do my thing, and that's a very lucky thing to get to do when you're an actor. And, I think Georgia's pretty fun. I mean, I wouldn't want her doing my wedding [laughs], but she's nice.
Question: And, it's such a great cast. Who did you get to work with in your scenes?
Chenoweth: I got to work with all of 'em. All of 'em! And, we also got real close because the director, Andy Fickman, is very much like a theatre camp director. We had several weeks together before we started [shooting], and that makes for an easy shoot and fun shoot and a safe environment to play [in]. And, you know, if you ad-lib and it's bombing, you can just bomb and not worry about it. It's so fun. I had my pal, Victor Garber, there, too, which was awesome. I didn't really know Kristen Bell before the movie, but now she's like my little sister. She and I became very close, and we have a lot in common. And we have, you know, ten years between us, but I just love her. She's the real deal, and she's also very funny in this movie.
Question: I know with Promises, you had originally signed for six months. What made you decide to extend? What went into that decision?
Chenoweth: Thank you for asking that question. Well, as you know, I took a little bit of heat for playing this role. I think people like yourself got it, and I think you understood why [I chose to play Fran]. I also think that, for me, it's important to keep challenging yourself. I can play the comic role. I've done it a thousand times. [Laughs.] I love getting laughs, but I also like playing real people with real problems, because I am one. I'm a human person, lady, and I've also had a time in my life where I've been in love with a man who wasn't truly available to me. I remember in The New York Times, the critic said, "This would never happen to her." And I just started laughing, because I'm thinking, "Wow, it did happen to me, and I allowed it!" [Laughs.] I also wanted to stay because I'm not done with her yet – I took the part to grow and learn, and the things that I've improved in — that I've grown from — have been amazing, truly amazing, in my life. I also love singing this score. I'm in love with our company. It's a great cast. Honestly, the main reason I'm staying is because Sean Hayes and I make a very good team and we are . . . very close, and we came in together, and we have to go out together. We had to leave together. It was just one of those things. [Laughs.] My poor management team is like, "You have three movie offers!" I'm also very loyal — this is not to make me look good. I have a lot of flaws [laughs], but when I feel something in my heart and it's right, I do it, no matter what. And, Promises was kind enough to work out some of the dates that I absolutely could not miss because they were previous engagements. Like "Glee," [and] I'm being inducted to the Oklahoma Hall of Fame, so I have to be there for those things, and they're letting me go to do them. But I'm finishing the show with Sean, and I couldn't be prouder of our production. And the audiences have spoken. [Laughs.] They love it, too.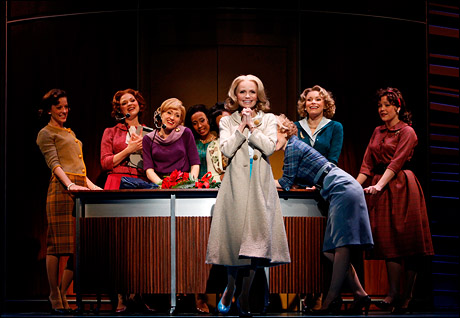 photo by Joan Marcus



photo by Joan Marcus
Question: As you've been playing the part, what do you find is the biggest challenge of it?
Chenoweth: Honestly, I found a little bit of the fun of Fran. She is different from the other girls; otherwise, why would Sheldrake [be interested in her]? I do believe that Sheldrake loves her. I believe that he finds her different from the other women he's messed around with. There's a sense of humor that she does have, but I think the challenge is to pace myself, because by the top of Act Two, after a very funny, funny scene with Katie [Finneran] and Sean, comes a very dramatic scene. Somebody said to me the other day, "That wasn't even fair in the writing," and I said, "No, no, no, it's so fair, because that's life. Life is extremely dramatic and the highest of highs and the lowest of lows, and it can happen in one day." So I love the way it's set. I think getting to work with Neil [Simon] and Burt [Bacharach] —they're still living, they're still a part of our show, they're so proud of it. They just have both made it very clear to us that this is their choice of the way it was handled and the way it was done, and they love it. I'm just still learning from her. And I think pacing myself — it's quite a journey to go on eight times a week.
Question: I would think it's got to be both physically and emotionally demanding.
Chenoweth: It's draining. I'm not gonna lie. It's draining, but when you have Sean Hayes and Tony Goldwyn at your side to go through it with you, it makes it a little easier.
Question: And given who's producing the musical, is there any talk of a TV or film version of it?
Chenoweth: You know, I think there's talk of a lot of things. I think there's talk of a tour, I think there's talk of an L.A. showing, there's talk of a television version of it. I know that's something I think would be great for the show, because people know "The Apartment" — it was such a wonderful film. But when I leave the theatre at night and I see my fans who are younger — well, they're all over the map — but when I see a 13-year-old girl say to me, "Oh, my gosh, I love that song 'I'll Never Fall in Love Again.'" It's reintroducing material and a style, a specific style and music to a new crowd. And that would be something that could reach people in Oklahoma that can't afford to come to the theatre. I'd love to see that happen.



photo by Carin Baer/FOX
Question: You mentioned "Glee" before. When do you shoot your scenes for the current season?
Chenoweth: I leave in a couple of weeks to go for about a week and a half. Everyone backstage keeps asking me what I'm doing. I'm like, "I don't know yet! They're not telling me!" So, I guess I'll find out soon. [Laughs.]
Question: "Glee" has had such a huge response. I wonder if you have also gotten a lot more fans or response from being on the program.
Chenoweth: Oh, sure. I mean, the show is an international juggernaut. I was doing "Pushing Daisies" when I filmed that first episode. "Glee" had not aired yet; they were doing their 13 episodes. And I knew that this show was either gonna really hit big or it would not at all. I knew there would be no gray area, and that's the way I felt when I read Wicked, too. But I had a feeling that it was gonna hit really big. [Laughs.] Having done "Pushing Daisies" and winning the Emmy for that, I love it when people talk to me about that show, but more and more people are talking about April Rhodes in "Glee," and it makes me happy because there's a show that [is] making nerds — "Gleeks," if you will — feel like, "Oh, I'm actually normal." Or, "Oh, because I like to sing, that's not so hideous." You know, I grew up in "Friday Night Lights" land, so drama and choir was not on the priority list. It was for me. That's why I was a cheerleader, so I could perform. That was my way to perform. It sounds silly, but it was my way to get out there and perform in front of a live audience, because that was it. That was our only way to do it. So I'm glad that "Glee" is bringing choir back. Question: Is it a fun shoot?
Chenoweth: It's fun because I get to work a lot with the kids, and I get to work a great deal, so far, with Matthew Morrison. I think we have a special chemistry together on screen. I think, for me, it is hard, but I only have to come in and do it and then I can go. The kids [laughs] — I'm sure they're accustomed to it now, and I have to remember, too — they're young. They don't know what they don't know yet. I get out of bed and I'm like, "My feet. My feet. My feet. My feet." They're not there yet [laughs], so they can do anything. They really can do anything. I come in and I work hard for a couple weeks. But you know, with that being said, I did the same thing with "Pushing Daisies." That was a lot of hours. It was a lot of very demanding on-screen time. I sang in the show on occasion. I do love that kind of work, as well. I love theatre, obviously. You know how I feel about theatre and the live audience and all that stuff, but there is a different animal of television, and I enjoy it, as well.



photo by Carin Baer/FOX
Question: Ryan Murphy's also writing you a TV show. Anything you can talk about yet?
Chenoweth: Nothing I can talk about other than Ryan is creating a show for me. I'm very excited about it and honored, frankly, that he wants to spend his time writing something else and me being kind of at the center of it, which I love. He's clearly incredibly talented.
Question: Anything happening with the Dusty Springfield project?
Chenoweth: You know, I wish so. The producer, Marc Platt — you'd have to ask him. It just kind of died on the vine. I'm not really sure [what's happening with it]. But I would still love to play her. I do think that there are people out there who'd like to see it. I think that people know her music, [but] they don't know her, and I would love, love, love to play her.
Question: Any other Broadway projects in the works?
Chenoweth: I'm doing a reading next week of a show that I'm a part producer of called Susquehanna, with Doug Sills. I'm never far away from the theatre, whether they like it or not. [Laughs.] I am always looking for things to challenge myself and to do. Certainly On the Twentieth Century is something I'd love to do. It's just a matter of getting it into the schedule. But I will always be back.
Question: I know you also have a new recording that you're working on.
Chenoweth: Yeah, I'm flying every Monday of my days off to Nashville to work with some awesome musicians there. Bob Ezrin is my producer — you may have heard of Pink Floyd's "The Wall." He produced that record. He's produced Lady Antebellum, he's produced Zac Brown Band. He's kind of the best. [Laughs.] So I am very lucky that he's taken an interest in doing my record. Diane Warren has written a couple songs for me. I'm not really gonna call it a country record, I'm just more gonna call it a "me" record. It's how I grew up singing, and that's what I'm doing next.
Well, that's all for now. Happy diva-watching! E-mail questions or comments to agans@playbill.com.