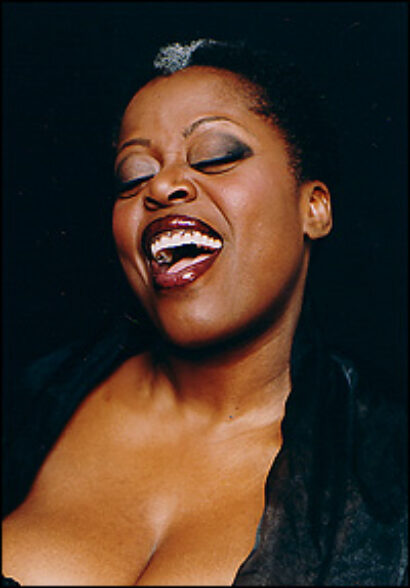 Lillias White, a Tony winner for her knockout performance in late composer Cy Coleman's The Life, is perhaps the most soulful Broadway singer of her generation, so it seems more than appropriate that the gifted artist should be cast as the late R&B singer Big Maybelle in the current Bay Street Theatre production of Big Maybelle: Soul of the Blues, now playing the Sag Harbor venue through Sept. 2.
The New York City-aimed musical, which is presented by Bay Street in association with Martin Richards and The Gilead Company, features a book and direction by Paul Levine, who told me earlier this week how he came to cast singing actress White as the Tennessee native, who died in 1972 at the age of 47. "Dennis Johnson, a friend of mine at Showtime, read and loved the piece and asked who I had in mind to play the lead," Levine explained. "He suggested Lillias, who happened to be playing up in Ventura in a new Cy Coleman revue, so I drove up from L.A. Lil received two standing ovations — during the show — we met backstage and I immediately offered her the role. Three months later we did a workshop, and here we are in Sag Harbor, with Marty Richards producing as we move forward."
White, who brings 29 of Big Maybelle's songs to life in the production, said last week by phone that she "didn't know anything about [Maybelle's] life, but I was familiar with some of her music." Among White's favorites of the tunes featured in Soul of the Blues are "Candy," which was Maybelle's "biggest hit ... I love that song… I like the song called 'One Monkey Don't Stop No Show,' that's a lot of fun. And, there's another song that we do with the band, 'That's A Pretty Good Love.'" Other titles include "Whole Lotta Shakin' Goin' On," "Say It Isn't So," "A Good Man Is Hard To Find," "Mean To Me," "What A Difference A Day Makes," "I've Got A Feeling I'm Falling" and more.
Photo by Jerry Lamonica
The play, which is set in a Cleveland, OH, psychiatric hospital/rehab facility where Big Maybelle spent the last years of her life, explores the singer's rise to fame and battle with drug addiction. Because very little has been written about her, Levine said he "created a narrative based on the dramatic flow and lyrics of the music. In that sense it's very much a 'blues opera,' and we let Maybelle tell her story through the blues she sings."
White, who was last on Broadway in a Tony-nominated turn as Funmilayo Anikulapo-Kuti, the mother of the Nigerian activist and songwriter in the award-winning Fela!, said that she conducted as much research as possible but, "unfortunately, there's not a lot written about her—about her private life other than where she was born and where she traveled to to do her concerts and her recordings… There are no biographies or anything like that—even online. I've looked all over online, and there's really nothing." In fact, although a Wikipedia entry states Maybelle was survived by a daughter and several grandchildren, White said that information may not be true "because Paul tried to reach some of her family and to no avail. Nobody's ever come forward and said, 'I am a descendant of hers,' so I don't know about that."
Born Mabel Louise Smith in 1924, White said the singer was given her stage name "because she was a big girl." Maybelle, she added, was "a sensitive person, very loving. She loved music, she loved people—all kinds of people. She was an artist who was made to feel insecure because of the way she looked, and that had to do with her size and her color. So things were difficult for her because she was a woman of size—of girth—and a woman of color, who didn't exactly fit in, into the mold, of what the big-star singers looked like at that time."
White, whose own soaring voice has been one of the great gifts to the musical theatre over the past few decades, said she is not trying to mimic Maybelle's sound, but she is "putting some of her sound in, of course. Her voice is a very deep, gutsy, bluesy voice, and my voice is not naturally that. So I've had to get back with my vocal teacher Susan Eichhorn to make some adjustments in how I approach it vocally—technically." Her own vocal inspirations include Aretha Franklin, Sarah Vaughan, Dinah Washington, Barbra Streisand, "all the Motown singers," Chaka Khan and Gladys Knight.
Photo by Jerry Lamonica
White said that although Maybelle, who played mostly the so-called Chitlin' Circuit of African-American venues — "that's really mostly what was available for her to do" — she did get to solo at Carnegie Hall, "but it wasn't a successful concert at Carnegie because she was drugged out, so she didn't do so well there."
Speaking about director-creator Levine, White said, "He has a big passion for her. I think the show kind of came to him unexpectedly, so it's been fun. It's been fun because he knows that I'm a performing artist, so he's kind of let me find things on my own and add that to what's going on." Director-writer Levine said he now couldn't "imagine anyone else playing Maybelle Smith. Lil fully inhabits the role, heart and soul, and gives 200 percent at every performance. It's quite extraordinary really, and if you love theatre, or music, it's a performance not to be missed."
Levine said he is still working on the book of the musical "prior to moving the show to other cities and eventually to New York. That's what opening a show out of town is all about, and no one knows more about that than Marty Richards. It's a wonderful process and we're very lucky to have Marty producing. I'm learning so much from a great master of the American theatre."
And, is actress White, whose Main Stem credits also include Dreamgirls, Barnum, Cats, Once on This Island, How to Succeed…, hoping the show will land on Broadway or Off?
"Oh, I'd love for it to be Broadway, definitely," she answered. Before Broadway, however, White is focusing on another big project: "I have twin grandchildren coming soon...[and I need to] make sure that they get here and they're safe and that mom is good and dad is good and all that." The new arrivals, White said, will be her fifth and sixth grandchildren.
[Bay Street Theatre is in Sag Harbor, NY. Tickets can be purchased by calling (631) 725-9500 or by visiting BayStreet.]
That's all for now. Happy diva-watching! E-mail questions or comments to [email protected]