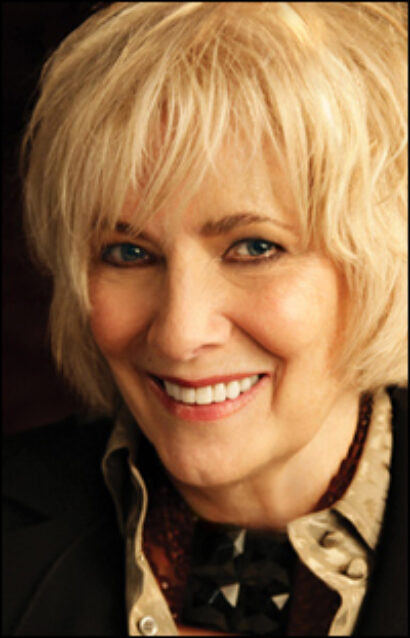 Musical theatre fans, this writer included, rejoiced last year when it was announced that Tony Award-winning actress Betty Buckley would return to the London stage in Jerry Herman's little-seen Dear World, directed and choreographed by Gillian Lynne, the woman who helped guide the multitalented Buckley to her Tony Award for her heartbreaking work as Grizabella in the original Broadway production of Cats.
Although Buckley has been busy with concert work, TV and film appearances, the release of several acclaimed CDs and the operation of a ranch bursting with animal life, it's been an unfathomable 15 years since Buckley has graced audiences with her presence in a musical theatre work on either side of the Atlantic. That situation has thankfully now been rectified.
"Gillian and I had been talking for years about doing a project together," an upbeat Buckley recently told me by phone from London during a break from rehearsals for the musical, which begins previews Feb. 4 at The Charing Cross Theatre. "We've maintained our friendship since 1982 when we did Cats together. She was a really important inspiration and role model to me. I loved her ever since I was a teenager and knew her name from the work she did with Anthony Newley [on] Roar of the Greasepaint. I think she's one of the great ladies of the musical theatre, so I was, of course, thrilled to get to work with her in Cats. And, we really had a connection, and she was such an inspiration and role model for me. We stayed in touch through the years — corresponded — and she has come to see everything I've done.
"We kept saying that we want to work together," the award-winning actress continued, "so we came up with various ideas, and then two years ago, she phoned me and said, 'We need to do Dear World together,' and I was like, 'Okay, I'm in!' People through the years have told me that I should play that part…She called our mutual British agent, Jean Diamond, who called me last December and said, 'Gillian needs you to fly to New York in February and meet with her about the show because we're going to do it.' So I met with her last February at her apartment in New York, and we had about a three-and-a-half hour meeting about the play and the musical and her vision of it. Negotiations started last February, and it all came together. We've been thinking about coming here for so long; it's amazing that we're actually here and that it's actually proceeding. It's very exciting."
London has always been fertile ground for the Texas native, who made her West End debut in her early 20s in
Promises, Promises
and later took the city by storm as Norma Desmond in
Andrew Lloyd Webber
's
Sunset Boulevard
, earning critical hosannas and an Olivier nomination for her performance as the ill-fated silent-screen star.
"I love it here," Buckley enthused. "I love this city. Clearly, I must have lived here in a former life because it feels so familiar to me. And, the funny thing is I came here when I was 22 years old to do Promises, Promises… Almost 25 years later, I was here to do Sunset Boulevard, and again, almost 20 years later, I'm back, so it's interesting that I had this opportunity to come and work here at these pivotal moments in my life. When I was 22, I was just so naïve and so young, and I had done seven months [on Broadway] in 1776, and I knew nothing, I was just a kid. And, when I was in my mid-late 40s, I really felt I had a lot to prove and was still trying to make my mark as a Broadway leading lady, so to speak, and I hadn't had that kind of part that really let me do what I could do until I had done Norma Desmond, and … here I am at the dawning of myself as an older person, and it's just great to get to come here. I walked by the places where I had lived at each of these points and remembered who I was at those years, and then to realize how much I've grown and changed, it's just amazing. It's wonderful."
What's also wonderful, Buckley said, is her latest theatrical role, Countess Aurelia, the part created on Broadway to Tony-winning effect by Angela Lansbury. "[Dear World is] based on a French play written by Giraudoux, [The Madwoman of Chaillot]," explained recent Theatre Hall of Fame inductee Buckley. "It was written right after World War II and performed after he died. It's a beautiful play — a very political play, actually. It's a fable, but it's about businessmen and the exploitation of oil and wanting to destroy all of Paris, and there's a little group of bohemian friends who work and live around the Café Frances, which is a café that belongs to Countess Aurelia, who is described as the 'Madwoman of Chaillot,' and she is kind of the centerpiece of this band of bohemians — compatriots, [who] find out that these evil businessmen want to destroy the whole of Paris, and they think that a lake of oil is right underneath the Café Frances.
"Countess Aurelia is a philosopher and kind of a magician. She's an incredibly positive force of nature, and she's quite convinced that the world is absolutely beautiful, and she wants to live a beautiful existence all the time. She inspires all of her friends to live in that state of positive awareness as well. And then they force her to understand that the world has changed and that these guys really want to do harm to the city of Paris. When she comes out of her shocked awareness that this could be true, she sets about and inspires her friends to get together to defeat these evil guys. They take it upon themselves—this little group of persons—to save the world. It's very sweet. It's a fable, obviously — a fairytale — but we are all of the belief that it was done before its time and that perhaps, now in these days — corrupt politics and greed gone mad in our world in business and oil — that it's more of a timely moment for the play. While it's a fairytale and a fable, it's very light and it's got a beautiful message within it."
Buckley, who gets to wrap her achingly rich, vibrantly colorful tones around such Herman tunes as "Sensible Woman," "Each Tomorrow Morning," "I Don't Want to Know," "And I Was Beautiful" and "Kiss Her Now," said director-choreographer Lynne's vision for Dear World is "very vulnerable and fragile and beautiful. It's exactly what this show needs. She's such the perfect director for it. It was so over-produced when it was done originally, and it's a very fragile piece. Her vision is an exquisite vision, and I love watching her work every day. She's 86 years old, and she's amazing… She's brilliant, and I'm just thrilled to get to be a part of it." Buckley said that Lynne had several meetings with composer-lyricist Herman at his home in Florida, and the Tony-winning veteran has "given her carte blanche to do whatever she wants to do with it. But she loves him and really wants to honor what he originally intended with it. Even he was not happy with the original version. It wasn't what he had in mind; he really loves Gillian's vision of things, and he's given her permission to proceed." To that end, Buckley said, "a lot of stuff has been repositioned, and Sarah Travis is brilliant, and she's re-orchestrating everything for an eight-piece band. So the orchestrations are completely different… It's not at all what it was originally."
One of the great musical theatre stars of our time, an artist who crafts her songs and scenes with equal brilliance, Buckley admitted returning to the musical theatre stage for the first time in over a decade is "wild, but it's really exciting to be a part of a team like this. Every day that I'm at rehearsal, I [think], 'Don't get frustrated.' [I need to] stay calm with myself because I have so much to learn. It's a huge role, and there's so much to learn because I'm also dancing and incorporating all this stuff that Gillian sees for all of us. It's not an easy task, but I just keep reminding myself to be at peace and take each day because this moment may never come again. Really, this is such a privilege and an honor to be here. The cast is amazing. The musicians working on this show, [orchestrator] Sarah Travis and [music director] Ian Townsend, are awesome, and the cast is just glorious—such sweet human beings and very, very talented, gifted people. And, then at the helm is Gillian. I'm so, so thrilled to be here and be a part of this. I really hope it goes the distance. I think it deserves to. I hope so anyway. We're only midway through the rehearsal process, but it feels really good so far." In fact, Buckley said there is a good chance the production could transfer to the West End following the limited engagement that is scheduled through March 30.
"They've always structured it this way that the eight-week Charing Cross run is a tryout, so to speak, in a small theatre in the hopes that it will be well-received and successful, and we would have the opportunity to move to a larger theatre in the West End. That's always been the hope."
And, if her previous London experiences are any indication, it is likely West End and Broadway audiences will have the great opportunity to catch her take on Countess Aurelia.
"Some of the best things I've ever done have begun here," Buckley admitted, "and some of the doorways to my realization of myself as an artist happened here, and in the hands of Gillian Lynne. The doorway to my real potential in the world came with Cats, working with Gillian, Trevor Nunn and Andrew Lloyd Webber. It was after that experience I knew how to work… Cats was the doorway to my stepping into my real potential as a singer-actress. I knew that was in me, but I hadn't had the opportunity to completely manifest it. And, Sunset Boulevard was on another level of that, stepping into who I really am as an actress and singer. In each case there were very, very challenging things. Next to Norma Desmond, this is the hardest thing I've ever done that requires all that I can give and more, so it's demanding and it's terrific. It's inspired me to toe it up, you know!"
[Charing Cross Theatre is located at The Arches on Villiers Street. For tickets call 08444 930 650 or visit charingcrosstheatre.co.uk.] Read more about Betty Buckley's career at the Playbill Vault.
Watch a Video Celebration of Betty Buckley, from Broadway to London and Carnegie Hall, here.
Well, that's all for now. Happy diva-watching! E-mail questions or comments to [email protected]