BETH LEAVEL
"I was asked to do a reading about a year-and-a-half ago of [Elf The Musical], kind of a last-minute thing, and I went in and we all had a really good time," Tony winner Beth Leavel told me during previews for that family-friendly musical, which officially opened on Broadway Nov. 14 at the Al Hirschfeld Theatre. "And then I was asked to do the workshop," she continued, "and I did the workshop last fall at the same time I was doing Mamma Mia! And then — I mean, things move pretty quickly in the land of Broadway — all of a sudden, here we are, opening a new Broadway show!"
The tuneful, good-spirited production reunites Leavel with both the director/choreographer and co-star/co-writer of The Drowsy Chaperone, Casey Nicholaw (who handles the same duties here) and Bob Martin (who co-wrote the Elf book with Thomas Meehan), respectively. Leavel, who won her Tony for her "intoxicating" performance in the title role of Drowsy, said she feels "like I'm back home with my family. When I walked into the rehearsal, I was like, 'Oh, good. I'm in my living room,'" she adds with a laugh. "You know, it feels safe and it feels trusting and it feels creative, and we just really all like each other and have a really good time."
The new musical, which is currently playing a very limited engagement through Jan. 2, 2011, casts the big-voiced singing actress as Emily Hobbs, stepmom to Buddy The Elf, the Will Ferrell role now played on stage with a charming and sweetly innocent zest for life by Sebastian Arcelus. "Buddy is in an orphanage as a baby," Leavel explains, "and then Santa takes him to the North Pole accidentally and then finally realizes that he's a human, not an elf, and Santa tells him, 'You need to go find your father in Manhattan.' I'm married to his father, and his father and I have a son together, Michael, and that's Buddy's little brother. . . I'm the business mom. I'm successful, kind of Upper East Side. I'm the grounded one in this show until I just make a huge discovery in Act Two."
photo by Joan Marcus
About the score, which was penned by the same team who musicalized "The Wedding Singer" for Broadway, Leavel says, "You will never be able to stop singing it! Matt Sklar and Chad Beguelin have done such an amazing job. My son, who saw the gypsy run-through, still is singing the songs from the show. They're just contagious, and they're delightful and they're entertaining and they're complex. At four in the morning, I'm still humming '[Just Sing] A Christmas Song.' And, they're delightful to sing!"
Leavel, in fact, has been handed one of the more vocally exciting moments, a duet with son Michael (Matthew Gumley) entitled "There Is a Santa Claus." "We did [that song] at Broadway on Broadway [concert in Times Square], and it's thrilling. It's thrilling and loud," she laughs.
Audiences, Leavel says, "seem to really love [the show]. They're standing up at the end, cheering, and I get such wonderful feedback, and everyone leaves, giggling — giggling and kind of bouncing. There's nothing wrong with that, you know, if we can let people leave happier than when they came in, particularly now with the holiday spirit. It's great. I love doing a show that makes people feel so good."
The comedic singing actress is also relishing the chance to be in another new musical: "It is always so much fun when you feel like you're giving birth to something and people are seeing it for the first time and you're experiencing it for the first time. It's like this shared connection. It's really exciting, and then it's just this joyous show about Buddy, a Christmas elf. Come on! It's a lot of fun."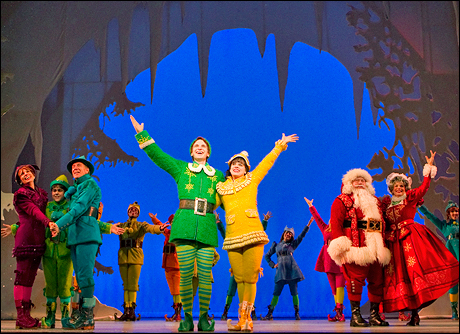 photo by Joan Marcus
photo by Joan Marcus
Prior to Elf, Leavel spent a year as hip mom Donna Sheridan in the long-running Abba musical Mamma Mia! "It was so interesting being in a show where, again, I was kind of the normal one, the grounded one, but I also felt like such a rock star," she explains. "It was such a change from Drowsy and Young Frankenstein and all these character-y, hilarious, off-center parts I do, to be the grounded, romantic lead, singing ABBA songs. And at the end, the audience is literally on their feet all the time. It was such a privilege being a rock star for a year and to be the leading lady. I had a blast!"
It was, however, during her engagement in Mel Brooks' Young Frankenstein when the down-to-earth actress had a chance to take part in the filming of an episode of the Food Network's "Barefoot Contessa." "She is the sweetest woman on the planet," Leavel says of "Barefoot" host Ina Garten. "They fixed a Christmas dinner... You know, when you do those shoots, you sit down and they're like, 'Can you take a bite? Okay, take a bite again.' So it wasn't like a simple 'I want to go to her house to have dinner, like, as a guest.' You think it would be bad if I invited myself?," she asks with a laugh. "But after the shoot, we went over to her set, her kitchen, which is located on her property, and it was so glorious. But like I said, she's the sweetest woman ever. I really would like to have a dinner with her. . . . And, there was this lobster bisque that she made that I really could have taken a bath in."
Fans of Leavel will be happy to learn that the gifted artist is finally planning to record a solo album. The theme for the CD, she admits, "changes every day. Today, this minute, I'm thinking that I have so many great people who are great writers, and I've asked them if they would consider writing a song for me? And they're like, 'Yeah!' So, we'll see how that goes. Like Matt and Chad; I'd like to ask the Drowsy people and just people that I love singing their music, and maybe they have something in their trunk that would fit my personality that they haven't [used before]. I'm thinking that's the direction to go, but I don't know. We'll see. And everyone's going, 'No, no, no, you have to sing "Stumble" again.' And I'm like, 'Really?' So maybe I'll sing 'Stumble' in there, but maybe a different approach to it. I'd also like to sing this song from Minsky's called 'Home.' I'm still kind of entertaining lots of ideas and feelings, but it is exciting. It's exciting to make the decision to do it, so we're gonna see how that rolls."
And, would Leavel, whose Broadway resume also boasts performances in the musicals 42nd Street, Crazy for You, Show Boat and The Civil War, consider doing a non-musical production? "Absolutely. You know what, people say, 'Oh, you never do plays.' I go, 'Well, I never do plays because I'm never really asked to do plays,'" she laughs. "I would do a play in a heartbeat. We did a reading of a play this year — to be able to wake up and not vocalize to see if you have a singing voice is so freeing. I would love to do that. I would love to do a play just to do it. A play? Oh, yeah. Absolutely, so tell them to call me!"
[Elf The Musical plays the Al Hirschfeld Theatre, 302 West 45th Street. For tickets call (212) 239-6200 or visit Telecharge.com.] Well, that's all for now. Happy diva-watching! E-mail questions or comments to agans@playbill.com.
Watch highlights from Elf- The Musical :